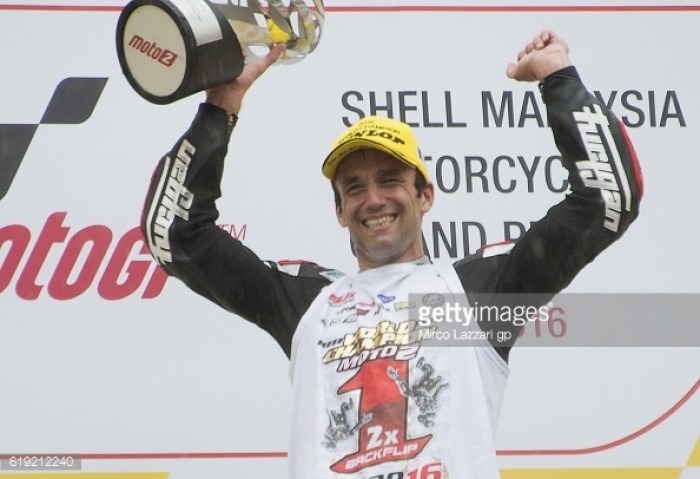 At the Shell Malaysian Motorcycle Motorcycle Grand Prix turned out to be an emotional and extra special affair for Moto2 rider Johann Zarco and the Ajo Motorsport Moto2 Team as he became the 2016 Moto2 champion at the Sepang International Circuit; and also became the first ever 600cc rider to retain the championship title after now winning it for the last two years.
Another wet meeting for the Moto2 class
He was not necessarily the fastest man all weekend as the Moto2 class especially were again prohibited by the rain in Sepang. But Zarco remained on the pace. He knew what he had to do and how he had to go about doing it when it came to the race and securing the championship title. When it came to race day, the French man clearly decided it was best to claim the title with a win.
Starting from pole position on the grid, as his fastest time from Qualifying was 2:18.621, which was 2.134 seconds quicker than second place man Franco Morbidelli (Estrella Galicia 0,0 Marc VDS), he did not get the best of starts as they left the line carefully in the wet and he was swallowed up by the attacking field behind him.
Not the best start from pole for Zarco
Jonas Folger (Dynavolt Intact GP) initially took the lead, and despite trying to make a move on Morbidelli for second, Zarco completed the last lap in third. Morbidelli instead made his way to the front and Zarco followed him pushing the German rider down to third. The track began to dry and with six laps remaining Zarco neatly passed Morbidelli at turn four to take the lead where he remained until the end of the race.
The track continued to dry and the laps times dropped as a result, but no one came close to taking the win from Zarco. He won the Shell Malayasian Moto2 Motorcycle Grand Prix, claiming his sixth win of the season, and in doing so had done enough to secure the 2016 Moto2 champion. He won in 2015 as well, and so he became the first ever rider in the class to win back-to-back Moto2 championships.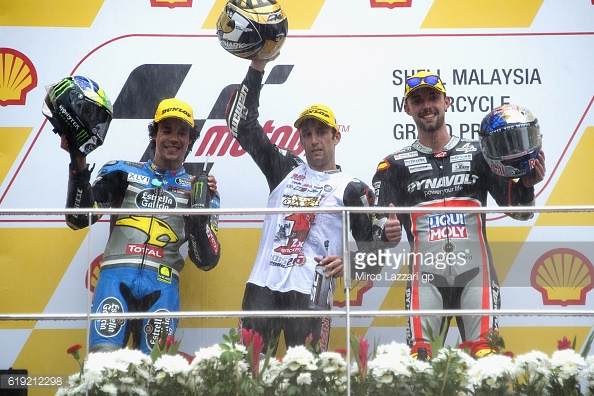 Special, emotional celebrations for Zarco and the Ajo Motorsport Team in Sepang
It was great to see the celebrations that took place after the race. As Zarco crossed the line, his team held up his pit board confirming in gold lettering that he was the 2016 Moto2 World Champion. He then pulled in at the side of the track where a good majority of the other riders, including those who were also fighting for the championship, made their way straight over to the new champion to shake his hand and congratulate him on his achievement.
Then, Zarco was given a t-shirt and a gold helmet and was joined by a replica Zarco donning the same helmet and leathers. The two found a suitable spot on the tyre wall, that was dry enough and firm enough, hopped on, and in synchronisation did Zarco's signature backwards somersault off the wall to celebrate. It was perfect! Zarco then returned to parc ferme, with his body double on the back of his bike, where he was greeted by an emotional Ajo Motorsport team.
Zarco was trying to fight the tears after his victory
On race day, immediately after becoming the double Moto2 world champion, Zarco described the achievement as "great to take the win and the title" and how he found it "hard not to cry at a moment like this". He felt it was "a good race in wet conditions" for him and revealed that "a lot of things went through [his] mind on the last three laps". He knew he "had to be very focused" but that the three second advantage helped made him "more confident – if not calmer".
He was extremely grateful to Ajo Motorsport and everyone who has supported him, and exclaimed that he loves all of his family, his 'motorcycle family' and wished the best for them. He said it was "very nice to be World Champion for the second time with them" and that "this title has been more exciting than last year's" as he felt the "situation was different, it was harder" and also he "had more pressure on him". He said, "Now it's time to celebrate with everyone and go to Valencia without pressure".
Reflecting on his achievements a day later…
Since his initial statement, Zarco had the chance to let everything sink in. His win, his championship win, and his historical double Moto2 championship reign. Describing race day at the penultimate round of the season, Zarco said it was "exciting" and although he "did not want to cry" he found it was "impossible not to". He was extra emotional because he will be leaving the team to join Team Suzuki Ecstar in the MotoGP class next year, and he said, "To finish my time in the class with Ajo Motorsport in this way is magnificent!" He admitted that it was "the goal for the season" to win the championship and although it "has not been easy" he said, "We did it!"
He explained that the weekend was "made more complicated by the weather conditions" but that he "felt comfortable in both dry and wet conditions". Although he said he was "not leading the timesheets in every session" he knew his "pace was good in both conditions" and so on race day he "had to seize the opportunity". When they first took to the wet track he admitted they were "all a little scared" as the "track was very wet" and they were "slipping a lot", and that he himself "made some mistakes" and was sometimes "on the brink of crashing".
Zarco felt that "starting from pole was a great help" as he knew that in the wet "the risks at the first corner are even greater", and then when the track dried he "felt better". He thought that the "conditions were ideal" for him and it is where he "got the biggest advantage" over his rivals; he was then able to "enjoy the last straight by lifting the front wheel and celebrating".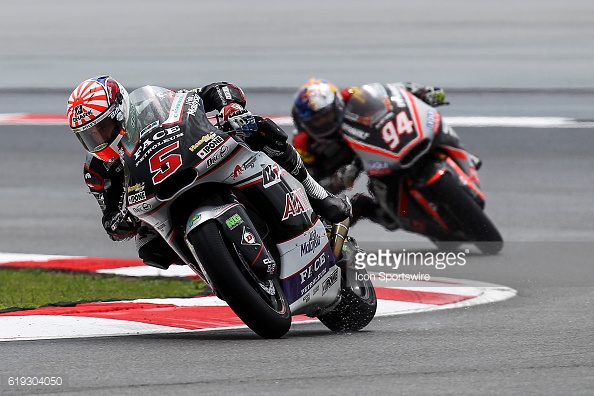 Zarco knew what he had to do and how he had to go about it
Like with all the championships being claimed early, Zarco was aware that there had to be certain factors in place for him to win the championship in Sepang. He knew that "being on the podium ahead of Thomas (Luthi) and Alex (Rins)" would make him champion. He did not always think it was possible during the race as he rode behind Morbidelli and "did not have the best feeling" an also feared that "Folger would overtake"; however this is when he said, "A dry line began to emerge and from there I began to see that my time had come."
Comparing the conditions to those during the Qualifying session on Saturday, he "knew" that he could "take advantage and pushed", as he "did not want to stay among those two or at the end of the group"; especially as he thought that "a mistake by one of them could become a scare" for him, instead he chose to find his own pace and follow his own line. Discussing the tyres he said, "I am a rider who takes a lo of care of my tyres, my style is quite fine and this helps me both at the end of races and in these specific conditions with wet tyres".
Zarco felt it was important to remain level headed
Zarco felt obliged to win the title for the second year running, he "expected" the pressure after "competing last year with Tito (Rabat)". He made the decision to "continue with the number five on the fairing" as for him he said it was a "important to keep [his] feet on the ground". He said that he "woke up every day" thinking that he "had to win the title".
When asked which was the more difficult of his two titles to win, he said that "they always say that retaining the title is more difficult" and that "maybe it is" highlighting that the "mental burden" adds to it, however he said, "We've worked hard over the past two year". This year he found that there was "a larger group of riders who have fought for the top positions", and his challenge for the title was not helped by the fact he felt he had "not been so consistent" and that he has "made mistakes". He reflected on how last year he "always had an important cushion in the overall standings" which he found helped him, and that it "was the result of many years of previous work".
Competition in the 600cc class close in 2016
Zarco explained how he found that from the start of the season opener in Qatar, that "if one day you were not at one hundred percent, you could lose seven or eight positions easily", and so in some races he set out with the "aim to salvage points" and found that "always riding on the limit has been very hard physically and mentally".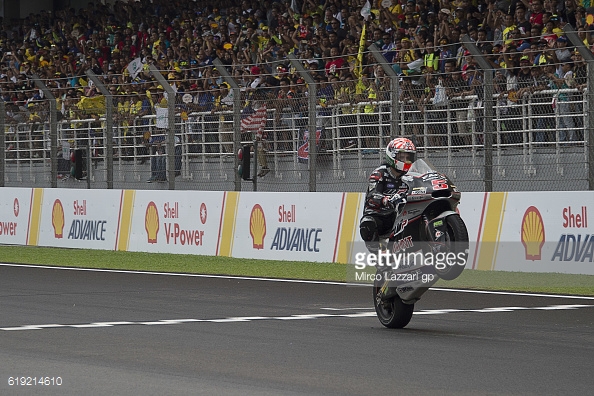 Zarco reflects on the impact he hopes his success has on his country
Unable to "choose a particular race" as the most special win to him, especially as he feels that "getting a win is always important" and that it is "the result of a great work of the whole team", he felt that "each has something special about it" and that he "could not just say one". Describing his achievements as a great "source of pride" he now hopes that the second title will mean the "fan-base in France increases" and that as a result "the passion for this sport continues to grow".
He felt that he "noticed a change" last year and is now hopeful that "there is another step forward". He said, "We all want the passion for motorcycles to grow, for more people to watch the races on television. That's why I have a riding school with Laurent [Fellon], where I spend a lot of time between races. I would like the idol of future French riders to be me. I hope this second World Championship helps."
Zarco discusses the Ajo Motorsport family
Talking about his "motorcycle family", Ajo Motorsport, he said they have been "very important" in his success over the two years that he described as "two very intense seasons together during race weekends, 24 hours a day", a factor he "gives a lot of value to". He said that "finding the time to disconnect with them", whether it be playing football, or on the road in the truck, he said it "makes you feel at home when you pull on the leathers".
Praising Aki Ajo he said that he has "managed to put together a group of people with an excellent atmosphere", and that you find that "every little thing is controlled and each person plays their role perfectly"; he said, "This order is what makes you win." This is confirmed by the fact they have "achieved it both in Moto2 and Moto3" and he wished his team well in the future.
The double champion hopes the experience will pay off in the MotoGP
Zarco spoke of how he is "very happy to have stayed one more year in Moto2", and is extra happy to "move up with two titles under [his] belt". He feels that the "experience acquired this year" regarding his riding style and how to set up the new Kalex will "serve [him] well in MotoGP". He said, "I'll move up with a very good bike and a team with which I think we can do a good job."