Sergio Perez has announced that he is end his association with sunglasses brand, Hawkers, after a tweet sent from their official account was deemed offensive by the Mexican.
The tweet, since deleted, translated into English read "Mexicans, put on these sunglasses so your eyes don't swel when you are building the wall tomorrow."
​Perez splits from sponsor
During the US Presidential campaign, Republican candidate Donald Trump repeatedly stated his desire to build a concrete wall on the US-Mexican border to stop illegal immigration into the United States. After his shock win over Hillary Clinton on Tuesday, the President-Elect could now follow through on his threat and build the wall.
Explaining his decision, Perez said: "I decided to split with them. I think it was a very unfortunate comment about my country.
"I didn't see a reason, and didn't find it funny at all so we are working on an arrangement to split." Perez, only recently committed to the brand he described as "great."
'No-one makes fun of my country'
Production had started on around 20,000 pairs of glasses, with Perez expressing his regret as he said "I feel sorry because it's a great brand, but I'm not willing to stay there because I think the brand must be in charge of the community manager, and I didn't find it funny now.
"It's a shame the brand pays for it, because it's a mistake from one person that I'm sure he regrets it now."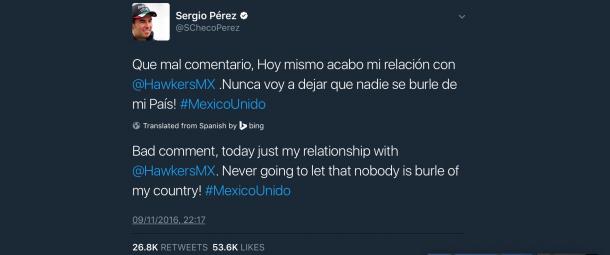 In a tweet of his own, Perez summed up his decision by telling his 1.3million followers, "I will never let anyone make fun of my country." The split comes as Perez is enjoying probably his best season in Formula One to date, scoring two podiums and is likely to claim seventh place in the driver's championship, a remarkable achievement given only the two Mercedes', Red Bull's and Ferrari's are ahead of him.