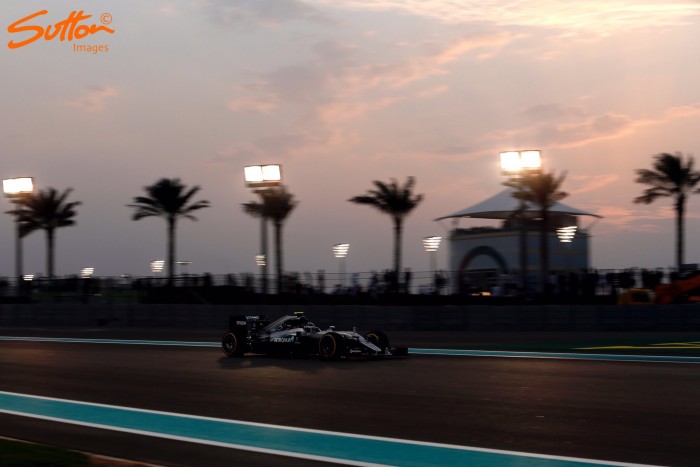 In second practice for the Abu Dhabi Grand Prix, ​Lewis Hamilton ​was once again quicker than team-mate Nico Rosberg, but this time the margin he enjoyed was just 0.079s, cut from the 0.374s gap he had in First Practice.
A 1:40.861 was good enough to see Hamilton top the session that would give the teams the most accurate representation of race-day conditions.
Sebastian Vettel ​was an encouraging third for ​Ferrari, ​but suffered from another gearbox failure late on, whilst team-mate ​Kimi Raikkonen ​was the other slice of bread, as the Ferrari's sandwiched the ​Red Bull duo, Max Verstappen ahead of ​Daniel Ricciardo.
Valtteri Bottas was seventh for ​Williams, ​ahead of the ​Force India pairing of ​Sergio Perez and ​Nico Hulkenberg. ​On his final Friday driving a Formula One car, Felipe Massa ​ put the sister Williams into the top 10.
Toro Rosso tyre troubles
In FP1, Danill Kvyat's ​early puncture forced him to miss the rest of the session. In the afternoon running, he once again got a left-rear puncture, this time at the ultra-fast left-hander at T16. Luckily he slowed enough to avoid contact with the barriers, but his running was limited to four laps, to bring his total for the day to eight.
As a precaution, Toro Rosso, did not send ​Carlos Sainz Jr ​out again, meaning the team completed just nine laps all session, and finished bottom of the timing sheets.
Early running had Vettel on top to start with, as the Soft tyres were favoured, with a 1:42.257 the best time of this segement of the session, Raikkonen having the honour of that. Mercedes were slow to get running, with Rosberg languishing in P6, before improving to P3, 0.037s down on Raikkonen's time.
Hamilton reported a gearbox transmission issue, although the team quickly rectified the problem and got him on his way to improve from his 1:52 pace.
Qualifying sims reveal pace
Vettel was the first of the front runners to switch to the UltraSoft tyre, unleashing a 1:41.404s, before Verstappen went 0.015s quicker. Rosberg came through in 1:40.940 to go P1, before Hamilton's first proper lap of the session was posted, the 1:40.861s that saw him complete the double of Friday practice.
Vettel then improved to jump back ahead of Verstappen, who in turn was just 0.001s ahead of Ricciardo.
Long runs begin
After the qualifying simulations had been completed, the long-runs began, and the action quietened down.
Mercedes radioed Hamilton to tell him to pit-in, owing to an incorrect flap setting on his front-wing, but as is so often the case, he said the car was fine and was allowed to continue on.
After his FP1 was ended early owing to an ERS failure, ​Jenson Button ​was delayed in getting out in his final FP2, although when he did, was finished P12, behind team-mate Fernando Alonso, ​as the ​McLaren​ showed improved pace from the morning running.
Esteban Gutierrez, Jolyon Palmer, Esteban Ocon and Felipe Nasr all had bragging rights over their Haas, Renault, Manor and Sauber team-mates, as Romain Grosjean's mood wasn't improved when his team told him to box in as he had a water-pressure issue. He told them back about a rear suspension issue that he wanted looking at.
With around 10 minutes left on the clock, Vettel ground to a halt under the hotel, apparently suffering from his fourth gearbox failure of the season, although as it was a Friday gearbox, he will not receive a grid-penalty.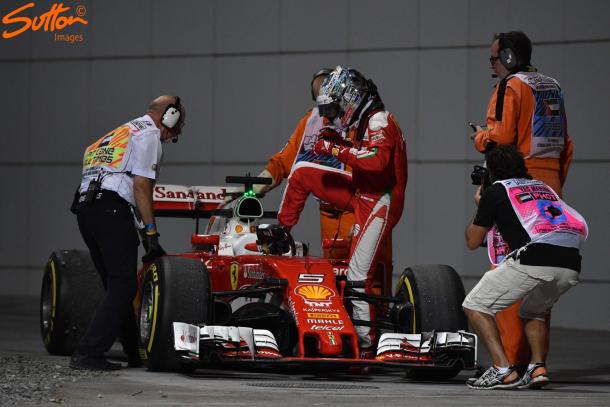 2016 Abu Dhabi Grand Prix - Second Practice classification

| | | | |
| --- | --- | --- | --- |
| Position | Driver | Team | Time/Gap |
| 1. | Lewis Hamilton | Mercedes | 1:40.861 |
| 2. | Nico Rosberg | Mercedes | +0.079 |
| 3. | Sebastian Vettel | Ferrari | +0.269 |
| 4. | Max Verstappen | Red Bull | +0.528 |
| 5. | Daniel Ricciardo | Red Bull | +0.529 |
| 6. | Kimi Raikkonen | Ferrari | +0.603 |
| 7. | Valtteri Bottas | Williams | +1.098 |
| 8. | Sergio Perez | Force India | +1.180 |
| 9. | Nico Hulkenberg | Force India | +1.403 |
| 10. | Felipe Massa | Williams | +1.407 |
| 11. | Fernando Alonso | McLaren | +1.505 |
| 12. | Jenson Button | McLaren | +1.962 |
| 13. | Esteban Gutierrez | Haas | +2.151 |
| 14. | Romain Grosjean | Haas | +2.247 |
| 15. | Jolyon Palmer | Renualt | +2.411 |
| 16. | Esteban Ocon | Manor | +2.739 |
| 17. | Pascal Wehrlein | Manor | +2.893 |
| 18. | Felipe Nasr | Sauber | +3.042 |
| 19. | Marcus Ericsson | Sauber | +3.184 |
| 20. | Kevin Magnussen | Renault | +3.256 |
| 21. | Carlos Sainz Jr | Toro Rosso | +3.617 |
| 22. | Danill Kvyat | Toro Rosso | +5.087 |