 Sebastian Vettel completed a Friday practice double by finishing fastest in the second practice session for this weekend's Formula 1 Bahrain Grand Prix, despite stopping mid-way through the session with a "complete shutdown" of his Ferrari power unit.
Vettel narrowly edged out Mercedes' Valtteri Bottas, with a supersoft shod time of 1:31.310s being enough to see the Ferrari end the second session quickest, ahead of the Finn by just 0.021s.
Daniel Ricciardo impressed with third for Red Bull, ahead of Kimi Raikkonen whose car underwent a engine change after his FP1 failure.
Lewis Hamilton had a scruffy session and ended up only fifth, having not completed a clean fast lap on the supersofts, with Renault's Nico Hulkenberg guilty of blocking Hamilton into Turn 10, seconds after completing a solid lap, which was good enough for sixth place.
Felipe Massa, Max Verstappen, Romain Grosjean and Danill Kvyat completed the Top 10, in the most representative climatic conditions prior to the race on Sunday.
Sainz trouble
After the initial install laps had been completed, Carlos Sainz pulled over the side of the track at Turn 11, with smoke coming from his STR12. Unable to return to the pits, his session ended after just 15 minutes, and cost Toro Rosso vital data.
Until midpoint in the session, the action was quiet, with teams and drivers refining their set-ups before switching to qualifying simulations and then embarking on the race-pace simulations.
With just over half-an-hour to go, Vettel bolted on a new set of supersoft tyres and lapped in 1:31.310, which would stay unbeaten throughout the remainder of the session.
Bottas, minus his T-wing, which fell off, lapped just four hundredths slower, which teases the possibility of another close fight between Mercedes and Ferrari this weekend.
Raikkonen, after missing most of FP1, completed 34 laps and ended up just a tenth-and-a-half off the benchmark,
After starting a flying lap on the supersofts on multiple occasions, Hamilton backed out of them all, due to his running wide on the exit of Turn 4 and the block by Hulkenberg at Turn 10. He ended 0.284s down on Vettel, but the delta time between the soft and supersofts was 1.3 seconds, which suggests there is still plenty of time in the Mercedes.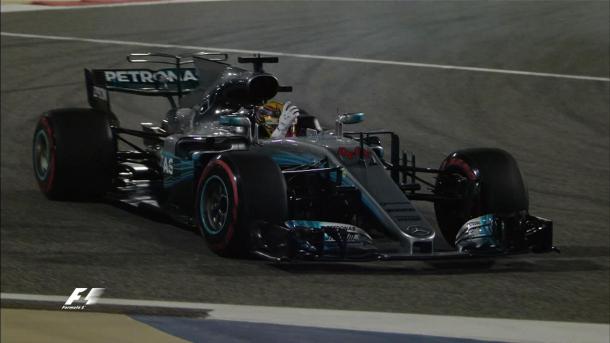 Max Verstappen had a reduced session after suffering floor damage to his RB12, after running wide on the exit of Turn 15, and running over the rumble strips.
As the field began their long runs, Vettel suffered a "complete shutdown" of his power unit, exiting Turn 13, and just about managed to crawl, down the hill and stop just outside the pit-lane. Luckily for him, the marshals pushed him the other side of the line and into the graps of the mechanics, who were able to get him out again minutes later, causing only minor disruption to the run-plan.
Vandoorne last
During the break between FP1 and FP2, McLaren decided to change the engine in Stoffel Vandoorne's car, meaning he missed the start of the session.
After he did get out, the car looked a handful to drive, and he locked up in big fashion at the Turn 8 hairpin. His best time was 2.920s down on Vettel's.
Elsewhere, Pascal Wehrlein completed his first day back in the Sauber with another 29 laps under his belt, and was 19th quickest.
The session ended with Williams' Lance Stroll radioing that he was in pain, after his seat began to get hot, the best of his 36 laps was a 1:33.361, good enough for 16th place.
2017 Bahrain Grand Prix - Second Practice Classification

| | | | |
| --- | --- | --- | --- |
| Position | Driver | Team | Time/Gap |
| 1. | Sebastian Vettel | Ferrari | 1:31.310 |
| 2. | Valtteri Bottas | Mercedes | +0.041 |
| 3. | Daniel Ricciardo | Red Bull | +0.066 |
| 4. | Kimi Raikkonen | Ferrari | +0.168 |
| 5. | Lewis Hamilton | Mercedes | +0.284 |
| 6. | Nico Hulkenberg | Renault | +0.573 |
| 7. | Felipe Massa | Williams | +0.769 |
| 8. | Max Verstappen | Red Bull | +0.935 |
| 9. | Romain Grosjean | Haas | +1.195 |
| 10. | Danill Kvyat | Toro Rosso | +1.397 |
| 11. | Kevin Magnussen | Haas | +1.544 |
| 12. | Esteban Ocon | Force India | +1.565 |
| 13. | Jolyon Palmer | Renault | +1.566 |
| 14. | Fernando Alonso | McLaren | +1.587 |
| 15. | Sergio Perez | Force India | +2.009 |
| 16. | Lance Stroll | Williams | +2.051 |
| 17. | Marcus Ericsson | Sauber | +2.634 |
| 18. | Carlos Sainz Jr | Toro Rosso | +2.762 |
| 19. | Pascal Wehrlein | Sauber | +2.807 |
| 20. | Stoffel Vandoorne | McLaren | +2.920 |