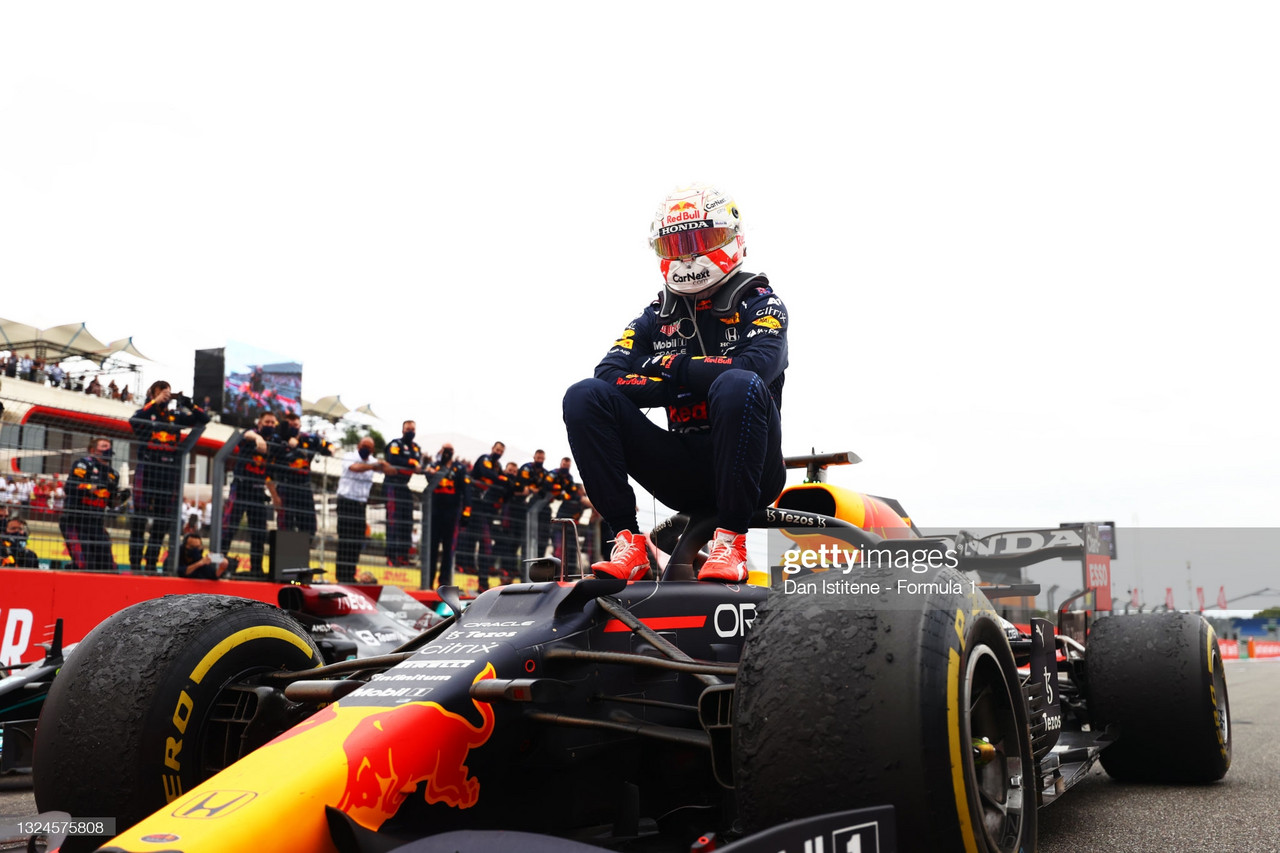 Nikita Mazepin (P20) - 5
A quiet race for the Haas driver, a minor scuffle for position with team-mate Schumacher for position resulted in the German being pushed wide at turn four.
A good race for Mazepin consists of keeping the car pointing the right way, which he managed on this occasion.
Mick Schumacher (P19) - 5
Overall all a tough weekend for Mick.
Starting from 15th, he fell backward in the early phases of the race, with the aforementioned scuffle with Mazepin costing the reigning F2 champion time as he had to rejoin the track.
Solid but unremarkable from there on out - another F1 race weekend completed for the German.
Nicholas Latifi (P18) - 5
The Canadian missed out on a Q2 spot by 0.002 of a second and started Sunday's race with a point to prove.
He had a strong opening lap as he made places up, overtaking fellow Williams driver George Russell.
However, Latifi slipped back during the race, eventually crossing the line in P18.
Kimi Raikkonen (P17) - 4
An absent weekend from 'The Iceman'.
Outqualified by his team-mate, finished the race where he started as he pounded around Paul Ricard at the back of the field.
In a word, quiet.
Charles Leclerc (P16) - 6
Tire management was King in France, and Ferrari was the Jokers of the grid.
Leclerc held his own in P7 early on, driving well as Ferrari struggled for race pace. After being overtaken on lap 15 Leclerc dove into the pits for hard tires, which he was then unable to extend to the end of the race.
After falling out of the points, Leclerc pitted again - crossing the line in P16.
Antonio Giovinazzi (P15) - 5
Another Alfa Romeo whose race could be summed up as 'quiet'.
Giovinazzi made it into Q2 before having a completely unremarkable race.
A tough weekend for Alfa, who were perhaps surprised with their lack of pace.
Esteban Ocon (P14) - 5
A new deal until 2024 for the French driver, at the French team, ahead of the French GP, surely it was written in the stars for a good result.
However, this was not the case for Esteban Ocon
Starting in a strong position from P11, Ocon struggled for race pace on either tyre and cited high tyre degradation as the reason for his poor pace.
Yuki Tsunoda (P13) - 6
As has been the story all season, excluding Bahrain and Baku, for Tsunoda, the Japanese star failed to complete a clean weekend.
A pit-lane start following a qualifying crash, forcing a gearbox change, as well as an optional floor change, left Tsunoda with a mountain to climb.
He made progress, just being pipped to P12 by George Russell towards the end of the race.
A case of what could've been for Yuki.
George Russell (P12) - 8
A strong race from the Williams driver after a rocky start.
Russell started poorly from P14 - after another Q2 appearance for 'Mr. Saturday'. He found himself in P19 - as Tsunoda, Stroll, Raikkonen, Latifi, and Schumacher got past the Brit in the early stages.
However, Russell put his foot down and fought his way back through, P12 in a race with no retirement is a big step for Williams as they regain P9 in the constructor's championship with Russell's result.
Carlos Sainz (P11) - 6
A tough Sunday in Southern France for Sainz.
After starting fifth, Sainz was undercut by Daniel Ricciardo in the McLaren, before being passed by Lando Norris, Pierre Gasly, Fernando Alonso, and both Aston Martin's on his way to 11th.
A poor weekend for the Ferrari, who will look to rebound in Austria.
Lance Stroll (P10) - 8
A second botched qualifying in as many races for Stroll meant he had a lot to do, but he did it, and he did it well.
Stroll started nineteenth and took his hard tyres to lap 35, with a good pace he found himself 12th behind Yuki Tsunoda, who he passed, before a late pass on Carlos Sainz secured a final points position for Stroll.
An excellent race from lights to flag from the Canadian.
Sebastian Vettel (P9) - 7
Another Aston Martin who made a long first stint work, Vettel found his way into the points again.
After a P12 start, Vettel opted for the Hard tyres for the start, which he subsequently took to lap 38.
He emerged in P11 and stormed back into the top 10, passing Carlos Sainz for P9 - securing points for the third consecutive race.
An efficient drive for the German driver.
Fernando Alonso (P8) - 7
Alonso scored points for Alpine in their home race in possibly his most complete weekend of his F1 return.
The two-time World Champion qualified P9 and made up a spot into P8 in the race's early stages.
After tyre struggles and a great battle with Ricciardo, Alonso was passed by both McLaren's on lap 11 before falling behind Vettel a lap later.
However, after pitting on lap 19, Alonso overtook Leclerc for 11th and returned to the top 10 after Stroll's pit-stop. A further pass on Sainz putting him P9 - later P8 after Vettel's pit-stop.
A strong race for Fernando.
Pierre Gasly (P7) - 7
Gasly started sixth in his home race and drove well for another point finish.
Gasly fell victim to the undercut from Daniel Ricciardo, before losing a place to Lando Norris - in a tense battle that forced them both off of track before the move was completed.
From here Gasly drove a solid race, coming home to a delighted French crowd and a delighted AlphaTauri team, who remain fifth in the constructor's standings.
Daniel Ricciardo (P6) - 8
On Sunday we saw hints of the best of Daniel Ricciardo.
After a tough start to his McLaren career, Ricciardo had a great Sunday in France. A good start from 10th got him a position ahead of Lando Norris before he bested Fernando Alonso on Lap 11.
An undercut on Carlos Sainz and Pierre Gasly gained him places, allowing him to take P6 at the flag.
A solid afternoon for the Australian.
Lando Norris (P5) - 9
A sixth top-five finish out of seven races this season for the Brit.
After a poor start, Lando fought to make up places, getting past Fernando Alonso, alongside Ricciardo.
Lando stayed out until lap 24, executing a longer first stint than most which gave him the tyre life to make passes on Gasly, Sainz, Leclerc, and Ricciardo.
Valtteri Bottas (P4) - 7
Bottas was unlucky on Sunday as he endured a frustrating race.
He started in and held third position and stayed within an undercut range of Max Verstappen, something which he was unable to pull off.
As the race went on, Bottas was re-passed by Verstappen, on a two-stop strategy - which Bottas would claim, in a sweary rant, was the better strategy, as he implored Mercedes to trust him on strategic calls in future.
Sergio Perez (P3) - 8
Perez struggled early on in France to stay with the leading group but made up for it as the race went on.
Perez's expertise with the tyres meant that Perez was able to pick up his pace as his longer first stint drew to a close.
This meant that Perez had the pace to close down Valtteri Bottas from an 18-second gap, controversially passing the Finn with 4 laps remaining.
Lewis Hamilton (P2) - 9
A weekend of almost's for Hamilton cost him, dear.
Hamilton narrowly missed out on Pole but was able to snatch the lead after Verstappen's turn two error.
Hamilton then lost the lead again, with Mercedes slightly underestimating the effect of Red Bull's undercut.
However, Hamilton would then retake the lead through Verstappen's pit-stops, before losing the lead on lap 52, one lap from the end.
A good weekend for Hamilton, almost a great one.
Max Verstappen (P1) - 10
Max Verstappen put on a near-flawless performance in France but still deserves a 10/10 rating.
An off in turn 2, due to the tail-wind down the main straight is the only markdown for Verstappen as he surrendered the lead.
From there Verstappen stayed within touching distance of the leading Hamilton, executing a perfect undercut after pitting on lap 18. After this Verstappen would put in a perfect out-lap, and was able to retake the lead.
Max stayed ahead but, with concerns over tyres, pitted again on lap 32, turning the race on its head by using a tactic we saw recently by Hamilton and Mercedes in Spain.
From here it was a chase on, Verstappen fought back, overtaking second-placed Bottas on lap 44, before closing down a five-second gap to Hamilton to overtake on lap 52.
As GianPiero Lambiase said, 'Simply Lovely'.