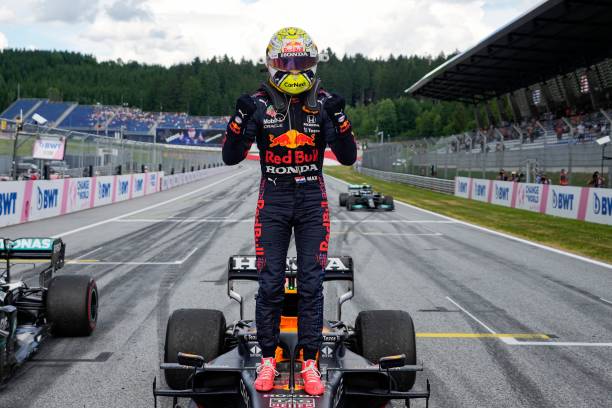 A power shift at the top
Success in Styria marked win number four in a row, and five for the season, for Red Bull.
Max Verstappen was utterly dominant virtually all weekend, topping FP2 and FP3 before taking pole from the trailing Mercedes.
This form continued into the race as Verstappen executed a perfect lights-to-flag victory, extending his championship lead to 18 points from Lewis Hamilton.
It could be argued that this race marked a shift at the top of F1.
Since 2014, Mercedes have been utterly dominant, however, for the first time in the Hybrid-era, they are being viewed as the underdog.
Mercedes CEO Toto Wolff would remark that Sunday marked "the first race in eight years" where Mercedes lacked the pace to fight for victory and had no way to fix that across the weekend.
As a result, Red Bull must move to the 'team to beat' status.
Clearly, the fastest car currently, and for the majority of the season, five wins compared to Mercedes three, still developing their 2021 car - whereas Mercedes are not - and 40 points clear at the top in the constructor's standings, there is only one question.
Can Red Bull and Max Verstappen be stopped?
Mr. Consistent
target="_blank">Embed from Getty Images
Unsure who 'Mr. Consistent' is this season, just take a look at the form book.
Lando Norris has been in sensational form.
Seven top-five finishes in eight races (!!), the only driver to score at every race in 2021 on his way to racking up 86 points, two podiums, and fourth in the driver's championship, not to mention getting the better of team-mate Daniel Ricciardo thus far, it's been quite the 2021 campaign for Norris.
In Styria, he was excellent again.
He qualified an excellent P4, ahead of Sergio Perez in the Red Bull, but would start the race from P3 due to Valtteri Bottas' penalty.
Norris held his own early on, fending off pressure from the two quicker cars behind, but would put up very little resistance on laps 10 and 11, when he was overtaken as McLaren looked at the long game.
In P5, Lando was able to run his own race, untroubled behind he cruised home, picking up vital points for McLaren in their battle with Ferrari in the battle for P3 in the constructors.
Ricciardo struggles
From one McLaren driver to another, Styria was a tough weekend for Daniel Ricciardo.
The seven-time race winner looked to have found form last time out in France, driving from P10 to P6 as flashes of the Ricciardo we have come to love over the years shone through.
However, Styria was different.
On Friday he showed strong pace, with a P2 in FP2 marking a huge step forward, but from there it was nothing but struggles.
Ricciardo qualified a disappointing 13th as he lacked pace on Saturday, and things didn't exactly improve on Sunday.
After an impressive start, which saw him up to P9 with some strong overtaking moves, Ricciardo suffered an engine problem at the start lap 7, which by the time it had been resolved by the end of the lap, had cost him the four places he had gain.
From there Ricciardo found himself stuck in a tightly-packed DRS train and was unable to improve his position.
Here's to a better weekend for the Aussie next time out.
Heartbreak for George Russell
You've got to feel for George Russell
The Williams driver lived up to his 'Mr. Saturday's label by qualifying P11, just 0.008 seconds off of a spot in Q3, but would be promoted to P10 follow Yuki Tsunoda's three-place grid penalty for impeding Valtteri Bottas.
Russell started well, running up in P8 in the early stages of the race before a pneumatic system problem in the pits resulted in an 18 second stop.
Russell would be forced to pit again a lap later in an attempt to solve the issue but to no avail, with Williams being forced to retire the car.
Surely it's just a matter of time before Russell scores him maiden Williams points.
Ferrari rebound
After a tough France, Ferrari was able to rebound in Styria.
At the Circuit Paul Ricard, Ferrari lacked pace and suffered tyre issues on their way to a double no-score for its two drivers, however, this weekend we saw the opposite.
Carlos Sainz came home in sixth, a strong, assured race following a poor performance in qualifying that left him P12. Whereas, Charles Leclerc finished where he started in P7, taking the hard route to a point finish.
Contact with Pierre Gasly punctured the Frenchman's left rear wheel and damaged Leclerc's front wing, forcing him to pit for repairs.
This left Leclerc to executed a fantastic recovery drive through the field to score vital points for Ferrari in their battle with McLaren.