The rule changes for the 2016 MotoGP season included that all riders were to run with the same Electronic Control Units (ECU).
These had been created by Magneti Marelli following inputs from Yamaha, Honda and Ducati. This ruling has come to try and make the chances more equal for all of the riders in the MotoGP class; the three main factory teams had the funding to development ECUs that were elite compared to the independent riders.
The ECU malfunctioned
The ECU malfunctioned during Crutchlow's race causing him to crash out. The LCR Honda rider was the fastest independent rider on the track at the time and was currently in eighth behind Repsol Honda rider Dani Pedrosa who was being chased by Team Suzuki Ecstar rider Maverick Viñales. He had them in his sights when he crashed out turn four of the Losail International Circuit with sixteen laps to go, after the ECU thought he was in a different sector meaning he entered the corner at 60km/h faster than he did on the previous lap.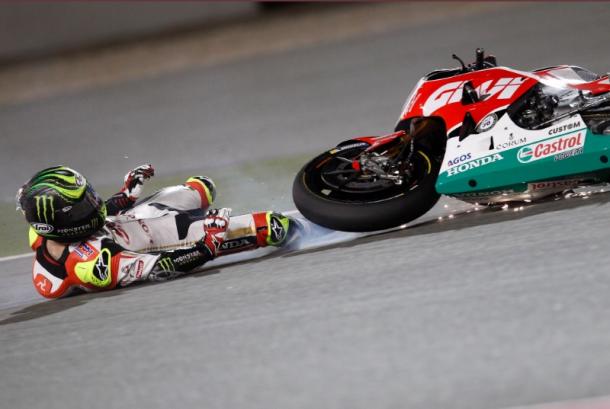 The bike didn't have a clue where we were on the circuit
Crutchlow, 30, was said to be "extremely disappointed" with the issue and that his team "had some electronic problems during the weekend and again in the race.
"The bike didn't have a clue where we were on the circuit," Crutchlow told reporters. "It seemed to be reading the wrong sectors, so in the last sector it thought I was in the first sector and so on. This was why I crashed!"
Crutchlow was "disappointed" for his team because "we all worked hard," during race weekend. "I felt we could have got in amongst the front five that got away." The LCR Honda rider said that his team will "investigate later and hope to be back fast in Argentina."
Luckily the expectant father was able to walk away unhurt from the crash but was clearly angry at the outcome from his first race of the season.