Marc Marquez seemed confident after his win in Argentina and when asked about this weekend he said, "Austin is a circuit that has been really good for me!"
The Repsol Honda rider described how the team arrived with a 'really strong feeling.' Marquez feels the acceleration is where they are losing the most time on the bike and said, "We're trying to find the best way to improve." His team feel that Marquuez' "left corners are better than the right ones," which helps his confidence ahead of the race at a circuit which is made up of predominantly left handed corners.
Describing the pre-season testing in Qatar as 'really hard', Marquez felt that they were 'far from the top guys,' as he struggled in eighth position however he remains positive saying, "We believe in our potential and we worked hard to find a good base, it looks like that base was working in Argentina. I hope that it will work here so we will see."
Rossi lucky to be on podium in Argentina
During the first half of the race in Argentina, Marquez found himself battling with rival Movistar Yamaha rider Valentino Rossi, before the mandatory pit swap where riders had to switch tyres because of doubts with the Michelin's; Rossi felt he 'wasn't strong enough' on his second bike and said about his result in Argentina that he was, "lucky to arrive on the podium."
The Italian described the track as "very difficult" saying that is was "so long and so technical." He spoke about the many different elements from start to finish saying, "in the last years it wasn't the best track for us."
Rossi's concerns for the third round are mainly with the tyres after Michelin have become the new manufacturer for this season saying, "Usually we suffered a lot with the front here but now we have to understand if we have a good tyre for our bike; that is suitable for our bike, for this track."
The Italian is hoping to find the answers straight away saying, "We have to wait for tomorrow to understand the front. We have to try and be ready and see what happened during practice." Rossi does not seem as confident as Marquez going into the race and expressed his concerns saying, "We have a lot of work to do because this track is so long and so difficult so we have to concentrate to make the best."
Lavery still shocked at Argentina result
Aspar MotoGP Racing Team rider Eugene Laverty made a rare appearance at the pre-race press conference following his success in Argentina where he finished as the top independent rider in fourth position in what he described to be 'a crazy race'. We hope to see more of the shy Irishman who still appeared to be in shock over his fourth place finish saying, "I didn't expect to end up fourth, not even at the start of the race nor at the start of the last lap when I was I eighth place."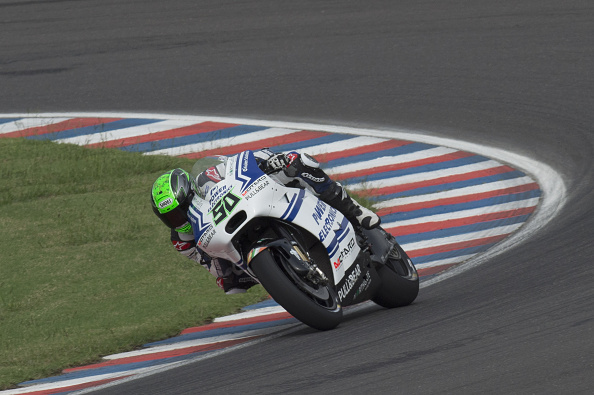 Luckily for Laverty, three of the top riders including Team Suzuki Ecstar rider Maverick Vinales crashed out, and then Andrea Iannone wiped out the Ducati of his teammate Andrea Dovizioso meaning Laverty gained three places, Laverty said, "I crossedthe line, I had no idea where I was!" This turned out to be a great result for Laverty who spoke about his struggles during pre-season testing in Qatar describing it as 'one of the roughest pre-season' he had had. He overcome a visit to the hospital and then a brake failure leading up to Argentina, before finding himself 'in the right place at the right time" claiming that it "looks like the luck of the Irish has worked this time!"
Not everyone experienced as much success as Laverty at the Termas de Rio Hondo in Argentina. Current champion Movistar Yamaha rider Jorge Lorenzo had a difficult meeting. It was clear he was unhappy with the bike all weekend, his gestures to his mechanics indicated that he was not happy with the handling with the front end of his M1. Lorenzo blamed 'the conditions of the track' saying they were 'complicated for everyone', but he highlighted the fact that 'some of them stayed on their bike' and that he 'made a mistake.'
Lorenzo led going into the first corner but ended up in sixth position by the ned of the lap, he claimed he "Didn't feel great on the bike in the first laps" and "lost a lot of metres with the first group and instead of having patience to improve the feeling little by little and wait for the second bike." The Spaniard "pushed too much in this first corner which had a lot of wet patches and I crashed." Lorenzo gives the impression that he 'could have been faster on the second bike' but no-one will know as he fell off at turn one of the second lap.
A usually consistent and smooth rider who strives for 'perfection' Lorenzo claimed, "Nobody is perfect and I make this mistake and I try to learn from it for the future." However he does not seem confident should the weather be similar to the conditions in Argentina saying, "I look forward no yes for this race, I think we have a good potential in normal conditions, normal tarmac, normal tracks, and normal conditions."
Lorenzo cannot be coping with the growing pressure and speculating surrounding him concerning his decision about who he will ride for next year, whether he will stay with Yamaha, or whether he will move with it apparently looking set for him to move to Ducati according to speculation. But Lorenzo remained quiet saying, "I cannot tell you anything more in Argentina!" Reluctant to inform anyone of his future plans yet he said, "When my decision is made in the future you will all know."
Vinales disappointed with his crash
Unfortunatley for Vinales, his race in Argentina came to an abrupt end despite looking incredibly fierce during the second part of the race; after the pit stop he overtook the two Ducatis, even overcoming their acceleration and then got past Rossi. The Spanish rider was in second when he crashed out, he said, "For sure I was disappointed because I was there, I was having the podium on my hands and I make a mistake and for sure I cannot accept that I do these mistakes when I have the podium there."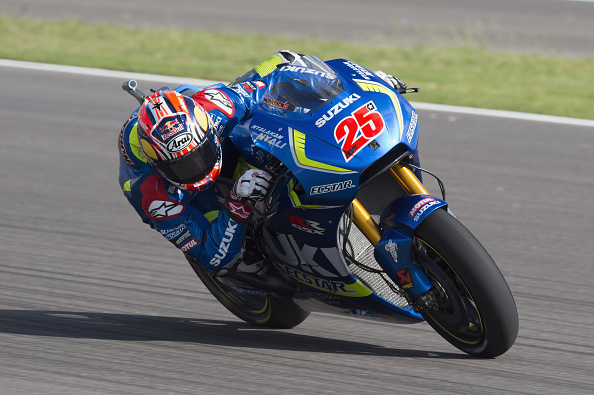 Vinales is hoping to lead the Suzuki to success, which is in its second season since rejoining the MotoGP class, by gaining a place on the podium this season, saying, "it is a lot of years that the bike is not on the top." Despite crashing Vinales felt that he, "learned a lot", when riding behing the three Italians Rossi, Iannone and Dovizioso, and what the bike "needs".
Vinales feels Austin is, "a really good track" that he "likes a lot", describing it as '"special" claiming he can use his "riding style better". The Suzuki is 'evolving' and he feels it is in a much better position compared to what it was in the second race of it's first season since returning. Vinales said, "I'm quite confident for this Grand Prix and for sure we will work hard and for sure we'll try to repeat as we were doing in Argentina."
Iannone takes responsibility for crash
As for the Ducati rider, Iannone, he spoke in the press conference about how unsuccessful his start to the season has been. Iannone crashed out early on in Qatar and again in Argentina, this time taking his teammate out with him.
He described the position he finds himself in as very "difficult", and although he feels all the team are in this position, that it is especially difficult for him. He accepts full responsibility for the crash claiming it was his mistake. He felt he was under pressure from Rossi and so he "tried to stay more inside on the corner, but touched the dirty part of the track", causing him to crash and "unfortunately also Dovi". The Italian, who has had an amazing pre-race event at NASA said, "I think the better way is looking forward and focusing 100% to improve the situation."
Despite having such a start to the season so bad he said, "it's incredible!" the Italian had an 'another world' experience after his emotional visit to NASA where hespent the day with Repsol Honda rider Dani Pedrosa exploring the space station and speaking to those involved in it.