The night before the riders took to the track to compete the three races ahead of the seventh round of the Moto3 season at the modified Circuit de Barcelona, a storm hit. However, conditions were again ideal for the race as they woke up to blue skies ahead of the race where Spanish Estrella Galicia 0,0 rider Jorge Navarro finally claimed the top spot of the podium after a long and hard battle.
Navarro dedicates win to fellow Spaniard
Navarro dedicated his win to #39 Moto2 SAG Team rider Luis Salom who tragically lost his life during the second Free Practice session on Friday before the race, which resulted in the final sector of the of the track changing to the 'Formula 1' layout and the now tighter turn 10 proved very difficult and caught a lot of riders out.
Great start from pole position man Brad Binder
Brad Binder (Red Bull KTM Ajo) had pole position ahead of the race and a fantastic and clean start by him, and everyone else in the 250cc class, and the South African championship leader led as they entered turn one. Khairul Pawi (Honda Team Asia) made an extraordinary start and soon went up the inside of Niccolo Antonelli (Ongetta-Rivacold) to take third behind Enea Bastianini (Gresini Racing Moto3) in second.
First of many crashes in the race at turn five
Turn five was the location for the first incident of the race as 3570 Team Italia rider Stefano Valtulini lost the front of his Mahindra and fell taking Alexis Masbou (Peugeot MC Saxoprint) out with him. Soon after Adam Norrodin (Drive M7 SIC Racing Team) became the first victim to the new tight turn 10; the corner was changed in order to extend the run off area.
Great battle at the front throughout the race
As they crossed the line for the first time Binder lost three positions and Pawi now led Bastianini who got past along with Navarro. Binder battled with Navarro with Navarro remaining in third position until the next time they crossed the line when Bastianini took the lead initially before Navarro overtook both Binder and him to take the lead.
Gabriel Rodrigo (RBA Racing Team) was looking incredibly strong and was among the leaders of the race. He took advantage of riders running wide in front of him and progressed to third behind Binder who now followed Navarro.
Herrera crashes out
The only female in the class Maria Herrera (MH6 Team) crashed at turn ten but was unhurt and able to get up and was assisted by the Marshals who attempted to restart her bike but it was an early end to the race for her despite performing well all weekend. Soon after Hiroki Ono (Honda Team Asia) went with which resulted in Jules Danilo (Ongetta-Rivacold) hitting the back of him at turn two and both riders appeared to be distressed from the accident.
Rodrigo soon made his way to the front temporarily as he passed Binder but the pole position man bit back immediately. Spanish rider Aron Canet (Estrella Galicia 0,0) was there also in the mix; he was in second as they crossed the line with 18 laps to go. The fastest laps in the early stages were being set by rookie Niciolo Bulega (Sky Racing VR46).
Navarro remained in front and he managed to extend a small lead he had built up. This gap meant he was not the usual lead target over the start-finish straight on the next lap as riders were not close enough to gain any advantage from him. Behind him though, Rodrigo, who had lost positions, managed to overtake Canet to reclaim second.
Turn ten caught out many riders
Turn 10 proved difficult for two more riders further down the field. Juanfran Guevera (RBA Racing Team) and Francesco Bagnaia (Aspar Mahindra Team Moto3) crashed out. Guevara lost control of his Mahindra and clipped the back of Bagnaia who was brought off his bike when the rear slid from under him and they ended up in the gravel. Guevara was able to re-join the race but unfortunately for Bagnaia it was race over with seven laps to go. ON the next lap, Andrea Migno also came off at turn ten after spinning out at the tighter corner changed following Safety Commission meeting to make track safer for all riders.
With 15 laps remaining Navarro made a big mistake at turn seven, he went wide which resulted in him losing four places meaning Canet now led ahead of Rodrigo, Fenati, and Binder. He was now followed by Bastianini who completed the lead group of riders who were closely followed Pawi who in turn was being chased by Bulega.
Fenati took the lead… but not for long
As the riders crossed the line after seven laps Fenati took the lead ahead of Rodrigo as Binder moved up to third. Soon Binder took to the front as they crossed the line with 13 laps to go and Rodrigo followed him. Navarro also took advantage of Fenati but the Italian soon made his way back up to second ready to attack Binder as they crossed the line next time round, but it was Rodrigo who came out on top ahead of Navarro who then took the lead. Rodrigo lost another place to Binder but remained in third ahead of Fenati.
A group of nine had formed as Pawi and Antonelli had caught up and they continued to battle for the lead as they crossed the line with ten laps remaining. Antonelli and Bulega had progressed further to the front of the lead pack as Fenati now regained the lead. However Antonelli soon fell off the tail of a group as a gap of over a second opened up between him and the lead. Not long after, the Italian crash out at turn fifteen. Despite trying to keep the clutch in he was forced to let go after he lost the front at turn 14; the left handed turn of the new chicane. It was race over for him and wildcard Albert Arenas (MRW Mahindra Aspar Team) also crashed out at turn 10 with nine laps remaining, he was unhurt.
Navarro sets personal best lap
Navarro led with eight laps to go and broke away ever so slightly after setting his personal best lap of the race. Bastianini followed ahead of Fenati and Rodrigo who was in front of Binder, Bulega, Canet and Pawi. It was all going to come down to the last lap. Behind them, Jakub Kornfeil (Drive M7 SIC Racing Team) had to return a place to Fabio Di Gianntonnio after being penalised by race control for overuse of track. With six laps remaining Jorge Martin (Aspar Mahindra Team Moto3) crashed at turn two and was thrown over the front of the bike; he appeared hurt holding his arm as he was escorted to the side of the track.
Five laps remained and Bastianini made his way back to the front of the pack ahead of Navarro and Fenati who made it difficult for him to settle into the lead. He went wide at turn nine and lost two places to the duo which meant Fenati now led. Meanwhile, Binder was there in fourth place watching, taking everything in. Bastianini went past Fenati on the next lap followed by Binder and Rodrigo who all dipped into the slipstream of Fenati before passing him heading into turn one. Navarro got ahead of Rodrigo who soon benefited from Binder going wide and he gained another place.
Race over for Pawi
Rodrigo was determined to get back to the front no matter who was ahead of him. Pawi crashed with three laps remaining as he was forced wide when trying to avoid Rodrigo who had the inside line on turn 10; Pawi lost the front and slid out ending his race for him. Binder was forced to rescue his KTM after Rodrigo came into contact with his rear tyre causing him to wobble and sit up; Rodrigo ran straight on into the run off area. Rodrigo was more than likely due to receive a penalty after the incident where fortunately both riders did not crash and remained in the race but then Rodrigo crashed out at turn one as he entered the penultimate lap after running wide and losing the front. Despite holding on and keeping clutch in he and the bike rolled and he was left to take his anger out on the gravel in the trap.
On the last lap both Karel Hanika (Platinum Bay Real Estate) and wildcard Davide Pizzoli (Procercasa – 42 Motorsport) both crashed out and were unable to complete the race.
During the penultimate lap Navarro retained his lead as they crossed the line with two laps remaining and a battle between Fenati and Bastianini meant he was able to break away slightly in time for the last lap with a lead of 0.6 seconds. This lead continued into the final lap when Binder decided to make his move.
Brad Binder makes his attack but unable to catch Navarro
The championship leader was in fifth at the start of the lap, Canet became his first victim; he went straight past him, then Fenati and Bastianini within the first few corners. Navarro was now in his sights and he did not want to let him win that easily. But he could not catch him and Navarro retained his lead and took the win claiming the 25 points towards the championship at his home GP.
Binder finished second and Bastianini claimed the final spot on the podium. Fenati set the fastest lap of the whole race and finished in fourth ahead of his teammate Bulega who finished as the fastest rookie. Canet was in sixth ahead of Leopard Racing teammates Fabio Quartararo and Joan Mir, Di Giannantonio and Kornfeil who completed the top ten. Bo Bendsneyder (Red Bull KTM Ajo) was in 11th ahead of Darryn Binder (Platinum Bay Real Estate) who finished as the fastest Mahindra in twelfth. Guevara, was 13th ahead of Tatsuki Suzuki (CIP-Unicorn Starker) and British rider John McPhee (Peugeot MC Saxoprint) finished in 15th claiming the last championship and finishing as the highest (and only) placed Peugeot.
Just outside the points was Livio Loi (RW Racing GP BV) in 16th ahead of Philipp Oettl (Shedl GP Racing), Migno, Locatelli and Antonelli who finished 18th to 21st after re-joining following their previous incidents. Fabio Spiranelli (CIP-Unicorn Startker) was twenty-first and Lorenzo Petrarca (3570 Team Italia) was the last of the race finishers in 22nd.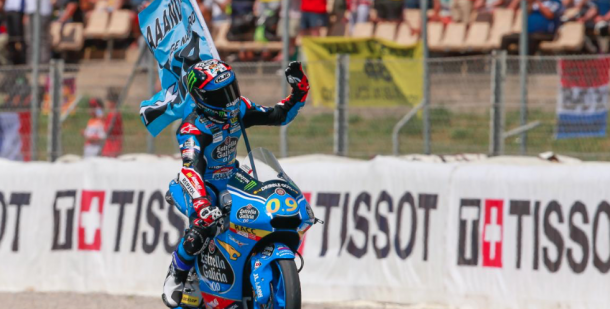 Emotional podium for Salom's friends
Celebrations were quiet as they made their way back to parc ferme. Former teammate of Luis Salom, Brad Binder collected a flag for the #39 rider and completed his lap waving it as a tribute to him. All riders dedicated their success to the Spaniard and they all donned black t-shirts in tribute to him; the podium did not include the usual champagne celebration as a mark of respect.