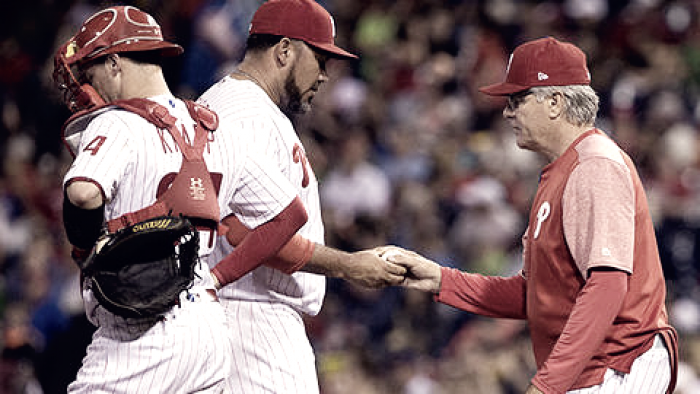 The Phillies are no-doubt sellers in the National League, as they did not even breach the 30-win mark in the first half of the season. They are on pace for 108 losses as they continue to work towards their rebuild. They have a relatively young core that they would like to keep in place as they battle towards contention, but they still have some veterans available for trade.
Who they'll give and what they want
In our previous article on the Los Angeles Dodgers, we already detailed one trade from the Dodgers to the Phillies. In that trade, the Phillies sold off veteran Howie Kendrick in return for Top-10 pitching prospect from the Dodgers in Jordan Sheffield. Kendrick was one of Philadelphia's biggest chips, but they still have moves to make.
Among the veterans that Philadelphia will consider moving are outfielder/first baseman Daniel Nava, starter Jeremy Hellickson, as well as relievers Pat Neshek and possibly Joaquin Benoit. Who will be their suitors? Ideally, the Phillies would love to garner some more pitching depth, as well as potentially a third baseman in their farm system.
They lack a sure prospect at the hot corner, as their only prospect at the position is Cole Stobbe, who is batting .189 this year at Class A. Meanwhile, regular third baseman Maikel Franco has struggled this year to the tune of a .226 batting average. The Phillies have a lot of pitchers in their farm system but lack top prospects on the bump. They'd love to flip some of their veterans for some pitching depth as well.
The Trades
The Phillies don't have as many moves to make as other sellers, like the Chicago White Sox, but they still have a few moves up their sleeves.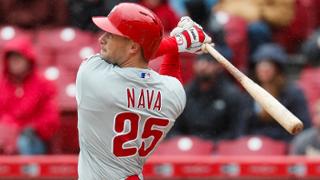 Trade 1 - Trade Daniel Nava to Rays for 3B Kevin Padlo and LHP Genesis Cabrera
This trade could come down to the Rays and Royals, both contenders who are desperately in need of a corner outfielder. However, not only are the Rays slightly needier, they have a better arsenal of prospects to offer to the Phillies.
Padlo is a potential future starter at the hot corner for the Phillies, though he will need a few more years in the minors. Though his numbers are subpar this season, Padlo has shown an advanced plate approach and an ability to hit for both average and power, all while being a plus defender at third base.
Cabrera is a bit of an under the radar prospect, but his power fastball/slider combination, along with a work-in-progress changeup that has made considerable progress lately. Still developing, Cabrera could be an excellent find for the Phillies as they look to get considerable value for Nava, who is hitting .297 this season. The Rays could very much use Nava, especially after Colby Rasmus was declared done for the season for unknown reasons a few days ago. Nava also has postseason experience, as he was a clutch hitter on Boston's 2013 World Series title team.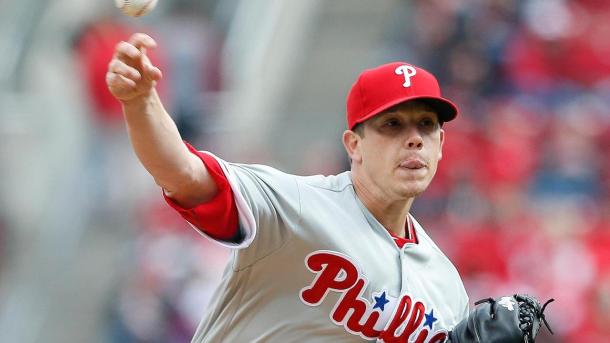 Trade 2 - Trade Jeremy Hellickson, Joaquin Benoit to Twins for LHP Lewis Thorpe, OF LaMonte Wade & Akil Baddoo
This is the blockbuster for the Phillies, as they get rid of two veterans poised for free agency and pick up a host of solid prospects from the Twins. All three prospects are years away from the MLB, but they project as high-ceiling players. The Twins have higher prospects that they are more concerned about protecting, so this is a safe giveaway for them in their ahead-of-schedule season.
With this trade, they acquire a veteran starter in Hellickson, who has a career 3.78 ERA in the American League, and a veteran bullpen arm in Benoit, who has plenty of postseason experience. The Twins beat out division rival Cleveland for the rights to Hellickson, as the Indians' search for another starter continues.
The Twins also opt not to snag Philadelphia's best bait in Pat Neshek, opting for the more seasoned Benoit. The Twins also have a host of bullpen options sitting in the later Minor League levels, giving them more options.
Meanwhile, the Phillies will obtain an excellent southpaw in Thorpe, along with a pair of outfielders in Wade and Baddoo. Thorpe could become an excellent starter, but his questionable health allows the Phillies to demand a few extra prospects. Wade was not initially a top prospect, but he has simply hit at every level thus far, and the Phillies have a chance to steal a potential future starter in their outfield. Baddoo boasts plenty of plus-tools but needs a few years to refine his talent, giving the Phillies another project to work on during their rebuild. All in all, it's a good trade for both sides.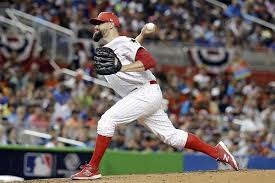 Trade 3 - Trade Pat Neshek to Rockies for RHP Peter Lambert & SS Jose Gomez
The Phillies finally find a match for Neshek in the Rockies, dealing their prize chip on Deadline Day for a pair of top prospects. Both Lambert and Gomez could reach Philly by 2019, with Lambert already dealing in Double-A. Lambert adds more pitching depth for the Phillies, who have a fruitful deadline day in acquiring hurlers for their farm system.
Gomez is a spectacular find for the Phillies, as he has hit .320 this season and has been above average both at the plate and in the field in 2017.
Lambert has three quality offerings in a low-90s fastball, a low-80s curveball and a developing tumbling changeup that he likes to use. With plus control, Lambert (3.95 ERA this season) needs more time to develop, but he could grow into a quality starter for Philadelphia as they finish their rebuild. Neshek gives the Rockies some much-needed bullpen depth. With an ERA well under 2 once more, Neshek has had himself another All-Star season, and he will try to shore up the rocky Colorado bullpen by heading to the Mile High City.
Those three trades will do the trick for the Phillies. Unlike the White Sox, they are on their way to a rebuild already and don't have a ton of pieces to sell. However, excellent signings in Neshek and Nava, along with Benoit, Kendrick, and Hellickson, provide the Phillies with a few chips to garner the pieces they need for the future.