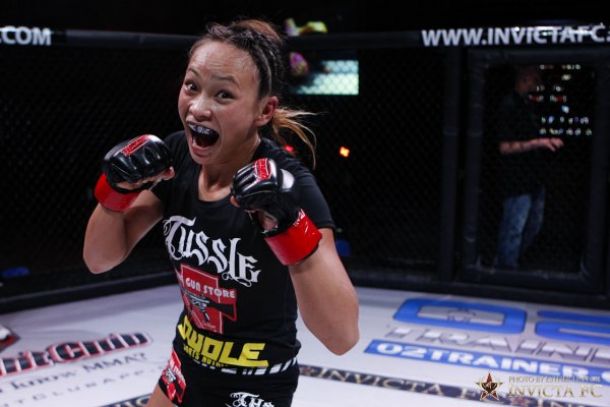 Invicta FC 8 Main Card Preview
The stellar All-Women's Mixed Martial Arts promotion Invicta FC proudly returns to Kansas City, Missouri this Saturday, September 6th for Invicta FC 8. While we have already discussed the reasons why you should tune in to their inaugural UFC Fight Pass card, it's time to get to the nitty gritty. That is the actual predictions of the match ups for each fight. The headlining bout is between Michelle Waterson (11-3) and Yasuko Tamada (15-8-3) for the Invicta Atomweight 105 strap. The night features two title fights as the very popular and skilled former XFC Strawweight champion Stephanie Eggink (4-1) takes on the powerful Finnish fighter Katja Kankaanpaa (9-1-1) for the vacant Strawweight title. The card is lined up with explosive fights all night and here are this writer's predictions:
JJ Aldrich - Delaney Owen
Our first bout of the night is a classic grappler - striker match up. JJ has great footwork and Joanne Calderwood type of accuracy with her kicks. She will need to use her range to keep Delaney at bay. If Owens wants to win this match it will be done on the mat. She is a submission specialist at a very young age but it will be tough against Aldrich. JJ's speed and footwork should present problems all night for Delaney. JJ has some finishing skills but this one should go the distance.
Prediction: JJ Aldrich wins via unanimous decision.
Jodie Esquibel - Jinh Yu
Talk about early FOTN contenders. These two ladies are explosive and gifted fighters. The strength advantage goes to Jodie but as many know Jinh has a little bit of pop in those hands. Also with the feet, so no matter where this fight goes it's trouble. In terms of boxing, the advantage would go to Jodie and it's really anybody's game if the fight reaches the mat. It's a tough one to call to but this writer sees Jinh as having a few more advantages and should pull off a hellacious win.
Prediction: Jinh Yu wins via unanimous decision.
Alexa Grasso - Ashley Cummins
Two women who are absolute contenders for the strawweight belt go head-to-head in this matchup. Ashley's last two opponents are now in the UFC so that shows her caliber of battles she has been in. Alexa comes in with some pop and a very impressive grappling game. This one will be hard not to go the distance. If Cummins stays busy enough she could pull off the win. Alexa will be stalking looking for any opportunity she can so Ashley will have to keep her hands up and feet moving. Do not be surprised to see anyone of these two ladies win this match.
Prediction: Ashley Cummins wins via unanimous decision.
Veronica Rothenhausler - Charmaine Tweet
The heavy hands of Veronica Rothenhausler will finally be on display once again. Coming off a long layoff, we may see some early cage rust from her. That usually is not a good recipe for success when dealing with someone as skilled as Charmaine Tweet. While Veronica holds the power advantage Charmaine is good enough everywhere to make this an exciting match up. Her relentless skill and pressing will bother Rothenhausler but one mistake could see her down on the mat in a hurry. This is truly one of the most anticipated fights of the night and should be a good one.
Prediction: Veronica Rothenhausler wins via 1st round TKO
Irene Aldana - Peggy Morgan
An intriguing match-up for former TUF competitor Peggy Morgan against Irene Aldana. Irene has good footwork and striking but it may be difficult to find the range on the Morgan. Peggy already has to the skill set to compete for the bantam title in Invicta, we just need to see how she pulls it together. She is taller and stronger than Irene and with her tools she should win a tough and close fight.
Prediction: Peggy Morgan wins via unanimous decision.
Tara LaRosa - Roxanne Modafferi
No need to discuss what these two ladies mean to the sport of women's mixed martial arts. It's almost a shame to see these two matched up in this bout. This will be the third time these ladies have faced each other in this rubber match. While Roxanne proved she could deal with some of the younger talent to make it in the TUF house Tara was not so successful. The thought is that she redeems herself here. We all get to witness to of the most talented and experienced fighters in the sport and don't surprise if we see a BJJ clinic on hand.
Prediction: Tara LaRosa wins via unanimous decision.
Michelle Ould - DeAnna Bennett
How about a warm welcome back to the cage taking on a vicious undefeated opponent? Well that is the case for the always game Michelle Ould. It's been about two years from her last fight and she is taking on a beast of a competitor in DeAnna Bennett. Michelle has great striking and footwork but she is a little outmatched here, Deanna is quicker and has all of the same tools and that will be the difference. Don't count out Michelle as she will push the pace of this fight. Should be a close and narrow margin which could lead to a split.
Prediction: DeAnna Bennett wins via split decision.
Tonya Evinger - Ediane Gomes
There is a reason why Ediane Gomes was lined up to fight Cris Cyborg as she is one of the best in the business. That fight would have taken place at 145 but she drops to 135 to fight the mauler in Tonya Evinger. Both these ladies are impressive no matter where the fight goes but the cardio of Tonya may make the difference. This writer is curious to how her camp went because that usually dictates how the fight will go. Expect the fight to go the distance but do not be surprised at stoppage by Gomes.
Prediction: Ediane Gomes wins via 2nd round TKO.
Stephanie Eggink - Katja Kankaanpaa
This has been a really difficult fight to predict. There is an argument to be made for both of these girls. While clearly skill wise Stephanie holds an advantage Katja improves each fight. She is also one of the strongest in the division. This should be an epic title match which will really bank on who makes the first mistake. It's hard to not pick Stephanie because she has the ability to pick Katja apart, the thoughts are that she just will not allow it. The only conclusion that can be arrived at is that the takedowns of Katja will make the difference in the scoring. This writer has a feeling this may not be the first time we see these two ladies mix it up.
Prediction: Katja Kankaanpaa wins via unanimous decision.
Michelle Waterson - Yasuko Tamada
The expectation is that Michelle will retain her atom weight title, but may prove to be difficult early on. Both of these ladies come forward and sometimes their striking can be erratic. That favors Michelle as she has some power in those legs and could land a kidney shot that could end this early, but she will have to keep her hands up against the rangy Tamada. She also displays a good skill set with her feet and Michelle will have to be on the lookout for her deadly push kicks. Those set up a lot for what she wants to do. It may be in the best interest of Michelle to counter punch Yasuko and look for the takedown and implore her submission game. This should be a great main event.
Prediction: Michelle Waterson wins via unanimous decision.