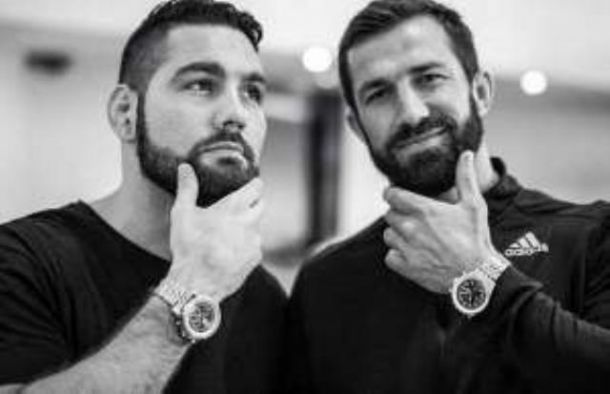 It has been confirmed that Chris Weidman (13-0) will defend his middleweight title against Luke Rockhold (14-2) and there are a few factors to consider. Will this be another fight that will cause the Weidman train of doubt to remerge? How much of the East Coast - West Coast vibe will the UFC instill in this match up? Another question to ponder is the match up itself which is the most important factor of all. So, who holds the advantage in this fight? These questions and many more will serve as lead up to possibly one of the biggest fights in the promotion's history.
Weidman is done with the detractors and if fans are still doubtful on the UFC middleweight king, then all they need to do is watch his previous fight. All jokes aside, once he allowed Vitor Belfort his moment in the sun, he took over and completely dominated the fight. Is it unfair to judge his championship reign? He has beaten Anderson Silva twice and now a TRT less Belfort which is why some still cloud judgment on his title supremacy. Even though somewhat understandable, it's not Weidman's fault that his opponents have either created or come into the fight under unlikely circumstances. If you talk to anyone invested in the sport that is not from Long Island, they too feel that Chris is a killer and deserves everything that he has fought for. In regards to his skill set, it's not hard to say he may be the most complete, well rounded fighter in the UFC and is still improving. If and when he beats Luke, who clearly will be his toughest task to date, then that shadow of doubt that surrounds Chris should completely evaporate; or so you would think.
When the UFC made their first trip to Manilla and featured a card headlined by Urijah Faber and Frankie Edgar they dropped the ball on a few aspects. All you needed to do was hear their walk out music to understand the marketing and promotional genius that could have been used to highlight these two legendary fighters. While you won't be hearing Biggie or Tupac for the Weidman and Rockhold fight, that does not mean the UFC can't capitalize on the locations of both men. The UFC has done a favorable job on posters in showcasing the countries that some of the headlining fighters are from but so much more can be done here. Considering the fight will take place in America, it is imperative that they tour these two from coast to coast. Rockhold and Weidman both posses an all American look and if done right, would be the perfect match up to bring in the casual viewer. On a popular MMA podcast, we've overheard a fan saying that the upcoming UFC 188 embedded video is fantastic and should be aired on big FOX. Yes, the history between Eddie Alvarez and Gilbert Melendez is worth seeing but we are unsure if the larger FOX audience (which consists of the viewers parents and grandparents) would be a fan. Rockhold and Weidman on the other hand would be welcoming with their good looks and intriguing storylines of their journey to the UFC title. Jose Aldo and Conor McGregor will not be the fight to draw in the non MMA watching demographic but we feel the same cannot be said for this match up.
To determine who holds the advantage in this fight is the toughest factor. Chris is renowned for his wrestling ability but clearly we have seen other skill sets that have placed him in the position of champion. Luke has a more traditional kickboxing/martial arts style but trains with some of the best wrestlers in the world at AKA. He also has a sneaky guard and has shown finishing capabilities via submission. So, any place this match up goes will be exciting which is what makes it so intriguing. Still, it would be hard pressed not to think one holds a slight edge over the other in certain areas but both are so formidable that these issues could cancel each other out. As of now, we give favor to Chris since he is the champion and a dominant one at that. Don't be surprised if critics and experts go back and forth on who they chose to win this fight as expected. We are looking forward to an announcement of when this fight will happen and where it will take place. Until then, we can just sit back and know that as of now we have a potrnitlally historic fight looming and there is nothing better than that for a mixed martial arts fan.