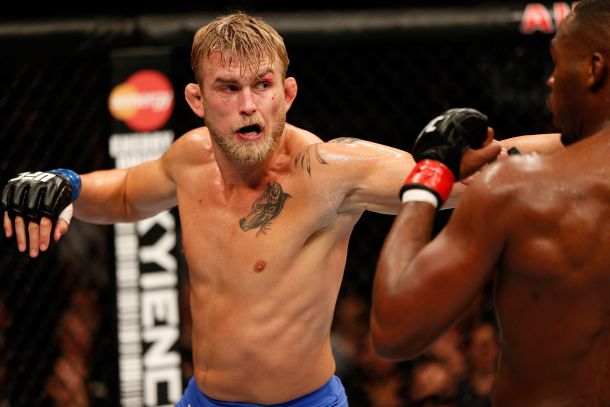 Sorry Ryan Bader, the time is unfortunately not now for you. After Daniel Cormier's (16-1) UFC 187 victory many thought it was possible to see him face Bader next. Not so fast, as UFC president Dana White announced recently that former number one contender Alexander Gustafsson would be next in line for a title shot. Bader will just have to wait and with his next opponent in Rashad Evans on the horizon, that wait may be for a long time.
Call him paper champion if you must but there is no denying who the current Light Heavyweight Title holder is. Cormier beat Anthony Johnson in devastating fashion last month and his post fight press conference was interrupted by Bader. While many people felt it was a WWE style publicity stunt, both Bader and Cormier felt that it was not at all. The two were scheduled to face each other at last Saturday's UFC New Orleans Fight Night, so that would give more than enough reason to think he would be next. It does not seem as if that "stunt" worked in Bader's favor as White has announced that Gustafsson (16-3) would be next in line. More than likely, Jon Jones is foaming at the mouth knowing that two of the athletes fighting for what was once his title, are two guys he beat. So it begs the question of why they would go with Alex and when you look at the facts of business, it makes complete sense.
All Bader's worthiness aside, the UFC is looking at a substantial pay day when Jones returns. The fight between he and Gustafsson is still looked at as the toughest test for Jon with many fans thinking Alexander won. Bones supporters insist that if Jon had taken his camp and training seriously, then the Mauler would have had no shot in the fight. That's all speculation but if he was to beat Cormier, then we are talking about one of the most anticipated rematches in UFC history. The same can be said for DC but the impact would not be as grand. Sure, many would enjoy seeing Jon and Daniel mix it up again but Bones was so dominate in that fight, the other scenario will be better received; the return of Jones in either scenario is a win win for the UFC. His first fight back will be a money maker for sure as it will more than likely be a title shot against one of these two opponents.
The fight between Cormier and Gustafsson will be exciting. It will also be one of those occasions the UFC is known for with fighters getting title shots after a loss. Still, the prospect of the match up between these two could be very similar to what was shown in the Jones - DC fight, which isn't too favorable for Cormier. On the flipside, he just submitted the same guy who knocked out Gustafsson in the first round, so it's really anybody's game. Regardless of how it all plays out, these are intriguing times in the 205 division.