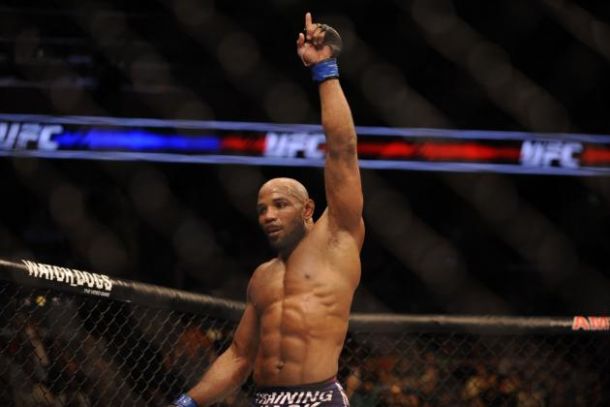 Saturday June 27th brought us UFC 70 in a card that was riddled with Visa issues that caused for a significant amount of last minute changes. It was business as usual for the "Soldier of God" Yoel Romero as he laid out Lyoto Machida with a flurry of elbows to finish the Brazilian fighter. He also decided to let the United States know he was unhappy at the decision to let gays marry. Lorenz Larkin looked fantastic in his second fight at welterweight and we saw an explosive knockout from Thiago Santos. It all went down from the Hard Rock Casino and hotel from Hollywood, Florida.
In the five round main event, Yoel Romero (10-1) waited patiently for his opportunity to dismantle Lyoto Machida (22-7). The first round went the way of Machida as he used his leg kicks to keep off the pressing Romero. The second round late saw Yoel run off the cage after a flurry of shots as you could see he started to get upset with chasing. In third he would have no more and shortened up and laid some heavy shots to Lyoto. Machida withstood them but was knee tapped and taken down and that allowed him to mount Machida and pour down some vicious short elbows that made him limp. It's possible Romero could have leapt over Jacare with that win depending on how soon he can return from surgery. For now Yoel proves he is clearly one of the best five fighters in the division.
It only took two rounds for Lorenz Larkin (16-4) to win his second straight at 170. He initiated some deadly leg kicks to Santiago Ponzinibbio (20-3) and mixed in some great counter strikes. In the second round he hit a left cross that sent Santiago flailing backwards. Lorenz pounced on him for a barrage of strikes that went for quite a bit before referee Herb Dean called the fight. With the impact Larkin is making early in the welterweight division there are tons of match ups to be excited for.
Taking a fight on short notice has been successful for some but unfortunately not for Eddie Gordon (7-4). He faced another The Ultimate Fighter winner in Antonio Carlos Junior (5-1) who has made an impressive drop down from heavyweight. The larger Junior may have lost his fight in the light heavyweight division but he looked dominated at 185. Carlos actually seemed faster than Gordon which is surprising given how good Eddie felt coming into the fight. Truck was outmatched in every way and unfortunately Gordon losses his third straight in the octagon.
Steve Bosse (10-2) had to wait quite a while to make his official UFC debut but he probably wanted his career in the octagon to start a better way. He felt the shin of Thiago Santos (11-3) in the first round to add to the list of devastating knockouts from this weekend. In only 29 seconds he was able to line up Steve and land a head kick heard around the world. This is more highlight material for the ever changing Zuffa reel and two straight for the talented welterweight.
The first fight on the main card for UFC Fight NIght 70 started off with some accurate striking by both Hacran Diaz (23-3) and Levan Makashvili (10-2). While the first round was more of a feeling out period the second exploded into an all out war. Diaz held the slight advantage on the feet and was able to put Levan in heavy waters trying to pull off a submission early in the second. The third round is what lost the fight in the crowd's eyes and Hacran mostly pressed in the clinch against Makashvili to grind out the win.
Up next for the UFC is UFC 189 Aldo - McGregor for Las Vegas, Nevada on July 11th. The full results from UFC Fight Night 70 are listed below.
Main Card
Yoel Romero def. Lyoto Machida by TKO (elbows) 1:38 Rd 3
Lorenz Larkin def. Santiago Ponzinibbio by TKO (strikes) 3:07 Rd 2
Antonio Carlos Junior def. Eddie Gordon by submission (rear-naked choke) 4:37 Rd 3
Thiago Santos def. Steve Bosse by KO (head kick) 0:29 Rd 1
Hacran Dias def. Levan Makashvili by split decision (29-28 x2, 28-29)
Prelims
Alex Oliveira def. Joe Merritt by unanimous decision (30-27) x3
Sirwan Kakai def. Danny Martinez by unanimous decision (30-27 x3)
Leandro Silva def. Lewis Gonzalez by unanimous decision (30-27 x2, 29-27)
Tony Sims def. Steve Montgomery by knockout (punch) 2:43 Rd 1