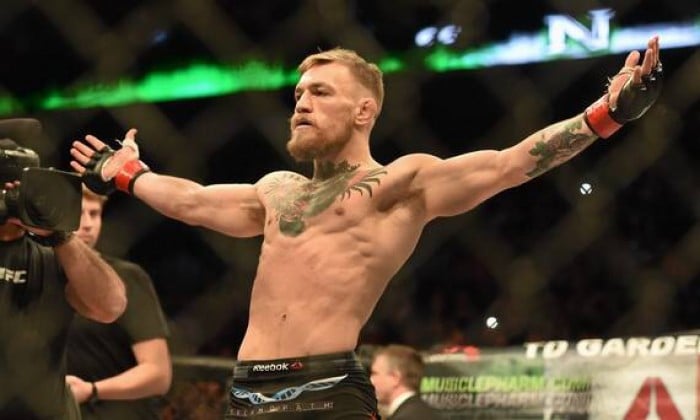 While competing in the UFC, one loss could end a career. No really, one landed left hand hook or a blocked leg kick (ask Anderson Silva), has the potential to make or break a fighter. However, if one is fortunate to have their hand held high and name announced by famous octagon announcer Bruce Buffer, his or her next fight could be against a ranked fighter, then a top five fighter, and finally the champion of the division. To this journalist it is called "Soaring to the Top," and three fighters have caught the attention of the nation as well as VAVEL USA to be recognized for their spectacular 2015 campaigns. Who are these fighters you ask? None other than Luke Rockhold, Holly Holm, and "The Notorious" Conor McGregor.
Conor McGregor
***Current Featherweight Champion
"He (Dennis Siver) is a midget, German steroid-head. That's my thoughts on him."
---Conor McGregor
Last but definitely not least to make the rise to super stardom is none other than Ireland's Conor McGregor.
UFC Fight Night: McGregor - Siver
***Main Event
Known for talking the talk but also walking the walk, McGregor was in for an early treat when he spouted off to Dennis Siver. Humorously though, "The Notorious One" made that comment more than six months before the fight. Really, the fight wasn't even scheduled yet as McGregor was set to face Dustin Poirier!
Nonetheless, in front of a packed TD Garden in Boston, Massachusetts, McGregor started his 2015 season in grand fashion against the German.
Or maybe he flipped it off is a better term (McGregor flipped off Siver when the latter refused to touch gloves prior to the fight's commencement).
Despite his opponent showing no emotion to his antics, McGregor, nonchalantly but always dangerously, started the fight a tad inaccurate. Though, around the third minute mark, he started landing heavy head kicks and blasting Siver with left handed straights. Moreover, Siver just couldn't catch the Irishman with any of his punches as offering after offering was dodged by him. Even when the veteran tried to get a takedown, McGregor would scramble to a favorable position and go right back to his stand-up game.
Now up against the side of the octagon, Siver was in big trouble as McGregor immediately threw a plethora of strikes that reddened the face of him until blood started spewing. Thankfully for the underdog (Siver), the attack ended, for the horn had sounded.
Using his great length to his advantage, McGregor continued to push forward in Round 2 with a series of side kicks. Next, "The Notorious One" started to connect with his top-notch striking ability to further weaken his opponent. Siver continued to wobble backwards with each hard strike until yet another left hand straight landed, but this time, it sent the German to his back. McGregor looking for another finish via knockout, hopped on top of his wounded opposition and started pounding until referee Herb Dean put a stop to the fight. But that technically wasn't the end of the show.
After victory was his, McGregor hopped over the octagon wall and got in the face of then UFC featherweight José Aldo! Aldo, unfazed by the yelling and screaming, just started laughing and smiling. Though, at the end of the year he would not be.
UFC 189: Mendes - McGregor
***Main Event
***Featherweight Interim Title Fight
What was originally suppose to be Aldo versus McGregor, Conor McGregor found himself with a new opponent two weeks prior to fight night as Aldo was forced to pull out due to a rib injury. So who would be trading blows in the octagon with McGregor for the interim belt? American Chad Mendes.
Dishing out trash talk to match his opponent, Mendes was anything but fearful for the opportunity to shut McGregor up. And for the first 9 minutes he did just that.
Even though McGregor came out in attack mode, the more experienced Mendes used the aggressiveness of his opponent to land a quick takedown in addition to some very sharp jabs. Also, despite the Irishman cutting off the rest of the octagon, the American was landing unblocked strikes in stand-up while transitioning into some "ground and pound" following a takedown. In fact, with this "ground and pound," McGregor's right eye was busted open on the already bloody canvas (thanks Robbie Lawler and Rory MacDonald).
Bloodied eye and all, "The Notorious One" continued to push forward while looking worn out until Mendes quickly put a stop to the attack with another takedown that was able to get past McGregor's guard! Again the mauling ground game ensued until a Round 2 was imminent.
In the 2nd round, Mendes once again (feel like we have said that a lot) took the battle to the ground with a takedown (his fourth of the evening). Despite being in the guard of McGregor for three minutes, the American battered and bashed the face of his opponent throughout the span. Then, similar to Chris Weidman's "Move of the Fight" against Luke Rockhold, Mendes made a decision that seemed smart at the time but back fired.
Finally stepping over the guard of the Irishman, Mendes tried to maneuver and lock in a guillotine choke. No dice as McGregor slipped out of it! Now the fight was on the turf of the "The Notorious One."
With Mendes making the poor choice to try to stand toe-to-toe with him, McGregor started landing nasty combinations with 35 seconds left. Following a failed takedown attempt by Mendes, McGregor started whaling on the 1st round winner with him against the octagon. Then, almost a replication to his win a few months earlier against Siver, the Dublin Warrior landed his famous left hand straight that sent Mendes to his knees. McGregor followed with a few hammer fists inducing referee Dean to put a stop to the action with just 3 seconds left in Round 2! The wait had come to any end! Conor McGregor was a champion!
"In my opinion, Josè (Aldo) went running. I had bigger injuries leading up to this fight then that bruised rib. And I still showed up and performed. So in my eyes, José has gone running. If he wants to come back, he can come back. But I swear to God, his day will come."
And come it did.
***Main Event
***Featherweight Title Fight
In the last pay-per-view fight of 2015, the featherweight's interim and champion belts were unified in one of this year's "Knockout(s) of the Year."
And just knowing the fight ended by knockout should tell you: McGregor took the belt he was groomed to wear since his first fight thanks to a UFC title record 13-second finish of Aldo.
But what's next for the talented 27-year old? A fight with Frankie Edgar in his first title defense or a new challenge at the lightweight division versus current champion Rafael dos Anjos? Time will only tell.
---
More VAVEL USA's UFC Year in Review...
December 26 - Fight of the Year (Lawler - MacDonald II)
December 27 - Submission of the Year (Rousey - Zingano)
December 28 - Knockout(s) of the Year (Rousey - Holm & Aldo - McGregor)
December 30 - Soaring to the Top (Luke Rockhold, Holly Holm, & Conor McGregor)