 Now that the team finals have passed and all that's left are the individual event finals are all that's left in artistic gymnastics, the focus is already starting to turn to what happens post-Olympics.
Marta Karolyi, long-time USA Gymnastics coach announced that this would be her last quad as team coordinator, and that she would be leaving her position. The Karolyi's (Marta and her husband Beta Karolyi) have been coaching in the United States since they defected from Romania in 1981. The couple have also been the head of the program since 1999, including running the Karolyi Ranch in Huntsville, Texas.
Marta's time as coordinator has lead to U.S. dominance
In 2001 when Marta took over for her husband, the United States team started winning big again. Carly Patterson, Nastia Liukin, Gabby Douglas and Simone Biles are just some of the many great names that have gone through the Karolyi ranch under Marta and have won multiple Olympic golds as a result.
After what has officially become one of the best quads in history (in large part due to Simone Biles' individual dominance), topped off by a team Olympic Gold, it will be the end of an era with Karolyi leaving.
What will the new team coordinator be walking into?
Under Marta Karolyi, one thing the United States team can be most proud of accomplishing is depth. There are some gymnasts who were chosen as alternates for Rio that could have medalled on event finals, including Ashton Locklear on uneven bars, Ragan Smith on beam and MyKayla Skinner on vault. Maggie Nichols, who unfortunately was left off the team after an injury-riddled beginning of the year also could have had a chance of medalling in Rio.
With the junior program beginning to thrive with all kinds of young stars coming through including Laurie Hernandez who's only 16, the future continues to look bright for Team USA. While it's likely (but certainly not guaranteed) Aly Raisman and Gabby Douglas may retire before Tokyo, other names including Hernandez, Madison Kocian and even Simone Biles could decide to come back for Tokyo if they so choose and make the first team of four.
Whoever ends up as the head of the team will certainly not be walking into a tough position, and it might even be one of the best jobs to earn over the next year or so.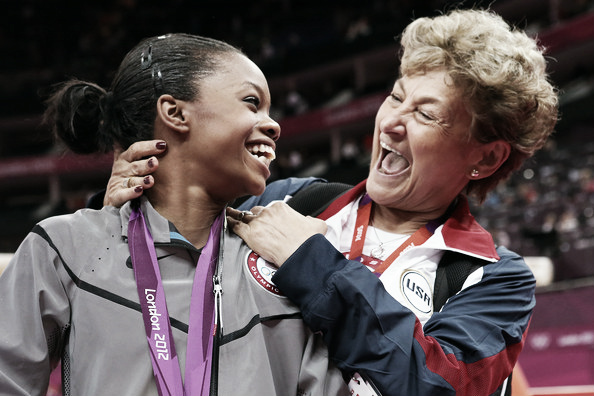 Bela Karolyi says down to Rhonda Faehn, Valeri Liuken
According to a story done by Yahoo Sports Bela Karolyi said that the job will come down to two top candidates: Rhonda Faehn and Valeri Liukin.
Rhonda Faehn was the head coach of the Florida Gators Women's Gymnastics team, who had won three straight national titles before joining Marta as a part of the USA Gymnastics national system as Vice President. Already ingrained in the system, she learned both her gymnastics and her leadership in the national team from each of the Karolyi's, as Bela was her coach from 1985-88, and Marta named her Vice President of the national team in 2015.
Valeri Liukin has great experience as well, helping coach his daughter to Olympic golds in 2008 at the Beijing Olympics. He is also the current head of WOGA (World Olympics Gymnastics Academy), a well-known gymnastics academy in Texas. Several well-known names have trained there, including Madison Kocian on the current gold medalist team from Rio.
Also, according to a similar story done from People, Valeri Liukin may be the favorite for another reason; he works with some of the junior gymnasts at the Karolyi Ranch aged 10-13. When he takes over, he would already have an idea on some of the younger gymnasts competing for a spot on the Tokyo team, where as Rhonda may be more familiar with the current national team gymnasts like Ragan Smith and Laurie Hernandez aged 16+ as well as the more administrative side of gymnastics. Should she not be named coordinator, she would still likely be a large part of the transition as VP of the national team.
While there may be other candidates for the job, Liuken and Faehn would both be great top candidates and shows that the board, which includes former Olympic champion Mary Lou Retton, are looking at very capable replacements for the Karolyi's. While nobody in gymnastics will ever have the stories the Karolyi's do going back to Nadia Comaneci, they will have their own stories to tell, and their own to write over their years as new national team coordinator, and replacement for one of the best gymnastics coaches to ever live.