 Norway's Karsten Warholm captured his first European Athletics Championships title and set a new personal best on Thursday evening, edging out Yasmani Copello in an exciting 400 meters hurdles final in Berlin.
Warholm took the world title in London last year and was the favourite for this final heading in, though Copello, from Turkey, was the defending champion and was the silver medalist in London last year.
It was those two who led throughout though Warholm proved too strong in the final stages, with Thomas Barr edging Ludvy Vaillant out to take the bronze medal.
Warholm battles past Copello to capture maiden European title
With a 47.65 clocking just a few weeks ago, Warholm was the fastest man in Europe this season and it would have been a brave call to bet against him to win, though the Norwegian was certainly made to work hard by Copello in one of the best finals of the meet so far.
It was undoubtedly Warholm who got off to the quickest start, flying down the back straight early on, though Copello also went off quickly, not allowing the Norwegian to escape him in the opening stages. Behind them, Barr and Vaillant were also out of the blocks quickly.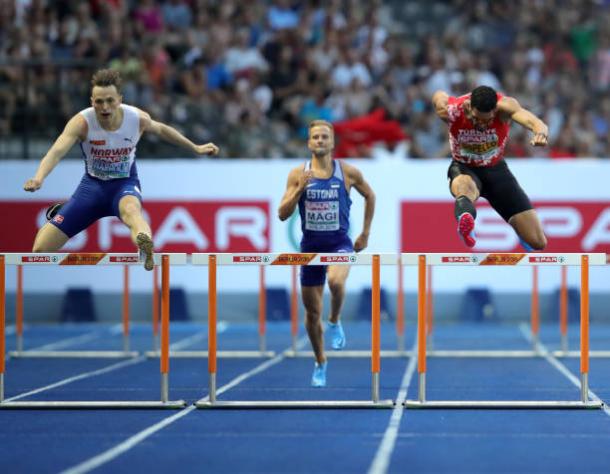 Heading into the home straight the two were incredibly even, with it look at some stages as if Copello could cause a slight shock and successfully defend the title he won two years ago in Amsterdam, though Warholm came off the final hurdle the strongest and edged past the Turk with a new national record of 47.64 seconds, with Copello running 47.81 seconds, with Barr edging out Vaillant behind them to secure bronze.
Warholm will next be in action in the 400 meter final tomorrow, with the Norwegian looking to complete an unlikely double. The Norwegian won his semifinal, and will undoubtedly be one of the medal contenders tomorrow evening.
Final Standings
Gold- Karsten Warholm (47.64s)
Silver- Yasmani Copello (47.81s)
Bronze- Thomas Barr (48.31s)
Fourth- Ludvy Vaillant (48.42s)
Fifth- Patryk Dobek (48.59s)
Sixth- Rasmus Magi (48.75s)
Seventh- Sergio Fernandez (48.98s)
Eighth- Timofey Chalyy (49.41s)