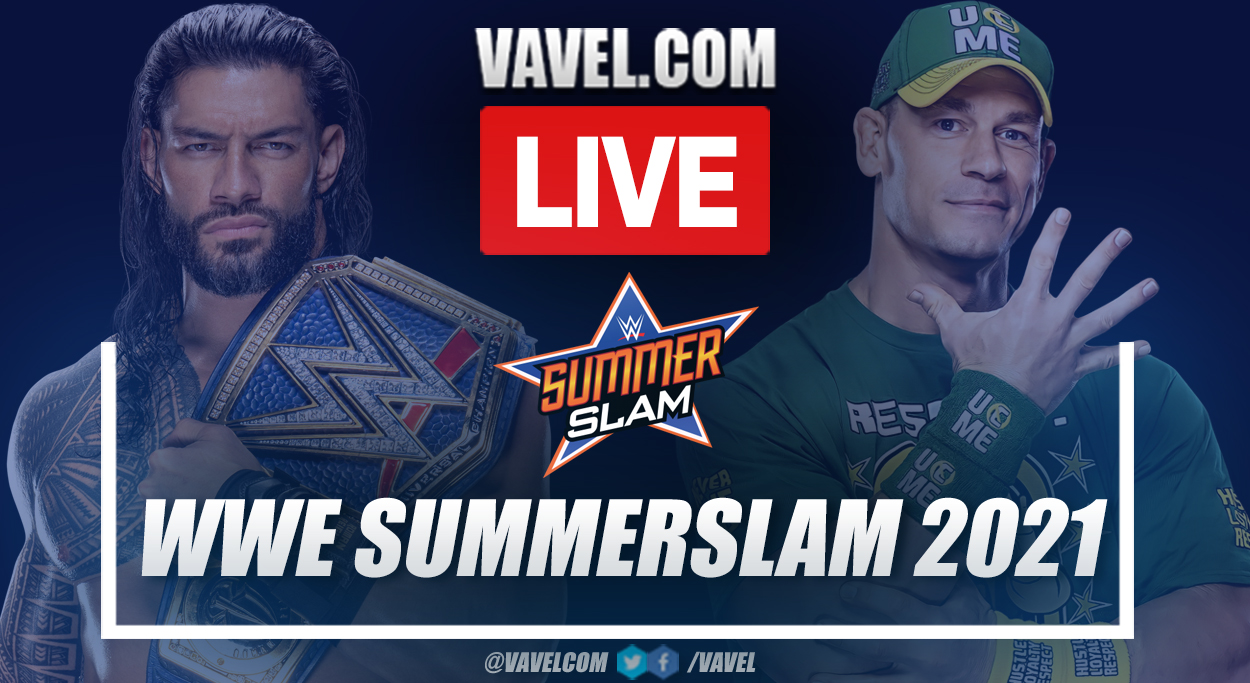 Thanks!!
BROOOOCK LESNAAAAAR!!!
ROMAN REIGNS WINS!
1, 2 and NOO!!!! NOOO!!!! NOOOO!!!!
Roman Reigns gets back on his feet!
1, 2 And NOOOOOO!!
1, 2 And NOOOO!!
Cena tries to recover
Roman Reigns completely dominates the fight.
We star!
The Head Of The Table IS HERE!
Time for the main event!
Bobby smashes Goldberg
❌ THE REFEREE ENDS THE FIGHT! BOBBY LASHLEY WINS!
GOLDBERG IN TROUBLE!
Bobby Lashley takes control
Ring The Bell
GOLDBERG IS HERE!
The Almighty
The surprise was brought by Xavier Woods
The Miz and John Morrison appear
51,326 PEOPLE!
ROLLINS SURRENDERS! EDGE WON!
MOMENTS OF TENSION!
1, 2 AND NOOOOO! ROLLINS SAYS NO!
1, 2 AND NOOO!
1, 2 AND NO! EDGE SAYS NO!
EDGE COME BACK!
1, 2 and NO! ROLLINS CANNOT WIN!
Rollins goes on to dominate
Ring The Bell
¡ON THIS DAY!
BURN IT DOOOOWN!
The Queen... Again!
CHARLOTTE! CHARLOTTE WINS!
1, 2 AND NOOOO!
Charlotte Flair shines
Rhea Ripley dominates!
Nikki ASH tries
Ring the bell!
🔊 WOOOOOO
THIS IS MY BRUTALITY! 🎵
RAW Women's Championship match NOW!
CLAYMORE AND MCINTYRE WINS!
Alternate domain
Ring the bell!
Drew McIntyre is back!
THE MAHARAJA!
🏆 AND NEEEEW!
BECKY LYNCH IS THE NEW CHAMPION!
IT'S OFFICIAL!
GOOD BYE CARMELLA!
BECKY LYYYYYYYNCH!!!!!!!
MELLA IS MONEY!
Bianca Belair appears
And now... A great fight!
👑 KING NAKAMURA!
AND STIIILL!!!
1, 2 and The Uso's Retains!
1, 2 and NOOOOO! USO'S CAN'T WIN!
Relief at last!
The Uso's dominates
Three Amigos!
Ring the bell!
UUU-SOOOS!
BOOYAKA BOYAKAAA!
🏆 AND NEEEEEW!
DAMIAN PRIEST! DAMIAN PRIEST! WE HAVE A NEW UNITED STATES CHAMPION!
1, 2 and NOOO! SHEAMUS CAN'T WIN EITHER!
1, 2 and NOO! PRIEST CAN'T WIN!
1, 2 and PRIEST IS BACK!
1, 2... NOOO
Damian Priest attempts a comeback
Sheamus revives!
Damian Priest surprises at the start
Ring The Bell!
United States Championship match!
Doudrop has had enough!
ALEXA BLISS WINS!
🤦🏾‍♂️ Oh, no, Eva Marie...
Ring the bell!
Alexa Bliss!
EVALUTION!
🏆 AND NEEEEW!
RKBRO WINS!!!
RKBro regains control of the fight!
AJ Styles comes to Omos!
RKBro is planted!
The first fight of the night begins
Phenomenal One! 🎵
Randy Orton is coming!
BROOOOOO
WWE SUMMERSLAM STARTS!
Kick - Off
We start!
Tune in here WWE Summerslam Live Results
How to watch WWE Summerslam Live Stream on TV and Online?
What time is WWE SummerSlam 2021?
Bobby Lashley vs Goldberg: The clash of the giants!
Can Nikki ASH survive Rhea Ripley and Charlotte Flair?
Edge vs Seth Rollins: A Dream Match!
Sasha Banks wants her championship back
Roman Reigns vs John Cena: The duel awaited by all!
Matches
Place of the event
Welcome!