 The Atlanta Hawks earned a much-needed victory over the Phoenix Suns on Tuesday night, hanging on 95-91 after blowing an 18-point lead. The Hawks had lost seven straight entering the contest, with all-star Paul Millsap sidelined due to knee soreness over that entire time period.
They were also without wings Kent Bazemore and Thabo Sefolosha, which meant that it would be another difficult path to a win. Luckily for them, the Suns were very limited in their options as well.
With their sights set on the offseason and impending draft lottery, Phoenix is completely fine playing their young talent and seeing what they have to work with for the future. Tonight's loss to the Hawks extends their losing streak to nine games.
In this one, Eric Bledsoe, Brandon Knight, Tyson Chandler and Leandro Barbosa all watched from the bench in addition to star-in-the-making Devin Booker, who dropped 70 points against the Boston Celtics two games ago. He was officially listed as out for rest purposes, despite being just 20 years of age.
East Playoff Race
The Hawks win combined with an Indiana Pacers loss gives Atlanta sole possession of the sixth seed in the East. If the season ended today, this would put them against the third seed Washington Wizards in the first round of the playoffs. However, they are just a half-game behind the Milwaukee Bucks for the fifth seed and there will almost surely be more movement before it's all said and done.
Schroder's Scoring a Key
A large portion of the Hawks' points was thanks to point guard Dennis Schroder, who ended the game with 27 points on 12-for-27 shooting, along with nine assists, and six rebounds. He also turned the ball over eight times but was a team-best +14 overall.
Forward Ersan Ilyasova recorded a double-double, scoring 18 points and grabbing 12 rebounds as he continues to impress in an Atlanta uniform.
Center Dwight Howard also had a double-double as well as a nice offensive night, shooting 6-for-8 on the way to 15 points and 11 rebounds. He has had a solid season to this point, but the Hawks have struggled to implement his play style into the team-oriented system of head coach Mike Budenholzer. It will be interesting to see how he fits into the team's future going into an offseason filled with questions.
Rookie Taurean Prince has been a bright spot in the team's recent struggles, and he scored 15 tonight while pulling down six boards. His energy and athleticism make him a special talent, and he will surely continue to see more minutes going into next season.
Inexperience Dooms the Suns
The Suns started the youngest lineup in NBA history five nights ago, and the one they deployed against the Hawks wasn't much different. While T.J. Warren was by far their most effective player in the game, the youth and inexperience was evident with the rest of the lineup. Warren shot 11-for-20, scoring 24 points and grabbing eight rebounds. However, he was one of four Suns with 5+ fouls and had six turnovers as well.
One of the youngest players in the league, Marquese Chriss, has really shown his potential over the past few weeks, but tonight was one to forget for the young Washington product. He shot just 2-for-11, including 1-for-5 from three-point range, and was a -12 on the court.
Rookie point guard Tyler Ulis also struggled from the field, going just 6-for-16 but also dishing out 10 assists. His abilities are phenomenal considering his tiny frame, and Phoenix will be looking to develop him as a possible starter of the future.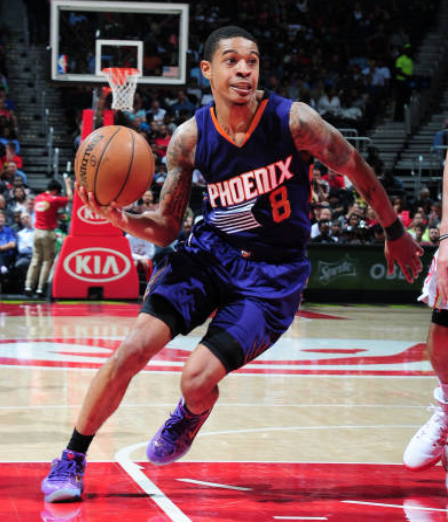 Alan Williams has also turned some heads this season, but like most of his teammates had a rough game against Atlanta. He scored just four points and rebounded eight missed shots.
Next Up
The Hawks have a quick turnaround, as they will travel to take on the Philadelphia 76ers tomorrow night in another crucial game in their playoff race.
The Suns head back home to host Chris Paul and the Los Angeles Clippers on Thursday in a Pacific Division matchup.