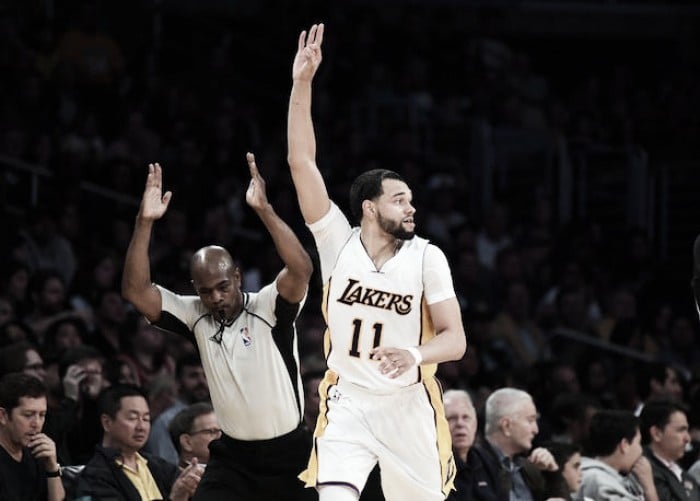 Point guard Tyler Ennis has agreed to a one-year deal with the Los Angeles Lakers; the contract is reportedly the league's minimum of $1.5-million.
Since he was drafted as the 18th pick back in 2014, It's been a topsy-turvy road for the 22-year-old. The Lakers are his fourth team already, but there are signs he's beginning to settle in at Lakerland.
He averaged 7.7 points and 2.4 assists in 22 games for the purple and gold.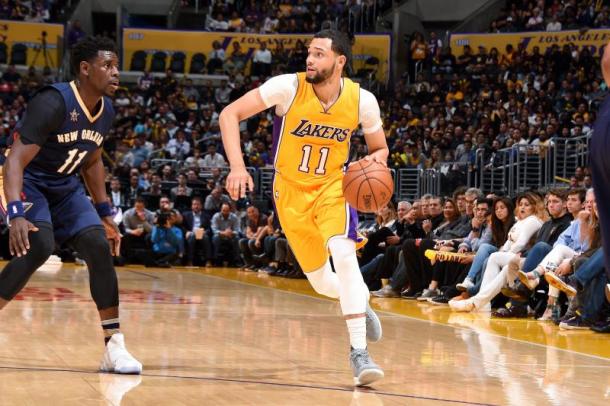 Reports broke on Monday that team president Magic Johnson and general manager Rob Pelinka were pursuing former MVP, Derrick Rose, however, the Cleveland Cavaliers won the race for his signature. It was thought that Magic believed Rose would be able to aid rookie point guard Lonzo Ball in his first year.
This, in turn, led to the re-signing of Ennis, as the Lakers looked to bolster their point guard options. The guard's arrival also fits the Lakers' current ethos of developing and trusting young players.
Coming off the back of last season, the Lakers one-guard position was held by D'Angelo Russell, who was drafted back in 2014.
Lakers faithful hoped the number two pick would kick-start a new era, however, just two years later, it's an entirely different scene.
In a bid to dump Timofey Mozgov's contract- which raised plenty of eyebrows- Magic Johnson packaged a deal with the Brooklyn Nets; D'Angelo plus Mozgov for center Brook Lopez and the 27th pick of this year's draft- which resulted in the promising Kyle Kuzma.
This, along with the addition of Lonzo Ball and former Detroit Pistons shooting guard Kentavious Caldwell-Pope, means the Lakers' starting five has received quite the shake up.
Former Golden State Warrior Ian Clarke was also touted to be a target for the franchise, who are clearly paying attention to the guard position. However, news broke on Wednesday that this may not now be the case.
The Future of the Lakers
On the whole, it looks to be a very successful off-season for the Lakers. This being backed up by the fact that they became this year's Summer League champions, along with Ball - who all eyes were on- grabbing the tournament's MVP award.
Kyle Kuzma picked up Finals MVP and was lights out from three throughout the whole competition; Thomas Bryant, the 28th pick, also showed glimpses of what he can do.
This young nucleus is showing why it's an exciting time to be a Laker fan right now.
There were a large number of fans who were disgruntled by the trade of Russell, however, with the freed-up cap space, next-years free agency could potentially be a huge one for Lakerland, with Paul George already expressing an interest in joining, and even rumors of LeBron James considering L.A. gathering momentum.
No matter what happens, there are exciting times ahead if you're a fan of the purple and gold, and Lonzo Ball could prove to be very entertaining to watch next season.