 The Golden State Warriors will need to get used to life without their two-time MVP Stephen Curry. According to ESPN's Adrian Wojnarowski, Curry will miss at least two weeks with a sprained ankle. After that time period, Curry will have his ankle re-evaluated. Additionally, Shams Charania of The Vertical reports that there is no structural damage to Curry's ankle, but there is no timetable for his return. He injured the ankle late in the fourth quarter in the Warriors 125-115 win over the New Orleans Pelicans.
Injuries not new to Curry
The 29-year-old Curry has dealt with the injury bug before. In the lockout-shortened 2011-12 season, Curry suffered injuries to his ankle and foot, ultimately appearing in only 23 of 66 games for Golden State. Since then, "Chef Curry" has remained largely healthy, playing in at least 78 games for the next five seasons. In that time, Curry also ascended to superstar status, posting double-digit win shares and snagging two Polodoff trophies. The Warriors have also risen along with their franchise star, winning no less than 66 games the last three seasons with three Finals appearances and two NBA titles.
A big loss?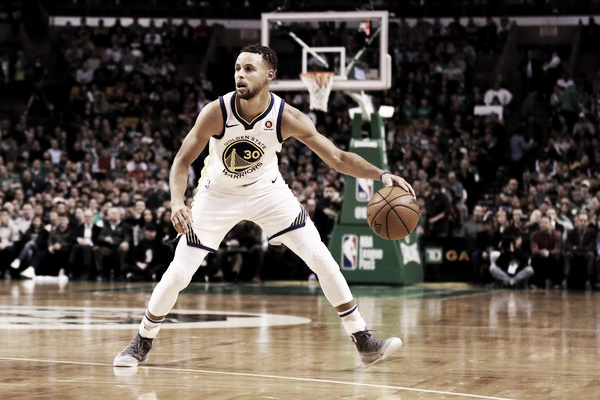 Before the injury, Golden State got their usual production from Curry. The former Davidson standout has averaged 26.3 points per game with a .643 true shooting percentage in 23 games this year. Thanks in part to Curry's efforts, the Warriors currently lead the league in points per 100 possessions and have the third-best record in the NBA.
Without their cornerstone player, the Warriors will turn to backup point guard Shaun Livingston for minutes once he returns from his one-game suspension. Warriors head coach Steve Kerr may also give some time to guard Quinn Cook, who the team signed to a two-way contract in October. Golden State may struggle a little bit without Curry, but they should be in good hands with All-Stars Klay Thompson, Kevin Durant, Draymond Green, and Andre Iguodala. It remains to be seen whether Curry returns in time for Golden State's Finals rematch against the Cleveland Cavaliers on Christmas Day.