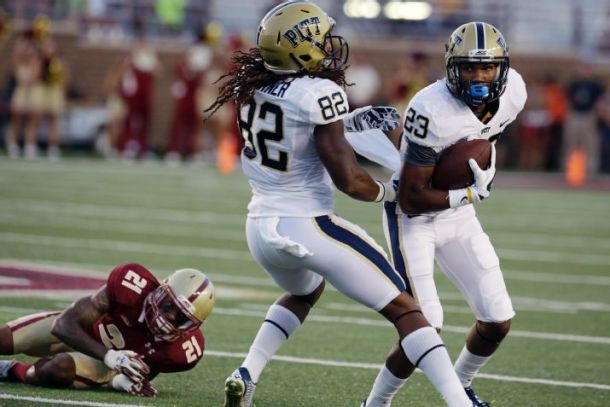 The final score of 30-20 is not indicative of how dominating Pittsburgh really was against Boston College on Friday night. Outside of the first drive by Boston College, it was all Pittsburgh.
James Conner ran for 214 yards and 1 touchdown in a workhorse performance while Tyler Boyd caught 5 passes for 72 yards and 2 touchdowns.
The game opened with Pittsburgh driving into Boston College territory and ultimately getting a 49 yard field goal from Chris Blewitt.
Boston College's first drive was probably their best. Tyler Murphy started it off with a 12 yard run, followed by a short 3 yard completion. The third play for BC was a 51 yard by Murphy, which got them down to the Pittsburgh 1 yard line. He was originally ruled to have scored a touchdown, but a review by the referee determined him out at the one. Tyler Rouse punched the ball in on the next play to make it a 7-3 BC lead.
Boston College had a chance to extend their lead after Steven Daniels intercepted Pittsburgh's Chad Voytik, but the Eagles missed a 46 yard field goal after three straight incompletions by Murphy.
Despite the score line, Pittsburgh's James Conner had 75 first quarter rushing yards. He would continue to rack up the yardage on the ground in the second quarter.
The first quarter ended with Pitt driving into BC territory, a drive that ended with Chad Voytik throw a wonderful pass to Tyler Boyd for a 15 yard touchdown. Boyd showed strong hands to corral the ball and keep the BC defenders from knocking it away. Blewitt added a 42 yard field goal on Pitt's next drive to make it 13-7 halfway through the second quarter.
BC drove into Pitt territory, but a series of negative plays led to them punting. With 1:15 remaining, Pitt looked likely to run the clock out, but that changed quickly when Tyler Boyd got a 19 yard rush on an end around and Boston College was flagged for a horse collar tackle. After one play, Pitt was at the BC 46 yard line. Voytik showed his legs and arm to get Pitt down to the BC 5 and then threw a strike to Boyd for another touchdown from 5 yards out. Pitt took a 20-7 lead into the break.
Pitt looked in command after James Conner ran for a 9 yard touchdown to give them a 27-7 lead, but Boston College had a quick answer. Tyler Murphy rose to the occasion again, but this time with his arm. He found Shakim Phillips streaking away from the Pitt defense to cut the deficit to 27-14 late in the third quarter.
Pitt added another field goal early in the fourth quarter to make it 30-14. BC added a touchdown in the final minute when Murphy ran the ball in from 2 yards out. BC recovered the ensuing onside kick, but Murphy was intercepted by Terrish Webb to end the small comeback.
It was a big game from Conner on the ground. He had 214 yards and 1 touchdown on 36 carries, which came out to 5.9 yards per carry. Pittsburgh ran for 303 yards as a team and had 414 yards of offense. Boyd led the receivers with those 5 catches for 72 yards and a touchdown. Voytik had a solid performance, though the numbers would say otherwise. He went 10 of 20 for 111 yards with 2 touchdown and an interception.
Chris Blewitt also had a good game going 3 of 3 on field goals. He hit from 41, 42, and 49 yards out, which bodes well for Pittsburgh later on in the season when he is called upon.
Tyler Murphy, a graduate transfer from Florida, was easily the most exciting, and best, player for Boston College. He had a poor night throwing, going 10 of 28 for 134 yards with 1 touchdown and 2 interceptions. Murphy was more exciting with his feet, running for 104 yards and a touchdown on 15 carries. Shakim Phillips was the leading receiver with 4 catches for 78 yards and a touchdown.
Pittsburgh is now 2-0 and will probably be 3-0 after next week's game against Florida Atlantic. The Panthers do have to travel to Miami, Florida for that game on September 13.
Boston College will have another tough test next week as they take on the USC Trojans. The game is in Chestnut Hill and USC will be coming off a tough game of their own against Stanford.