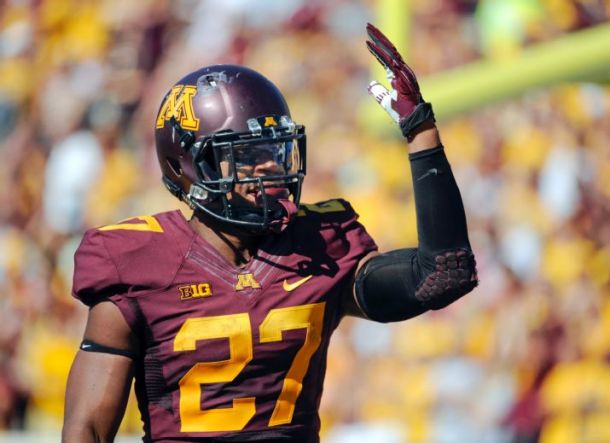 Minnesota ran out to a 28-0 lead and held on to defeat the Middle Tennessee Blue Raiders 35-24 behind David Cobb's 220 yard rushing performance.
Minnesota started off with a missed 44 yard field goal from Ryan Santoso on their first drive. The offense would redeem themselves on the next drive, going 69 yards in 10 plays and finishing it off with Donnell Kirkwood from a yard out. That 7-0 lead would hold to the end of the first quarter.
The first play of the second quarter saw Middle Tennessee's Austin Grammer throw a pick six to Jalen Myrick, who returned it 31 yards for the score. Minnesota would get the ball back after another interception by Grammer. On the first play after the interception, Mitch Leidner hit Maxx Williams for a 27 yard touchdown and the route appeared to be on at 21-0.
Middle Tennessee drove down to the Minnesota 31 yard line, but Jordan Parker only got two yards on fourth and 5. Nothing came of the ensuing possession for Minnesota, but David Cobb got a reward for all his hard work two drives later when he ran in for a 7 yard touchdown.
Minnesota had a chance to extend the lead even further, but Leidner was intercepted in the end zone by Kevin Byard. The first half ended with Minnesota up 28-0.
Middle Tennessee opened up the second half with a touchdown score from 44 yards out via Reggie Whatley's run. They closed the gap to 28-10 after Cody Clark hit a field goal from 21 yards out.
Cobb answered right back with a touchdown run of his own, this one from 48 yards out and Minnesota was up 35-10.
A blocked punt by Chase Pennycuff set Middle Tennessee up at the Minnesota 12 yard line. Whatley ran in from 12 yards out on the next play and the Blue Raiders trailed 35-17. Cody Clark missed a field goal from 41 yards out that would have made it a two possession game.
The Blue Raiders got a touchdown with 45 seconds remaining when Grammer hit Marcus Henry for a 3 yard touchdown pass. That was a minor consolation in a game marred by Middle Tennessee mistakes. The Blue Raiders had 9 penalties for 80 yards and also had three turnovers that led to 14 Minnesota points.
Austin Grammer went 22 of 38 for 255 yards with 1 touchdown and 3 interceptions for Middle Tennessee. Reggie Whatley led the team with 84 yards rushing and 2 touchdowns on 14 carries. Jordan Parker added 67 yards on 13 rushes.
Ed'Marques Batties led the Blue Raiders with 7 catches for 88 yards while Marcus Henry had 5 catches for 58 yards and the late touchdown reception.
Minnesota had a poor passing game with Mitch Leidner only completing 5 of his 11 passes for 67 yards. He had one touchdown and one interception. He also added 32 yards on the ground. Donovahn Jones led the receivers with 3 catches for 35 yards. Maxx Williams had 1 catch for 27 yards and a touchdown while Isaac Fruechte had one catch for 5 yards.
The poor passing stats were partly a product of David Cobb's massive rushing performance. He carried the ball 29 times for 220 yards and 2 touchdowns.
Middle Tennessee (1-1) will face Western Kentucky at home next week in the C-USA opener for both teams. The Hilltoppers lost 42-34 to Illinois earlier on Saturday.
Minnesota (2-0) faces a big game next week when they travel to Fort Worth, Texas to take on TCU. TCU is 1-0 after beating Samford last week and having a bye this week. That game should feature a lot of running and strong, physical defense.