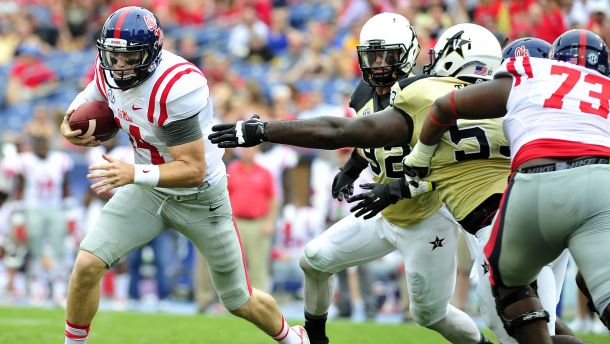 Bo Wallace threw for 320 yards and the Ole Miss defense held the Vanderbilt offense to a total of 167 yards in a dominating 41-3 victory.
Ole Miss came out with intent against Vandy with Bo Wallace finding four different receivers on the opening drive. Eventually, Jaylen Walton ran in from 20 yards out with some blazing speed and nice moves to give Ole Miss the 7-0 lead.
Ole Miss' two next drive saw Andrew Fletcher hit a 31 yard field goal and a 25 yard field goal, respectively. The Rebels had a 13-0 lead early in the fourth quarter, but they were far from done.
Bo Wallace hit Cody Core at the 2 yard line from the Vandy 20 and Core did the rest to get into the end zone and make it 20-0 Rebels. That is how the first half would end as Vandy failed to get past midfield in the first 30 minutes.
Ole Miss opened up the second half with a defensive touchdown. Vandy's Stephen Rivers overthrew his receiver and Cliff Coleman intercepted the ball by scooping it off the turf for an easy 39 yard jaunt to the end zone.
Ole Miss added another touchdown on the offense's first appearance of the third quarter. I'Tavius Mathers ran in from 2 yards out to make the score 34-0 Ole Miss. DeVante Kincade added a yard touchdown of his own to make it 41-0 at the end of three.
Prior to the end of that third quarter, Vandy crossed into Ole Miss territory for the first time. That drive ended in the fourth quarter with Vandy going for it on fourth and goal from the 2. However, Rivers' pass to C.J. Duncan was incomplete.
Ole Miss' next play was a lost fumble by Kincade, which was recovered by Vandy's Vince Taylor and brought to the Ole Miss 5 yard line. To show the ineptness of Vandy's offense, they managed to lose 4 yards and had to settle for a 26 yard field goal, which was made by Tommy Openshaw. That was the end of the scoring with Vandy losing 41-3.
It was a horrendous passing performance by Stephen Rivers. He went 6 of 25 for a total of 60 yards and the pick-six. The top receiver was Steven Scheu with 3 catches for 34 yards.
The lone bright spot for Vanderbilt was running back Ralph Webb. Despite the one dimensionality of the offense, he ran for 95 yards on 18 carries.
Bo Wallace went 23 of 30 for 320 yards and a touchdown. Ole Miss ran for 180 yards as a team, but Jaylen Walton was the leader with only 35 yards on 8 carries. Eugene Brazley added 34 yards on 6 carries.
Evan Engram had 7 catches for 112 yards. Cody Core had 4 catches for 85 yards and a touchdown. Laquon Treadwell only had 4 catches for 31 yards on the game.
Ole Miss (2-0, 1-0) will continue their season next week with a home game against Louisiana-Lafayette. Vanderbilt (0-2, 0-1) has been blown out in both of their games. They face Massachusetts next week at home, which may give them a chance to get their first victory of the young season.