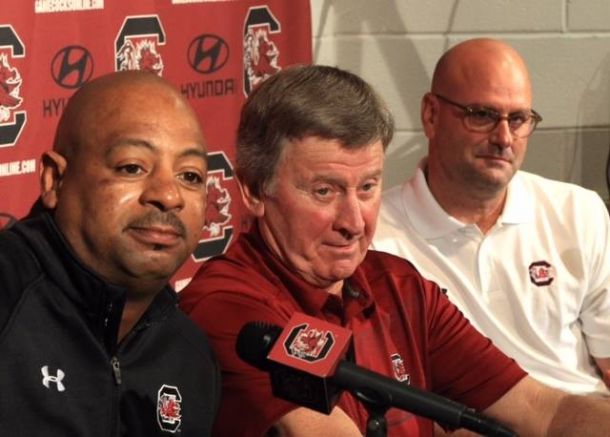 Many aspects of the South Carolina Gamecocks' 2015 defense are still about as clear as coastal South Carolina marshland water. Steve Spurrier did, however, add a lantern of clarity that Jon Hoke will call the plays on defense. In Hoke's introductory press conference, the Head Ball Coach affirmed that Hoke will be co-coordinator with Lorenzo Ward and the two will share duties overseeing different key aspects of the rebuilding defense. Coach Hoke will be in command of defending the passing game ceding control of the back seven of the defense. Ward, on the other hand, will take charge of halting the run game using the front seven. That's fourteen players in total but it sounds as if the co-coordinators will have equal command of the linebackers.
Ward will hand over his play-calling duties to the newcomer and has done so gentlemanly. Even though it isn't a demotion in pay or title, giving up the reins mustn't be easy. Admitting that last season was "tough," Ward graciously thanked Spurrier for the opportunity to stay on the coaching staff. "With anything in life, you have to go through changes. It's how you handle them that make you the person that you are. There are a lot of coordinators who have been coordinators who are position coaches now. There are a lot of head coaches who are position coaches now. It's just one of the things that happens." said Ward.
Spurrier hinted that there may be yet another quality control coach coming to the staff later, but the current group of coaches is who he plans to hit the field with in 2015.
After a year at or near the bottom of the Southeastern Conference in both scoring defense and total defense, Spurrier knew there needed to be some changes. Adding Hoke and switching up some responsibilities was the course of action he took.
"We had a difficult year on defense," Spurrier said. "We needed to do a little something different. It's my job as a head coach to do something different. We added something that will hopefully really help us."
"We're going to work together," Hoke said. "I think as much as you can keep continuity the same with the players from a terminology standpoint, it's good. There will obviously be some differences.
There is much left to be decided at the University of South Carolina, but Jon Hoke is clearly happy to be at Carolina, and Ward is making the best of an awkard situation.