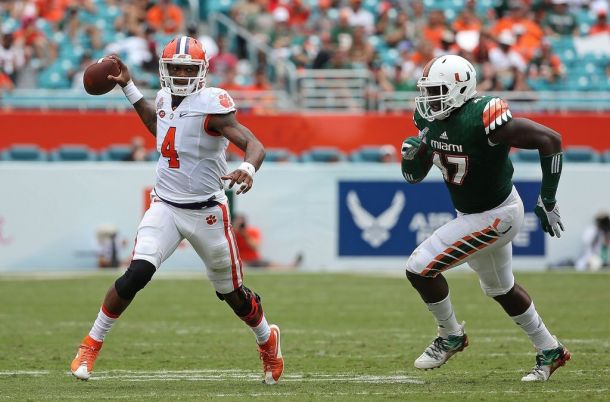 MIAMI GARDENS, FL---The day started with Clemson's Deshaun Watson completing a 34-yard touchdown pass to Jordan Leggett and Miami's (FL) Brad Kaaya, the ACC leading passer coming into Week 8, throwing a red-zone interception. If the Tigers' offense would have packed up and headed back to South Carolina at this moment, they would have won the game by seven points.
In their most dominating performance of the 2015 season, Clemson mauled Miami 58-0 for the worst loss in Hurricanes' history.
With the aforementioned Watson TD, the Tigers seized momentum and utilized it to take a 21-point advantage after only 12 minutes and 58 seconds of game time!
In the next quarter, the ACC Atlantic Division contender continued their dominance with three touchdowns, Aaron Scott and Deshaun Watson supplied one rushing touchdown each and Cordrea Tankersley returned an interception for a score, to supply Clemson with a six possession first half lead.
What was wrong with Miami's high-powered offense you ask? "Stud Sophomore" Brad Kaaya was sidelined due to a failed concussion test following a sack by Clemson's Shaq Lawson in the second quarter. So with their talented starter in the locker room, Freshman Malik Rosier, who had only six total pass attempts entering today, was propelled into game action against the ruthless defense. Let's just say, he didn't do any better.
Despite Clemson taking their "foot of the gas pedal" in the second half, the team tacked on 17 more points, two touchdowns from running back Kelly Bryant, to increase their lead to a whopping 58 points.
This afternoon, starting quarterback Deshaun Watson showcased his dual-threat ability by contributing a total of 241 yards (143 through the air and 98 on the ground) and two touchdowns for the Tigers while the speedy Wayne Gallman surpassed his 2014 TD total with a score, his fifth of the season, and 118 rushing yards on 22 carries.
Nevertheless the impressive individual performances by Watson and Gallman, Clemson's defense was the real star today. Not only did Dabo Swinney's D shutout a team that was averaging 33.7 points per game heading in, but they turned Miami over three times while holding them to a measly 146 total yards.
Moving Forward
With today's national attention drawing victory, 7-0 (4-0) Clemson is now tied with division leader Florida State (the Seminoles play later this evening against Georgia Tech) just two weeks before their important matchup at Memorial Stadium. For 4-3 (1-2) Miami, hope has not sunk too deep into the sand of South Beach. Even though the Hurricanes are now 2.5 games back of Coastal Division leader Pittsburgh, four of their remaining five games are against teams ahead of them in the standings. Granted, the chance of playing in the ACC Championship Game is slim, but one cannot say it has completely evaporated for "The U."