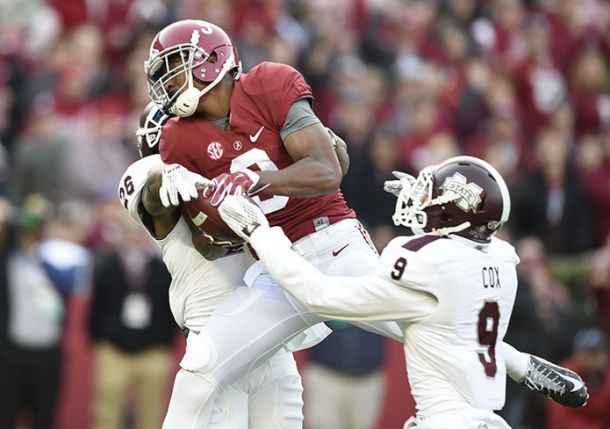 With another exciting week of college football coming our way, it's time for some bold predictions, regarding the Top 25.
#1: Illinois Gives Ohio State trouble before losing late to the Buckeyes
This is definitely a bold prediction, even if the end pick is that the Buckeyes will be winning. The Fighting' Illini are just 5-4 and the defending champs are 9-0. However, the game is at Illinois and the home squad brings the deadly combination of quarterback Wes Lunt (2000 passing yards) and wide receiver Geronimo Allison (756 receiving yards) to the table. If Illinois can keep this game close in the first half, they should be in position to potentially knock off the Buckeyes, particularly with Ohio State's penchant for playing close games with mediocre squads.
Prediction: Ohio State 27-24
#2: Mississippi State knocks off Alabama
Fresh off a huge victory against LSU, the Crimson Tide may overlook the Bulldogs, a team that has just a 3-2 SEC record. However, the Bulldogs have star quarterback Dak Prescott, paired with receiver De'Runnya Wilson which makes a lethal combination. Alabama is a traditional powerhouse, but the Bulldogs are playing at home, fresh off a blowout win over SEC rival, Missouri, and are primed to put a huge damper on Alabama's playoff hopes.
Prediction: Mississippi State 21-20
#3: Oregon Ruins Stanford's Playoff Hopes
Oregon has not been the Oregon of old this season, but one thing remains the same: their high-powered offense. They scored 44 points last week and 61 points two weeks prior to that. Overall, they've averaged 42 points again. They won't put up 42 points against Stanford, but they should put up enough to win. Stanford is not famous for a super-strong offense so this writers thinks the unranked Ducks can upset the Cardinal here, and ruin the playoff hopes for Stanford.
Prediction: Oregon 33-28
#4: Arizona surprises Utah
Arizona brings in both a better quarterback, Anu Solomon (63% completion percentage and over 2,000 passing yards), and a better top receiver, Cayleb Jones (over 550 receiving yards) than Utah has to offer. Utah is probably overlooking the Wildcats with a big game against UCLA coming up. Meanwhile, Arizona, who was looking to be in pretty good position for a decent bowl a few weeks ago, when they were 5-2, now are fighting to even make a bowl game, having lost three straight games. Playing Utah is a great chance to clinch a bowl-game berth with a statement win. Arizona almost knocked off USC last week and this time, they will complete the upset, finishing off Utah's playoff hopes.
Prediction: Arizona 37-31
#5: Indiana claims first Big 10 victory with upset win over Michigan
The Hoosiers are winless in Big 10 play, but they should easily have at least three wins, if not four. Indiana led Ohio State at halftime, led both Rutgers and Michigan State entering the fourth quarter, and stayed with unbeaten Iowa the entire time. The only Big 10 game that Indiana never competed in was a 29-7 loss to Penn State. Michigan was almost beaten by Minnesota and Indiana is the type of feisty team that could take them down. It will be close but Indiana boasts an offense led by quarterback Nate Sudfield (over 2,200 yards passing), running back Jordan Howard, (961 rush yards) and receiver Ricky Howard (708 receiving yards). Michigan's offense is not their strong suit so the Hoosiers will outlast the Wolverines in Indiana.
Prediction: 26-24
#6: Washington State Topples UCLA
Washington State has been solid all year, playing most teams very tough and recording a few upsets, like their road wins at Oregon and at Arizona. They head to Pasadena to take on UCLA. The Bruins, coming off a game in which they thrashed Oregon State 41-0, are probably overlooking the Cougars, with their big game versus Utah looming. Washington State has been underestimated all year and here comes another upset for the Cougars.
Prediction: Washington State 31-21