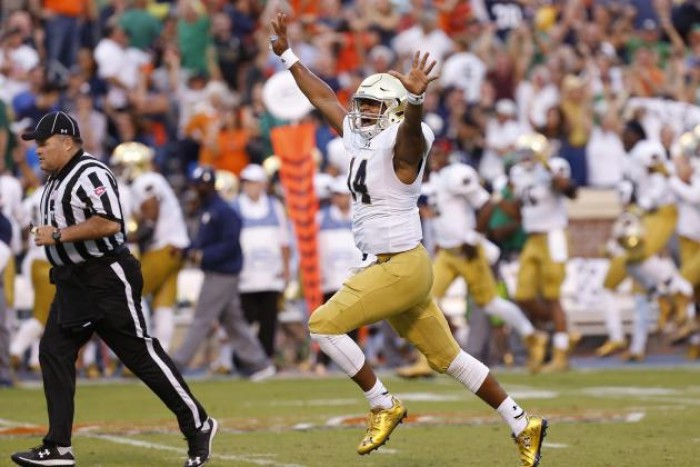 Notre Dame head coach Brian Kelly is going to have to make a very difficult choice sometime between now and September on who he want as his starting quarterback this year.
The Irish have an unusual depth at the quarterback position, such depth that they only usually have at positions such as tight end. There are three very talented quarterbacks returning from last year, and the Irish have a few options on what to do.
Malik Zaire
Malik Zaire is returning to Notre Dame this fall following a rather gruesome ankle fracture in only the second game of the 2015 season versus Virginia. Up until that point, he looked very impressive. Zaire provided clutch heroics in the 2014 Music City Bowl versus LSU when he lead a late scoring drive to win the game. To most, Malik Zaire is the favorite to be starter this September.
DeShone Kizer
Notre Dame fans first saw DeShone Kizer make his debut in a thrilling game in September of 2015 against Virginia on their home field. The Irish were losing and starting quarterback Malik Zaire had just rolled his ankle, and things quite frankly were not looking all that good for the Fighting Irish. To sum of the thoughts of many fans: at the time it seemed the season was over.
Little did everyone know, it was all but over, and everything would be just fine. Kizer stepped in, got a huge first down on 4th and 1, and following that threw a 49 yard touchdown pass to win the game. The Irish only lost two games in the regular season, both coming as two point losses in games coming down to the wire versus Clemson and Stanford. Kizer is going to have a legitimate shot at the starting job this year.
Brandon Wimbush
Wimbush, only a sophomore this year, took the field just a few times in 2015, but served as the second string following the injury of Malik Zaire. Wimbush impressed many in Notre Dame's blowout victory at home against UMass, but took the field only to fumble and be taken back off the field versus Pitt. Wimbush hasn't had as many reps so far in spring practice as the other two front runners, but will for sure still be apart of the competition.
In Summary
It would not be all the surprising if Kelly goes with a two quarterback offense this year, as he did at times in the 12-0 2012 season. No matter what, the Irish will be in good hands this year, and we likely won't know who the starter is until a few days before the first game.