Kentucky has not beaten their in-state rival Louisville since 2010, losing 5-straight games. But in Papa John's Stadium, against a Heisman trophy candidate, they pulled off the inevitable.
Clawing Cats
Kentucky trailed by 10 before halftime, but managed to keep the game close by getting in the end zone before half. The Wildcats showed a lot of fight against a star-studded team and never wavered.
The offensive line produced for UK, as QB Stephen Johnson was able to take his time in the pocket and produce some big plays through the air.
It may be shocking to hear that Kentucky did lead a lot of this game. The 4th quarter was impressively where Kentucky got the most momentum off of multiple turnovers and were able to put the game away on a 47-yard field goal by Austin MacGinnis.
He15man
Quite possibly thought to be the most lop-sided match up going into this game was the QB battle of Louisville's Lamar Jackson and Kentucky's Stephen Johnson.
Johnson finished with 83 rushing yards, 338 passing yards and three TDs with only one interception. Jackson hauled in 171 rushing yards, 281 passing yards with four total TDs and four turnovers.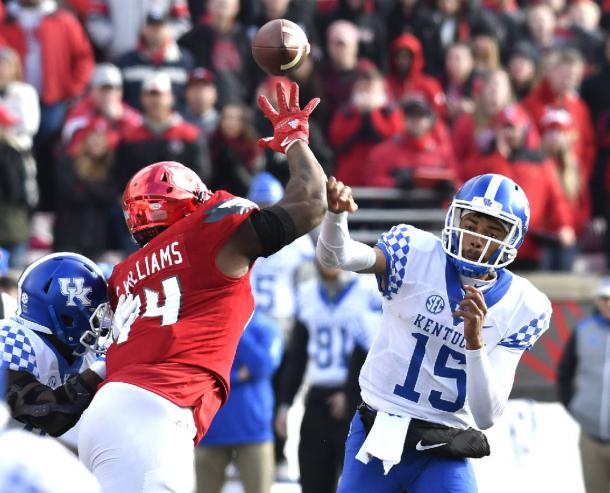 Jackson undoubtedly made his mark on the game with the explosive plays he made and his ability to get the ball in the end zone, but the turnovers killed him.
Johnson outplayed Jackson not through yardage, but through making the correct plays. Johnson made the right passes while Jackson attempted to make big plays.
Rivalry Renewed
In recent years, Kentucky hasn't put up much of a fight against the Cardinals, having only won two games against them in this decade.
That looks to finally be changing as Kentucky got closer and closer to that wonderous upset until it finally happened. There was no jinxing in this game like there had been in years past.
The Wildcats are finally giving Louisville a run for their money in football as their program hits stride. These 'Cats just need to use a big rivalry win and carry that momentum over into their upcoming bowl game.
The Future
For a rebuilding program such as the Kentucky Wildcats, they needed a signature win. A win that made the entire team think that since they beat these guys, why can't they beat anybody?
This was the game. They've had their chances in the past against big name teams to turn their program around but fell short time after time.
But the Wildcats finally got over the hump and gained some respect. They beat a team that was in contention for the College Football Playoffs before last week.
This is the turning point of Kentucky football, and there's no way anybody is looking back.