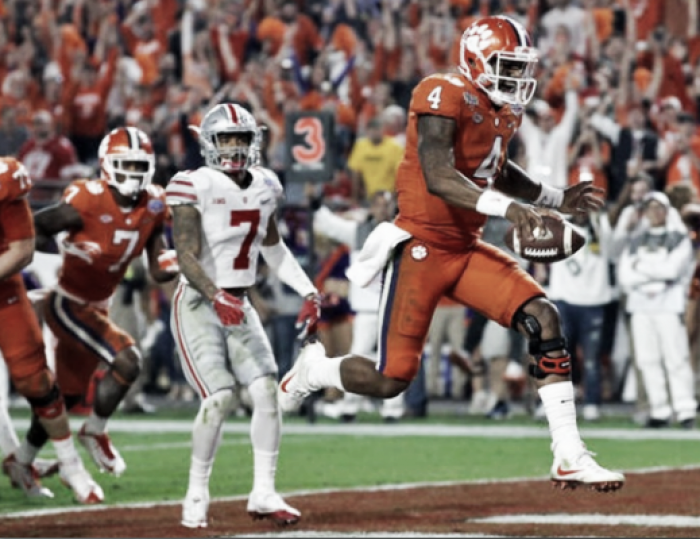 The Clemson Tigers put in a dominant performance on both sides of the ball to shut out Ohio State 31-0 in the Fiesta Bowl in the College Football Playoff semifinals to advance to their second straight National Championship Game against Alabama.
Watson leads potent, powerful Clemson offense
Heisman Trophy runner-up Deshaun Watson orchestrated a versatile, balanced Clemson attack, completing 23 of 36 passes for 259 yards and a touchdown. He overcame two interceptions, one on the Tigers' first possession of the game by Gaeron Conley.
Watson was able to spread the ball around efficiently, hitting nine different receivers. Mike Williams led the Tigers with six catches for 96 yards and Hunter Renfrow chipped in with five receptions for 50 yards.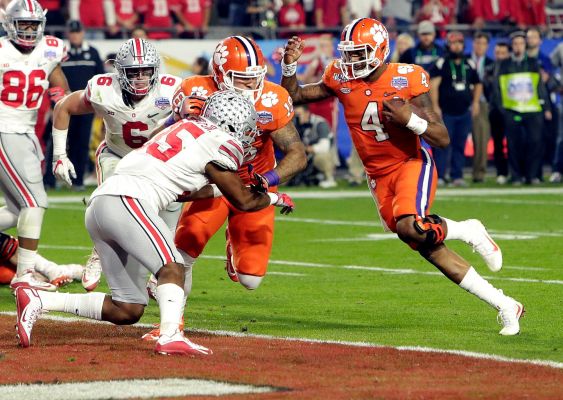 Wayne Gallman carried the ball 18 times for 85 yards and a touchdown that capped the scoring. Watson also rushed for 57 yards on 15 carries and two scores. C.J. Fuller caught a 30-yard TD pass out of the backfield on a wheel route that gave the Tigers a 17-0 lead with 2:21 left in the first half.
Clemson defense suffocates Barrett, Ohio State offense
It wasn't just the Clemson offense that was in sync. The Tigers' defense bottled up the Ohio State offense, holding the Buckeyes to 215 total yards and just nine first downs. Quarterback J.T. Barrett completed 19 of 33 passes, but for just 127 yards. Following Conley's interception, kicker Tyler Durin missed a 47-yard field goal. Durbin would miss again from the same distance on Ohio State's next possession.
Van Smith and Cordrea Tankersley each recorded interceptions. Smith's pick lead to Gallman's touchdown, which closed the scoring. Kendall Joseph led the Tigers with eight tackles while Carlos Watkins had two of Clemson's three sacks. Ohio State head coach Urban Meyer suffered the first shutout of his head coaching career and promised it won't take place again: "I'm not used to it. We're not used to it. It's not going to happen again", Meyer said.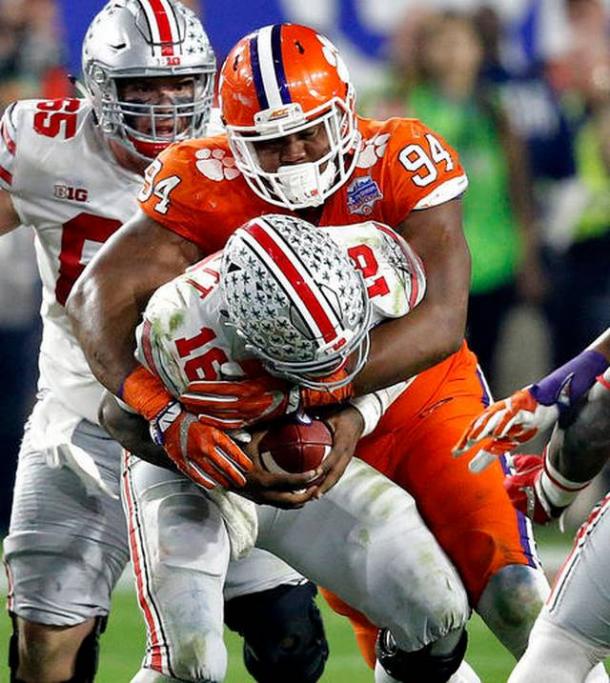 Alabama rematch looming, Tigers seek revenge for last year's defeat in title game
The Tigers were on a mission from the start of the season after their heartbreaking 45-40 loss in last year's National Championship game to Alabama. With the playoff semifinals complete and the Tigers and Tide winning their games, the rematch--and the Tigers' shot at redemption--is set. Coach Dabo Swinney knows to be champions, you have to knock them off: "If you're going to be the best, you've gotta beat 'em", Swinney said. The Tigers will be seeking their first national championship since 1981. Linebacker Ben Boulware is confident the Tigers can beat anyone if they play their best: "If we play to the Clemson standard and play at a high level and focused and prepared and having a great mind-set and mentality, we can beat anybody in the country," Boulware said.

The National Championship Game between Alabama and Clemson is set for January 9th in Tampa.