 After nine weeks of play, the college football playoff committee have unveiled their first rankings of the season.
The 8-0 Georgia Bulldogs have been awarded the number one spot ahead of SEC foes Alabama who are ranked second.
Notre Dame are rewarded for some big wins this season with the number three ranking, with last season's national champion's Clemson in fourth.
Kirby Smart's Bulldogs take top spot ahead of Bama
Despite sitting below Alabama in the AP Poll, it is Georgia who the committee decided were the top team going into week 10 of the season.
With a perfect 8-0 record to date, Georgia's early season win on the road at Notre Dame is looking better every week and that victory is a major factor in their #1 ranking.
Another SEC team in Nick Saban's Alabama Crimson Tide are ranked second after easing through the first eight games of their schedule.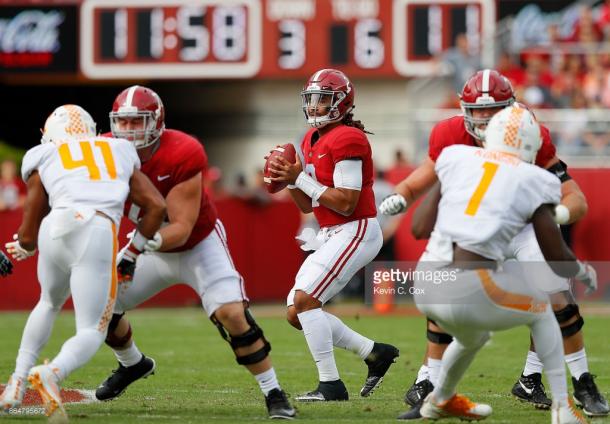 Alabama very much has the toughest part of their season coming up, with LSU (19), Auburn (14) and Mississippi State (16) all still on the slate as well as a potential SEC Championship game.
Notre Dame and Clemson round out the top four
If the season were to end now, the Big Ten, Big 12 and Pac-12 would all miss out on playoff selection. Instead, two 7-1 teams in Notre Dame and Clemson would complete the top four.
The Fighting Irish have recent wins over USC & NC State, while Clemson's only defeat of the season came on a Friday evening at Syracuse when starting quarterback Kelly Bryant was suffering from concussion and an ankle injury.
Oklahoma are one place outside of the playoffs as it stands, with Ohio State in sixth, proving the importance of the Sooners head-to-head win over the Buckeyes earlier this season.
Two unbeatens in Wisconsin (8-0) and Miami (7-0) may feel aggrieved after seeing themselves ranked ninth and tenth respectively, but both remain without a big-time win, and will need to potentially win the remainder of their games to be involved in the playoff.
Top 25 rankings in full
1. Georgia (8-0)
2. Alabama (8-0)
3. Notre Dame (7-1)
4. Clemson (7-1)
5. Oklahoma (7-1)
6. Ohio State (7-1)
7. Penn State (7-1)
8. TCU (7-1)
9. Wisconsin (8-0)
10. Miami (7-0)
11. Oklahoma State (7-1)
12. Washington (7-1)
13. Virginia Tech (7-1)
14. Auburn (6-2)
15. Iowa State (6-2)
16. Mississippi State (6-2)
17. USC (7-2)
18. UCF (7-0)
19. LSU (6-2)
20. NC State (6-2)
21. Stanford (6-2)
22. Arizona (6-2)
23. Memphis (7-1)
24. Michigan State (6-2)
25. Washington State (7-2)