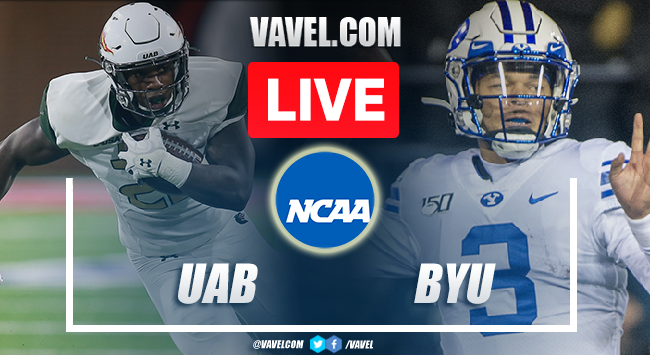 Highlights
Thank you VAVEL friends
2021 Radiance Technologies Independence Bowl Champions
Final Score
4th 0:10
4th 1:00
4th 1.47
4th 2:44
4th 3:36
4th 3:50
4th 5:55
4th 6:17
4th 6:17
4th 7:58
4th 10:30
4th 13:30
4th 14:14
4th 14:33
4th 14:33
End of 3rd
3rd 0:05
3rd 0:55
3rd 2:05
3rd 2:26
3rd 3:45
3rd 4:27
3rd 4:38
3rd 6:30
3rd 7:06
3rd 7:27
3rd 7:27
3rd 9:58
3rd 11:11
3rd 12:10
3rd 13:13
3rd 13:43
3rd 13:43
3rd 15:00
Half-Time
2nd 0:05
2nd 0:09
2nd 0:44
2nd 1:58
2nd 3:18
2nd 3:18
2nd 4:34
2nd 6:10
2nd 6:45
2nd 8:19
2nd 8:19
2nd 10:10
2nd 10:37
2nd 12:48
2nd 12:48
2nd 14:55
End of 1st
1st 0:36
1st 0:57
1st 1:02
1st 1:50
1st 6:14
1st 6:21
1st 6:26
1st 6:55
1st 8:35
1st 9:00
1st 10:27
1st 11:01
1st 12:22
1st 12:41
1st 15:00
Kick-off
All set at Independence Stadium
Independence Bowl
Ready the dressing room of the local team
Warm-up UAB
Warm-up BYU
WEATHER UPDATE
This is how UAB arrives
This is how BYU arrives
The battle in the trenches will be key against totally different styles
The Independence Bowl is back
Get Started
Tune in here UAB vs BYU Live Score
How to watch UAB vs BYU on TV and Online?
What time is UAB vs BYU match for Independence Bowl?
Key player of UAB
Key player of BYU
This is how UAB arrives
This is how BYU arrives
The match will be played at Independence Stadium
Welcome to VAVEL.com's coverage of the NCAA 2021: UAB vs BYU Live Updates!