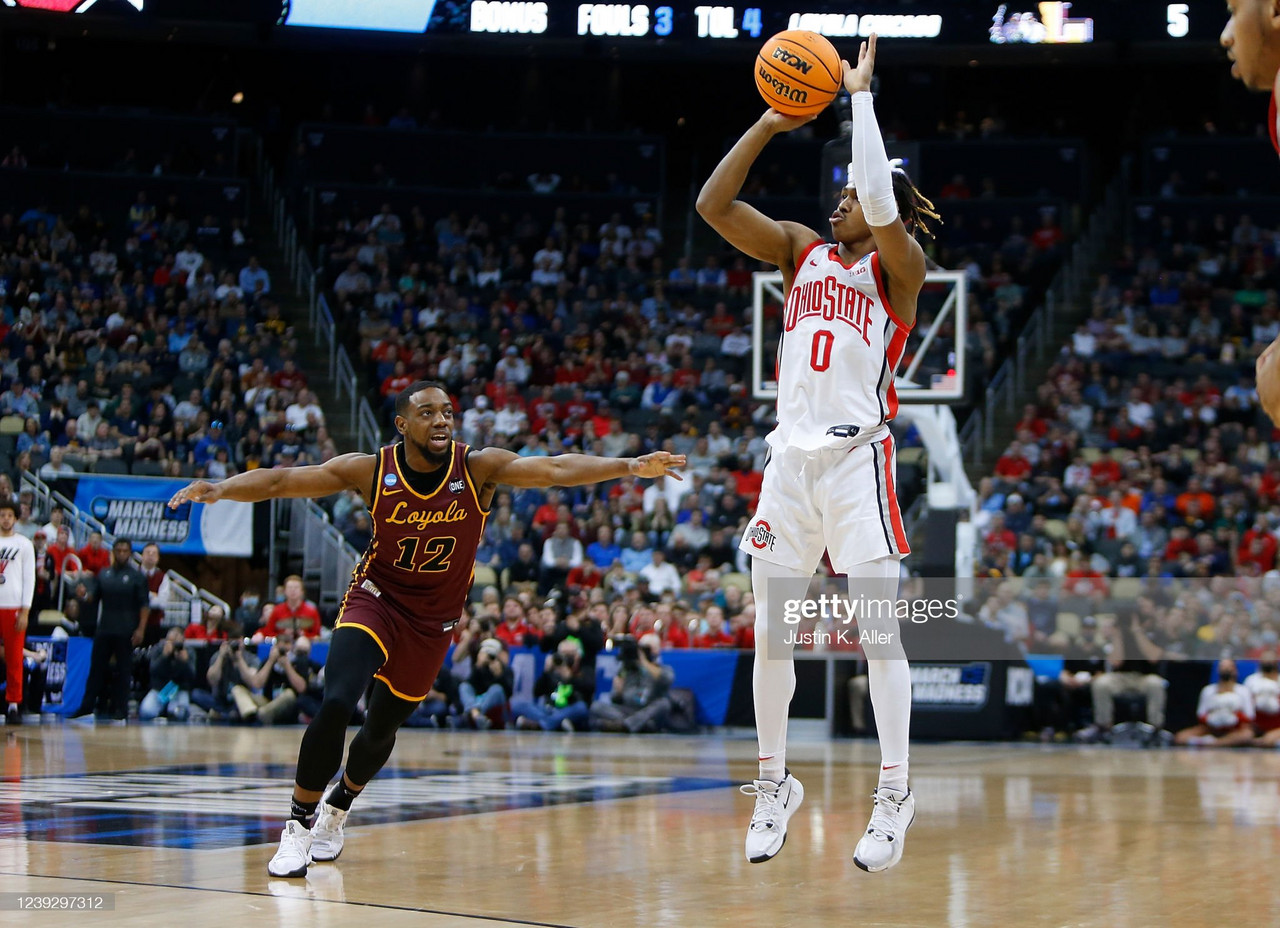 Ohio State used outstanding defense to knock off Loyola Chicago 54-41 in the first round of the 2022 NCAA Tournament in the South region in Buffalo.
The Buckeyes held the Ramblers to 26.8 percent from the floor, by far their lowest percentage of the season. E.J. Liddell led Ohio State (20-11) with 16 points and 10 rebounds. Malaki Branham added 14.
Braden Norris was the high man for Loyola (25-8) with 14 points. Lucas Williamson, playing in his final game for the Ramblers, finished with just four points on 1 of 10 shooting.
Story of the game
Chris Knight put Loyola on the board first just under two minutes in, converting inside to make it 2-0. Ryan Schweiger connected on a triple from the top of the key, stretching the Ramblers' lead to 5-2.
Ohio State responded by scoring five straight points, the last two of which came on a floater from Eugene Brown III that gave the Buckeyes their first lead of the afternoon at 7-5.

In a first half where nothing came easy on the offensive end, a layup by Aher Uguak snapped a lengthy scoring drought for Loyola and tied the game at 9-9 with 8:15 remaining.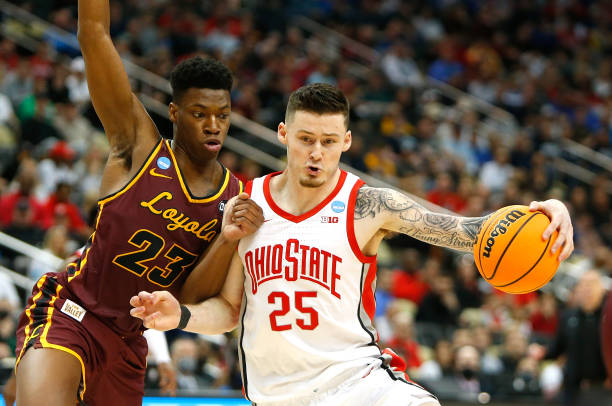 Schwieger added a fast break bucket seconds later, putting the Missouri Valley champions back on top, 11-9, but Ohio State answered with an 8-0 surge, capped off by two free throws from Liddell to open up a 17-11 advantage.

Braden Norris drained a corner three to snap the run, but Branham countered with a dunk off a turnover to stake the Buckeyes to a 19-14 lead and force a timeout by the Ramblers with 3:49 to play.
Norris found the mark again from beyond the arc to bring Loyola within five at halftime, 23-18.

Ohio State was on target with its first three attempts from the field, with a Kyle Young jumper in the paint making it a 29-18 game, forcing a Loyola timeout with less than three minutes gone.
Norris again looked to provide a spark, hitting his third three of the day with 16:31 remaining to trim the deficit to 29-21. Points continued to be hard to come by and Lucas Williamson's first bucket of the game, a three, made it 37-26 with 12:46 left.
Schwieger was again on target from long range, cutting the Ohio State lead to 40-32 with over eight minutes to go, but a basket by Jamari Wheeler started a 6-0 run and the lead was never smaller than nine the rest of the game.