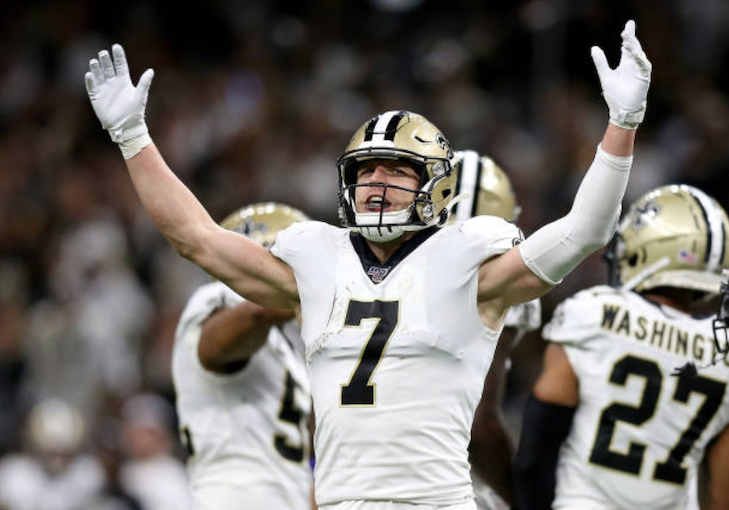 With the New Orleans Saints re-signing Taysom Hill, they may now have three options at quarterback after negotiations are taking place to sign Jameis Winston to a one-year deal. The Saints also drafted a quarterback in Tommy Stevens who has already been compared to Hill.
Hill's contract extension is worth $21 million - $16 million of that is guaranteed - plus an additional $1 million in performance bonuses.
Hill will remain in New Orleans for the next two years
The versatile quarterback became a fan-favorite after displaying his running, throwing and tackling ability.
Hill discussed his new deal via a virtual interview: "I've felt a lot of love from the organization and the fan base. ... My wife and I always wanted to stay in New Orleans, so this worked out perfect."
He also explained how the two-year deal will work in both his favor and his team: "This gives me a clear trajectory and opportunity for me to compete and to be the guy in New Orleans in [2021] if Drew decides to be done. And if he's not, then we'll figure out another contract or my role will continue to be the way it is.
"This was a way to prevent me to get to free agency next year, and it created some structure for both me and my family, as well as the organization."
Hill announced via Instagram at the start of the month that he and his wife, Emily, are expecting their first child.
Hill has also had his say on the expected arrival of Winston after he left the Tamba Bay Buccaneers: "I knew that we were always gonna bring in another guy," Hill said. "I didn't know who it was gonna be. But no surprise there. I think Jameis is a good football player, and he's a good quarterback."
Sean Payton has assured the media that he has faith in Hill and stated that: "He's too good a football player [not to be on the field]. He's one of our better football players."