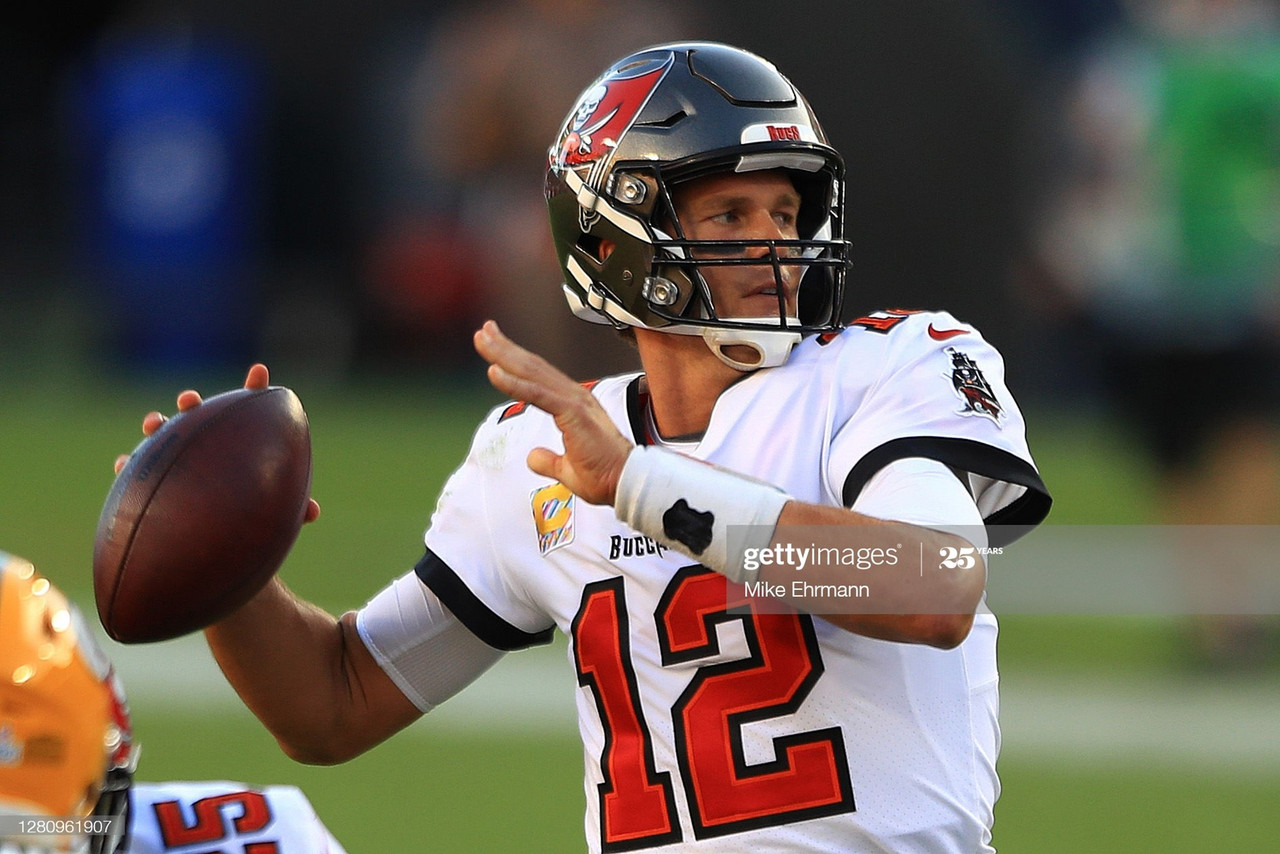 In what was expected to be a back and forth battle between two future NFL Hall of Fame quarterbacks it was the Tampa Bay Buccaneers' defense that sparked the first two touchdowns and kept the Green Bay Packers' offense quiet through three quarters.
Tom Brady and Aaron Rodgers threw for only 326 yards combined as the Buccaneers go top of the NFC South.
Fast start by the Packers
The Packers kept up their record of scoring on every opening drive so far this season as Mason Crosby scored a 39-yard field goal. The opening drive nearly ended in a three-and-out, but Rodgers kept the drive alive on third and 10, throwing a 20-yard pass to Aaron Jones. The returning Davante Adams also caught a 12-yard pass on this drive.
The Buccaneers' opening drive resulted in a quick three-and-out. LeSean McCoy returned from injury with a carry for one yard.
The Packers play had mostly gone through their running backs as Jamaal Williams broke free for a 25-yard run after opening the drive with a five-yard run. Rodgers connected early with his wide receivers throwing to Marques Valdes-Scantling and Adams for 15 and 13 yards respectively.
The Packers thought they had scored when Rodgers ran in from seven yards, however, this was reversed on review. Aaron Jones instead ran for the touchdown from one yard out to give the Packers a 10-0 lead going into the second quarter.
Buccaneers second quarter onslaught
After a forgettable first quarter for the Bucs they scored 28 unanswered points to go into half time with a 28-10 lead as their defense made their mark.
Rodgers tried to find Adams to the left, but Jamel Dean intercepted the pass and ran it back for a pick six. This was the Packers' first giveaway this season and the first interception for Rodgers in 157 pass attempts.
After no interceptions in 157 passes, Rodgers threw his second in three passes as Mike Edwards intercepted this time and ran the ball to the Packers two-yard line. Ronald Jones then ran the ball into the end zone for a TD to give the Bucs a 14-10 lead.
After a Packers three-and-out, the Bucs, despite leading by four points finally put together a long offensive drive. Starting from their own 35-yard line, Brady found Rob Gronkowski for a 13-yard pass. There was a crucial 15-yard face mask penalty to take Tampa to the 24-yard line. A few plays later Brady found Tyler Johnson in the end zone for a seven-yard pass to put the Buccaneers 21-10 up.
Rodgers tried to ignite some magic on the next drive throwing a deep ball down the middle incomplete to Valdes-Scantling, before getting sacked by Lavonte David for 11 yards to force another Green Bay three-and-out.
The Bucs, now rolling were able to move the ball at will on the next drive resulting in a fourth touchdown of the quarter, this time Brady connected with a 12-yard pass to Gronkowski who scored his first TD in 679 days.
Another long pass attempt by Rodgers to Valdes-Scantling was nearly intercepted by Carlton Davis, then Ndamukong Suh sacked Rodgers to end the first half with Tampa Bay leading 28-10.
Second half
Tampa Bay started the second half in the same way they ended the first. Brady connected with a 31-yard pass to Gronkowski and Scotty Miller caught his first pass of the game before Ryan Succop bent in a field-goal which appeared to be going wide left from 50-yards.
After both teams traded three-and-outs, the Packers were back on the ball and Rodgers was sacked for eight yards by David and Jason Pierre-Paul.
A delay of game penalty saw the Packers face second and 23. However, on third and 18, Rodgers was able to find Adams for a first down. A few plays later Adams converted another third down to keep the drive alive.
Rodgers went to Adams again on third down, but he was unable to keep his feet inbounds and the Packers were forced to punt.
After a crucial 40-yard pass interference penalty called on Josh Jackson put the Buccaneers at the Green Bay two-yard line, after Brady aired it out to Miller, a few plays later Ronald Jones ran in for his second TD of the day to put the game beyond doubt.
After a three-and-out for the Packers and the game all but over Ronald Jones ran the ball to go over 100 yards in his third consecutive game, the last Buccaneer to do that was Doug Martin in 2015.
Garbage time lasted a full quarter and Rodgers was pulled with seven minutes left in the game after completing 16 of 35 passes for 160 yards, no TD's and two interceptions.
Despite the high scoring by the Buccaneers, Brady only completed 17 of 27 passes for 166 yards and two TD's. Gronkowski caught five passes for 78 yards and a TD in his best performance as a Buccaneer so far, while Mike Evans with his ankle still causing issues caught just one pass for 10 yards.
Aaron Jones was held to just 15 yards from 10 carries, while Davante Adams on his return from injury caught six passes for 61 yards and was Rodgers' go to guy converting a few third downs.
Next up
The 4-1 Green Bay Packers travel to the 1-5 Houston Texans next Sunday, while the 4-2 Tampa Bay Buccaneers travel to Sin City to take on the 3-2 Las Vegas Raiders on Sunday Night Football.