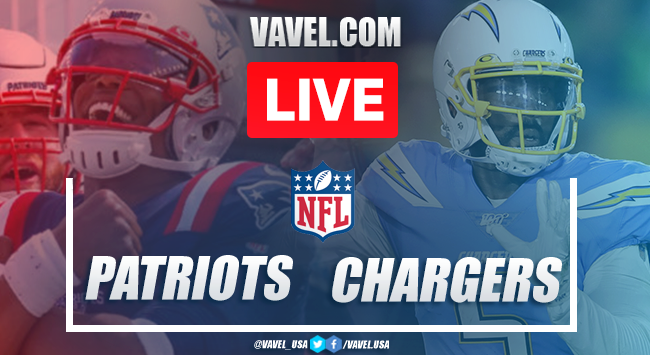 Game highlights
4Q | 00:00
4Q | 1:18
4Q | 2:00
4Q | 2:50
4Q | 4:06
4Q | 4:49
4Q | 5:40
4Q | 6:50
4Q | 8:13
4Q | 10:26
4Q | 1
4Q | 13:44
3Q | 00:00
3Q | 0:38
3Q | 1:37
3Q | 1:37
3Q | 3:40
3Q | 5:11
3Q | 6:21
3Q | 8:08
TD Patriots 35 - 0
3Q | 8:44
3Q | 10:55
3Q | 12:22
3Q | 13:46
3Q | 15:00
2Q | 00:00
TD Patriots 21 - 0
2Q | 0:51
2Q | 1:01
2Q | 1:14
2Q | 2:00
2Q | 4:19
2Q | 5:22
2Q | 6:01
2Q | 6:45
2Q | 7:59
2Q | 8:48
2Q | 10:55
2Q | 11:40
1Q | 13:06
TD Patriots 14 - 0
1Q | 14:02
2Q | 14:18
1Q | 00:00
TD Patriots 7 - 0
1Q | 1:50
1Q | 2:50
1Q | 3:32
1Q | 6:15
1Q | 6:59
1Q | 7:50
1Q | 9:19
1Q | 13:38
1Q | 14:48
1Q | 15:00
We are almost there!
Cam Newton motivates his teammates
Chargers looking good ahead to this afternoon's game
Fellowship is not a problem in New England
The Chargers already jump on the grill
Will the effort be enough?
New England players warm up on the Los Ángeles court
Justin Herbert is warming his arm
This is how the Patriots arrived at the new SoFi Stadium
Herbert, for consolidation
This afternoon's inactive list for the Chargers
Inactive Patriots for today's game
Follow it here
Who you got?
They want the .500 record
Playoffs still within reach
How to Watch New England Patriots vs Los Ángeles ChargersLive TV and Stream
They couldn't handle the North
A candidate was surprised
Latest face-off
Key player Los Ángeles
Key player New England
Not in the best shape
Good afternoon to all VAVEL readers!