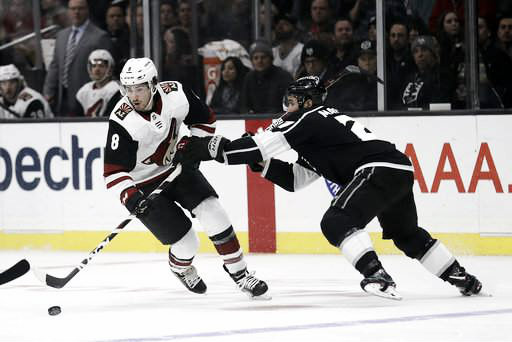 There are times that a team needs a shakeup... and a trade usually works some magic to allow every player on the roster a time to reflect and set his performance standards to a higher level.
Enter Nick Schmaltz.
The 22-year-old third-year forward has excelled in every category for his new team and that suits the Arizona Coyotes just fine.
Trade by Chayka looks to be genius move
Trading for Schmaltz thus far has appeared to be another brilliant move by GM John Chayka as Schmaltz has looked like the spark plug the team needed to get their offense going.
He displayed that ability once again Tuesday night as he scored the game-winner on the power play in a close game won by the visiting Coyotes, 2-1.
The way he has blended with forwards Alex Galchenyuk and especially Clayton Keller is just what Chayka had hoped for when he swung a deal to add Schmaltz from the Chicago Blackhawks in exchange for Dylan Strome and Brendan Perlini.
The addition of Schmaltz has had some other positive side effects as Keller has really picked up his game since he has a new linemate. He has two goals, three assists in the four games since Schmaltz became a desert dweller.
Keller is looking for Schmaltz whenever he can, and the results have been nothing short of successful.
Adin Hill has shined in net
Who could have predicted that when your starting goalie goes down with another injury and your backup goalie also fails to be healthy that you call up your AHL goalie and he absolutely kills it?
Antti Raanta may need to get a reality check when he gets healthy as Adin Hill has done such an outstanding job between the pipes that head coach Rick Tocchet may toy with the idea of leaving the kid in net... at least for now.
I mean how do you justify playing anyone else with stats like 4-0, .977 save percentage, and 0.56 goals against average? Oh yeah, throw in a shutout for good measure.
Special teams dominated this game
The Arizona Coyotes penalty kill leads the NHL (90%) and they also lead in scoring the most short-handed goals with 11. The closest team to that total is the Calgary Flames with six.
Yet, the team is not that great on the power play tallying only 14 extra-man scores with a rather meager 15.9 percent success ratio.
In this game, Lawson Crouse captured the lead with his second shortie of the season. He rambled in alone on Jonathan Quick and just barely got it by him for the 1-0 lead.
The pass from Josh Archibald (five points in his last five games) was right on the money, and the speed of the rush again paid off big dividends. When the Coyotes are skating... good things happen.
If Schmaltz can continue to score on the power play, the team will have acquired a jewel of a player. So far, there is not much one can criticize about Schmaltz's play. He is a good possession player and has shown that he is better at that than the two players he was traded for recently.
Schmaltz has a 50.9 Corsi for percentage compared to Strome's 48.5, and Perlini's 46.7. That means the team has possession of the puck over 50 percent of the time with him on the ice and that helps the offense.
Galchenyuk, Keller, Schmaltz line producing
In the four games since Schmaltz has arrived their top line has produced 11 points and they are just getting started.
The chemistry is evident when you see Galchenyuk crash the net (and sometimes knock the stick from the goalie's possession... pay attention Quick) and watch how Keller works his magic and now with the addition of another right-hand shot with Schmaltz out there, this line has some real potential to be unstoppable... at times.
Schmaltz must feel like he's still playing with a player like Patrick Kane when he sees Keller use his tool bag of skills to get the puck to him or score himself.
We'll see if the Yotes can make it five in a row
They must face the Stanley Cup champion Washington Capitals on Thursday night and it looks like Raanta and Darcy Kuemper may still be unable to participate.
It's okay though... really, Adin Hill has this.
Nick Schmaltz has it too... so even though the Caps will come in after losing to the Vegas Golden Knights Tuesday night and will be looking for revenge from their loss to the Coyotes recently in Washington.
Alex Ovechkin has 20 goals already so just stopping him is a successful outing.
Let's just say Adin Hill will have his work cut out for him, but the way he stands cool in his cage it doesn't appear that anything can rattle this kid.
With the last win, the Coyotes are now just four points out of a wild- card spot in the Western Conference trailing the Golden Knights by three points with three games in hand. They are just four points behind the Minnesota Wild who reside in the last playoff position and also have a game in hand on them.
A win against the Capitals would be HUGE.
For that to happen the team needs to continue to play as a complete unit and show that they are up to beating the best team in the league last season... again.
Are the surging Arizona Coyotes able to continue their excellent play? Will their top line and new player Nick Schmaltz be up to it? Let us know in the comments section below.