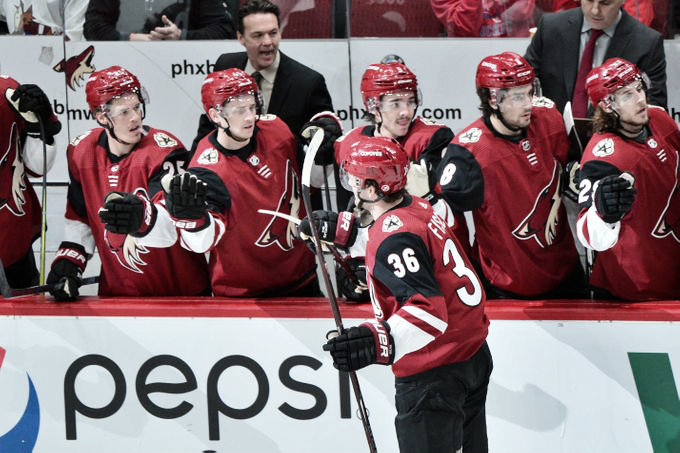 Well, the long-awaited news of whether (was it really not a no-brainer) or not the city of Seattle would be awarded an expansion franchise has been decided... and there were no surprises.
With an estimated 35,000 season ticket orders, the NHL Commissioner announced that Seattle will be joining the NHL in the 2021/22 season.
Everyone is thrilled, right?
Well, perhaps not so much for the Arizona Coyotes. With the new alignment required to keep the divisions with an equal number of eight teams each, the Coyotes drew the short straw and must move to the Central Division.
Of course, the Coyotes have no choice, so they had to at least sound that they will be able to deal with it... what else can they do?
"We are happy to welcome Seattle as the NHL's 32nd franchise as the NHL continues to grow the game of hockey throughout North America," Coyotes President and CEO Ahron Cohen said in a release. "We will work with the League to ensure a smooth transition into the Central Division in time for the 2021-22 season, and we appreciate the League's willingness to assist with logistics and scheduling to make travel as easy as possible between our home in Phoenix and the other Central destinations."
That means the Coyotes will be stacking up frequent flier miles as the closest opponent to them will be the Colorado Avalanche (817 miles) and the Dallas Stars (1,075 miles).
Not exactly convenient, but that will be the way it will be.
Here are some reactions from a Facebook group called Arizona Coyotes Fans!:
Coyotes should absolutely stay in the Pacific. They are literally a 5-hour driving distance to not one, not two, but three teams in the division. They are "driving distance" to zero teams in the Central. To put it in perspective the closest would Colorado at 14 hours.
NHL should do the right thing and move both Calgary and Edmonton to the Central, and keep the Coyotes in the Pacific.
13 Comments
14Marc Fredrick and 13 others
---
I'm starting to calm down about moving to the central division. Now that I have calmed down about it I'm starting to be ok with it but I still don't like losing Vegas and LA as division rivals.
4 Comments
11Devon M Cordova and 10 others
---
2008: Coyotes are moving to Winnipeg
2009: Coyotes are moving to Winnipeg
2010: Coyotes are moving to QC
2011: Coyotes are moving to QC
2012: Coyotes are moving to Seattle
2013: Coyotes are moving to Seattle
2014: Coyotes are moving to QC
2015: Coyotes are moving to QC
2016: Coyotes are moving to Las Vegas
2017: Coyotes are moving to Houston
2018: Coyotes are moving to Houston
We're moving to the Central because we're the eastern-most team, no other reason, take a deep breath. This is the 5th city that we're a "Lock" to relocate to.
14 Comments
57Devon M Cordova, Roger Goliac and 55 others
---
Then there's this speculation
Some "experts" are predicting that the Coyotes will be moved to the Houston area by then anyway... and that is a possibility.
I mean when you have the Stanley Cup defending champion Washington Capitals in town and can only draw 11,910 fans to the game how can ANY NHL franchise exist doing that?
The answer is they may not be able to.
It has been announced that the primary owner of the team, Andrew Barroway is selling either all or the majority ownership he possesses to another party. We have yet to be told who that may be.
One interested party who wants to acquire an NHL franchise and has already had discussions with the league Commissioner, Gary Bettman is Tilman Fertitta. He purchased the Houston Rockets NBA team for a reported $2.2 billion and has a net worth of $3.1 billion according to Forbes.
So, is this all a segway for the Arizona Coyotes to move to the sprawling metropolis of Houston?
Perhaps.
Just consider that Fertitta wants a team sooner rather than later and adding another team to the 32-team lineup that will take place when Seattle joins the league in 2021/22 doesn't make any sense at all.
The league would need to add another Eastern Conference team just to keep the conferences balanced and all their hard work to get to that point would be wasted if they decided to add Houston in the near future.
But don't count out the factor that the new Seattle franchise will pay the league $650 million split by all the owners (except the Vegas Golden Knights per their expansion agreement) and you see the money-grubbing NHL going for a Houston expansion rather than a relocation.
Bettman claims that the Coyotes draw better against Central Division teams
Here are some comments from Darren Dreger's Twitter feed on the comment from Bettman that the Coyotes would 'draw' better if in the Central Division.
The only attraction seen by this writer is the already contentious rivalry between the Chicago Blackhawks and the Coyotes. With no less 11 players changing jerseys recently between the two teams there would be a natural rivalry created.
Still, that's not a good reason to move the team.
Again, the smokescreen for the Coyotes moving to Houston becomes even more clear.
Without an arena deal, where will the Coyotes play?
The silence can be cut with a knife as to what the latest is on an arena deal in the East Valley to attract more fans and actually try to stop continuously losing money as an NHL franchise.
Factor in that Barroway wants out, and former ASU athletic director Steve Patterson (who was charged with solving the arena snafu) has left and many indicators seem to lead to Houston getting this team.
If there is another explanation, I would be happy to hear about it. It all smells of a relocation to me.
Then, take in this comment from Deputy NHL Commissioner Bill Daly on the possible relocation of the Coyotes to Houston:
"I mean, I would say you've got to look at the other side of that, which is there was no other change that was more logical than moving Arizona like we did. One has nothing to do with the other."
Oh, really Bill?
So how do the Coyotes' players feel about this?
One, in particular, Clayton Keller expressed his delight of a move to the Central Division.
"There's obviously a lot of good teams in all the divisions, but I think it will be cool to play St. Louis a little bit more, being from there," said Keller, who grew up in Chesterfield, Missouri, a suburb of St. Louis, and leads the Coyotes with eight goals and 18 points.
Of course, Keller is an employee of the team and if they moved to another division he may be perfectly fine with it, but what if they moved to another city?
That's a whole different set of circumstances. NHL players like any professional athlete must adjust to changes which are beyond their control... trades, team relocations all come with a contract to play a professional sport.
How devastating would a move to Houston be for the Coyotes fans?
It would be quite devastating considering they have been an NHL city since 1996/97. There have been rumors of their demise and relocation so many times that it gets quite old and fans here really just ignore them for the most part.
When the overall effect of the possibility of losing the team sinks in it would hurt the local economy by lost jobs and revenue for all the games played in Glendale, AZ.
Take into consideration that their AHL team down in Tucson, AZ would be affected by such a relocation and things get complicated.
Having the Phoenix area become an AHL city would be such a downgrade for the area. Who would settle for an AHL team when you've had an NHL team for years?
It's just the uncertainty that kills any new fans from getting involved in the sport and buying tickets to see the team play.
Add in the location of Gila River Arena and the sad facts are this team CAN'T succeed there much longer.
The only two solutions are a relocation of the franchise or relocation of where they play their games.
And right now neither is resolved... so we struggle through it all hoping for the best.
After all, not having the NHL in the Phoenix area would be a travesty... yet it appears that is where things are headed.
It's too bad really... I for one would miss seeing the Coyotes play here.
It is what it is...
Do you feel that the relocation of the Arizona Coyotes to the Central Division is an indication that they may move to Houston? If not, where will they play? Give us your thoughts below in the comments section.