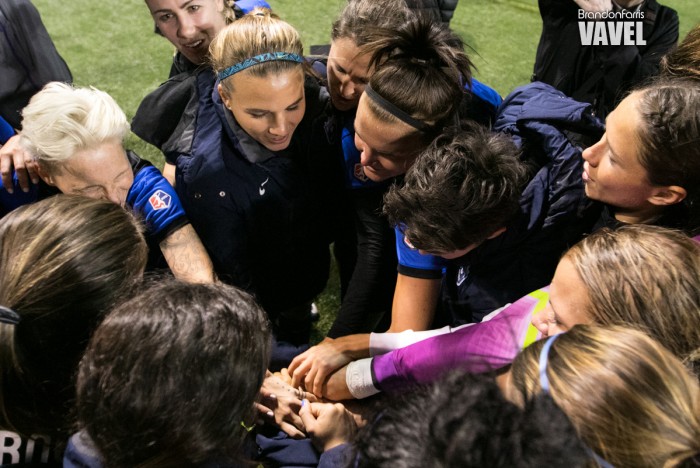 The Seattle Reign released their 2016 NWSL schedule on Thursday. The schedule consists of 25 matches, ten NWSL home matches, ten NWSL away matches and one home international friendly. Seattle will also play four preseason matches which includes its annual Community Shield Match.
With it being a 20 game schedule, Seattle will play eight NWSL clubs twice - one at one and one on the road. To fill in the remaining four games, Seattle will play the Portland Thorns four times – twice at home and twice at Providence Park.
All Matches But One On Weekends
The schedule includes all matches being played on the weekend but one that is scheduled for a Wednesday the first week of September. Five matches will be played on Saturday and five on Sunday. None of these matches will conflict with the Seattle Sounders of MLS. The Reign's international friendly opponent and match details have not been confirmed and are expected to be announced at a later date and time.
The Reign open the season at home on Sunday, April 17th against Sky Blue FC at Memorial Stadium in downtown Seattle. The Reign won their match at home against Sky Blue and tied the other in New Jersey.
Their first road match will come the following weekend on Sunday, April 24th against the Boston Breakers. The next weekend, Seattle returns home and faces two-time defending NWSL Champions FC Kansas City on Sunday, May 1st. The two teams met twice last year during the regular season, each winning on their home pitch. Kansas City won the most important game of the year when they defeated Seattle 1-0 in the NWSL Championship match that was held at Providence Park in Portland, Or.
The Reign will get their first look at expansion side Orlando Pride in Orlando, FL on May 8th. They will host them on Saturday, July 23rd.
First Match Against Portland
The Reign will face the Thorns for the first time on May 14th in Seattle. Just two weeks later, Seattle will travel to Portland on May 29th to square off again. Seattle will make their last trip to Portland on July 30th. The final matchup of the two teams will come on August 27th in Seattle.
Beginning Monday, August 1, the NWSL will take a four-week break while players around the league participate in the 2016 Summer Olympics in Brazil.
The Reign will play their final home game of the year on Sunday, September 11th when they host the Washington Spirit. The Reign will finish out the season on the road against the Houston Dash on Sunday, September 25th.
Seattle will look to win their third straight NWSL Shield and look to bring home the elusive NWSL Championship trophy.
Full Schedule
*preseason matches *all times Pacific
| | | | | |
| --- | --- | --- | --- | --- |
| Date | Time | Home | Away | Location |
| *Sunday, March 27 | 5:00pm | Portland Thorns | Seattle Reign | Providence Park; Portland, OR |
| *Wednesday, March 30 | 5:00pm | Houston Dash | Seattle Reign | Providence Park; Portland, OR |
| *Saturday, April 2 | 2:30pm | Oregon State University | Seattle Reign | Providence Park; Portland, OR |
| *Saturday, April 9 | 7:00pm | University of Washington | Seattle Reign | Providence Park; Portland, OR |
| Sunday, April 17 | 4:00pm | Seattle Reign | Sky Blue FC | Memorial Stadium; Seattle, WA |
| Sunday, April 24 | TBD | Boston Breakers | Seattle Reign | Jordan Field; Allston, Massachusetts |
| Sunday, May 1 | 4:00pm | Seattle Reign | FC Kansas City | Memorial Stadium; Seattle, WA |
| Sunday, May 8 | TBD | Orlando Pride | Seattle Reign | Orlando Citrus Bowl; Orlando, FL |
| Saturday, May 14 | 7:00pm | Seattle Reign | Portland Thorns FC | Memorial Stadium; Seattle, WA |
| Sunday, May 22 | 4:00pm | Seattle Reign | Chicago Red Stars | Memorial Stadium; Seattle, WA |
| Sunday, May 29 | TBD | Portland Thorns FC | Seattle Reign | Providence Park; Portland, OR |
| Sunday, June 12 | 4:00pm | Seattle Reign | Houston Dash | Memorial Stadium; Seattle, WA |
| Sunday, June 19 | TBD | Sky Blue FC | Seattle Reign | Yurcak Field; Piscataway, NJ |
| Saturday, June 25 | TBD | FC Kansas City | Seattle Reign | Location TBD |
| Saturday, July 2 | 7:00pm | Seattle Reign | Boston Breakers | Memorial Stadium; Seattle, WA |
| Saturday, July 9 | TBD | Western New York Flash | Seattle Reign | Sahlen's Stadium; Rochester, NY |
| Saturday, July 16 | 7:00pm | Seattle Reign | Western New York Flash | Memorial Stadium; Seattle, WA |
| Saturday, July 23 | 7:00pm | Seattle Reign | Orlando Pride | Memorial Stadium; Seattle, WA |
| Saturday, July 30 | TBD | Portland Thorns FC | Seattle Reign | Providence Park; Portland, OR |
| Saturday, August 27 | 2:00pm | Seattle Reign | Portland Thorns FC | Memorial Stadium; Seattle, WA |
| Sunday, September 4 | TBD | Chicago Red Stars | Seattle Reign | Toyota Park; Bridgeview, Ill |
| Wednesday, September 7 | TBD | Washington Spirit | Seattle Reign | Maryland Soccer Complex, Boyds, MD |
| Sunday, September 11 | 6:00pm | Seattle Reign | Washington Spirit | Memorial Stadium; Seattle, WA |
| Sunday, September 25 | 6:30pm | Houston Dash | Seattle Reign | BBVA Compass Stadium, Houston, TX |