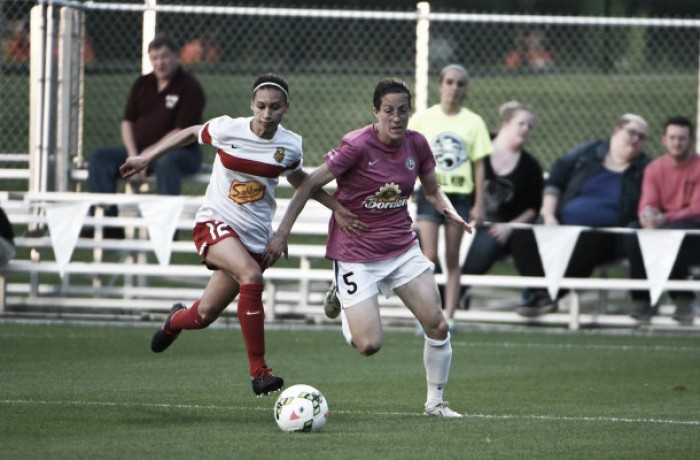 Match Overview
-FC Kansas City leads all time series 3-2-3
-2015 Records: Western New York 6-9-5, FC Kansas City 9-5-6
Top Returning Players
Western New York Flash
Samantha Mewis (NY), Abby Dahlkemper (NY), Jaelene Hinkle (NY)
FC Kansas City
Amy Rodriguez (KC), Becky Sauerbrunn (KC), Heather O'Reilly (KC)
The second year in the rebuild of the Western New York Flash continues tonight as the squad takes on two time defending champions FC Kansas City at Children's Mercy Park at 8:30 pm.
The Flash added 11 new players to its roster in the offseason, as well as a new Head Coach in Paul Riley. The additions include former Chicago Red Stars and current New Zealand defender Abby Erceg, who was named captain of the team. Additionally, the Flash are led by talented midfielders Samantha Mewis and Abby Dahlkemper, who started all 20 games of her 2015 rookie campain. She was named both Rookie and Defensive Player of the Year by the Flash. Mewis led the way with four goals.
The 11 transactions followed a season that saw Western New York overhaul the majority of its roster. Forward Sydney Leroux was acquired in a midseason deal, but added little to the offense. She was part of a major trade during this past offseason, ironically with Kansas City. With the retirement of Abby Wambach, the team needs a new face of the franchise and it is hoped that either Mewis or Dahlkemper can provide that face.
For Kansas City, what was a good offense potentially got great with the acqusition of Leroux. However, shortly after being named part of Kansas City, she announced she would miss the season due to pregnancy. The two time champions are still loaded with the likes of Rodriguez, who led the team with six goals, fellow forward Shea Groom (4 goals) and midfielder O'Reilly. Becky Sauerbrunn and Brittany Taylor lead a solid defense in front of veteran netminder Nicole Barnhart. Kansas City faces a tall task to three-peat as their biggest challengers are Chicago and Washington, but they should have little problem with a Western New York team that is still in serious flux and probably a year or two away from becoming a serious contender.
Outlook
Riley and the Flash have nowhere to go but up. While they weren't the worst team in the league, offense was an issue for this squad. Starting the season against a loaded Kansas City is a sobering way to open. Mewis will have to shoulder the scoring load. New York will need top 2016 pick Makeny Doniak (Virginia) to step up quickly. Erceg and Hinkle are a solid combo on the backline and they will be tested by Rodriguez and company.
Final Score: FC Kansas City 4 Western New York 1