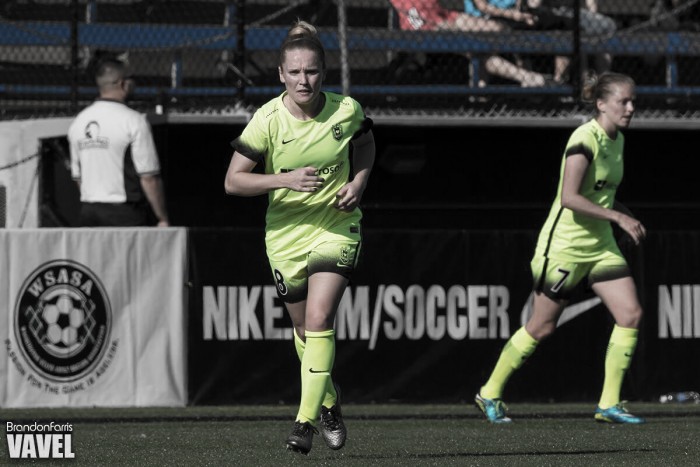 Allston, MA- On Sunday, Seattle Reign traveled to Jordan Field at Harvard University and disposed on Boston Breakers, 3-0, for their first win of the season. According to the National Women's Soccer League website, 3,743, an almost sellout, attended the home opener.
With the win, Seattle moves into an early six-way tie for third place with three points in two games. On the other side of the field, Boston now sits at the bottom of the table with zero points in two games.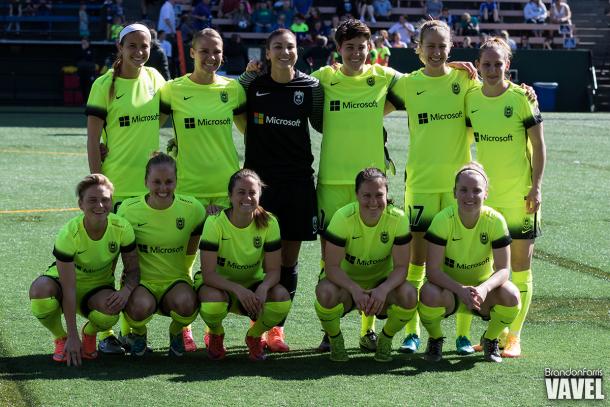 First Half Dominance by Seattle Reign
Seattle motivated by a surprising loss in their first game against Sky Blue FC struck early. In the 10th minute, Captain and midfielder Kim Little found forward Manon Melis on top of the box. With the ball on her foot, Melis lobbed the ball over Breakers goalkeeper Libby Stout for the 1-0 lead.
The key on the play was the quick and selfless passing between the Reign players as midfielder Jess Fishlock sent through Little towards net. Despite having an opportunity to shoot, Little used her field vision to see Melis for the better opportunity on net and the goal.
Little would again make her presence known in the 39th minute off a corner kick.  The Scottish International delivered a curling ball off her right foot, which found the head of Reign defender Rachel Corsie. Corsie managed to redirect the ball on net past an out of position Stout for the 2-0 lead, where the lead would stand at the halftime whistle.
However, it was not all roses for Seattle in the first half. In the 31st minute, Jess Fishlock went to the pitch rolling around in pain while holding her knee after an awkward challenge by Boston midfielder McCall Zerboni. Fishlock did walk off the field under her own power in spite of a heavy limp. The Welsh International did try to keep playing, but was subbed out in the 41st minute by Seattle Head Coach Laura Harvey for Elli Reed. Harvey told the press that Fishlock would undergo an MRI after the game, but no other details were given.
Although playing without Fishlock in the midfield, Seattle would one more goal for good measure in the second half. In the 79th minute, Little continued to show why she was named to NWSL Best XI last year, when she scored from a very tough angle just outside the six-yard box bringing the Boston deficit to three goals.
The whistle blew after 90 minutes with the final score of 3-0 in favor of Seattle.
The Reign will now head home to Memorial Stadium for a NWSL Championship Game rematch with FC Kansas City on Sunday May 1st. Kickoff is scheduled for 7 PM EST. Boston will continue to look for their first win of the season, when they take on Portland Thorns FC at Jordan Field on May 1st with kickoff scheduled for 5 PM EST.