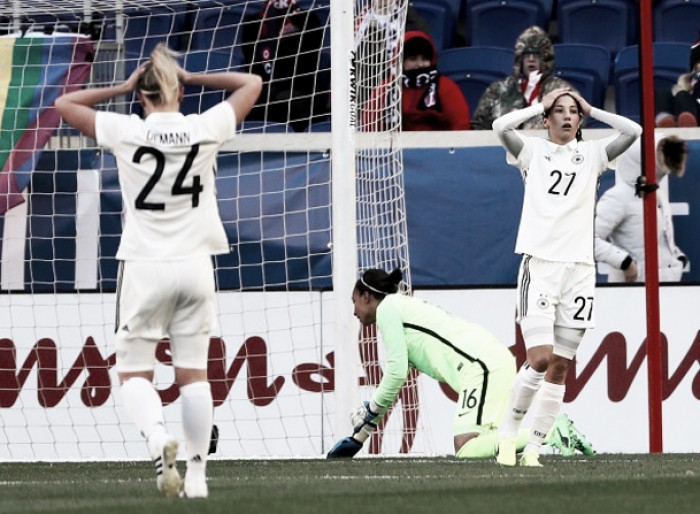 As day two of the 2017 She Believes Cup, France and Germany find themselves facing off on the pitch. France comes in with three points after defeating England 2-1 on day one and Germany comes in without any points after falling to the USWNT 1-0 on opening day. Germany would need a win to stay in contention for the championship game.
Away We Go
As the game started, it looks to be a fast-paced game. France and Germany are pushing hard to get something early. In minute 22, Sarah Bouhaddi comes off her line and commits a foul giving Germany an excellent chance to get ahead early. Minute 24 comes and Mandy Islacker takes the penalty kick but Bouhaddi had different plans and comes up with the save keeping the game at a draw. This seemed to be the biggest opportunity for either side during the first half even though there seemed to be some well place crosses with no one on the other end. The teams go into halftime with nothing to show for their efforts but some scrapes and bruises.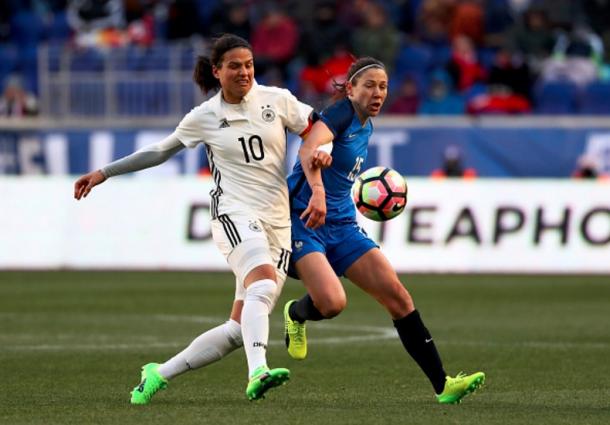 The second half starts with two substitutions for Germany, Almuth Schult is replaced at goal by Laura Benkarth and Lina Magull was replaced by Alexandra Popp. Magull had to deal with a bloody nose during the first half. Germany put their new legs to work as they came out strong. They put strong pressure on France's back line but France refused to budge and held off everything Germany was throwing at them.
France makes their first substitution in minute 58 with Marie-Laure Delie making way for Elodie Thomis to try and make something happen. Even with both sides pushing hard for the win, neither could make anything connect. Both had chances, but even with perfectly placed balls, the goalies made themselves huge, denying everything thrown at them. The game ends with a 0-0 draw, knocking Germany out of the championship game.
rance will play the USWNT on March 7, 2017, for the 2017 She Believes Cup Championship Title.