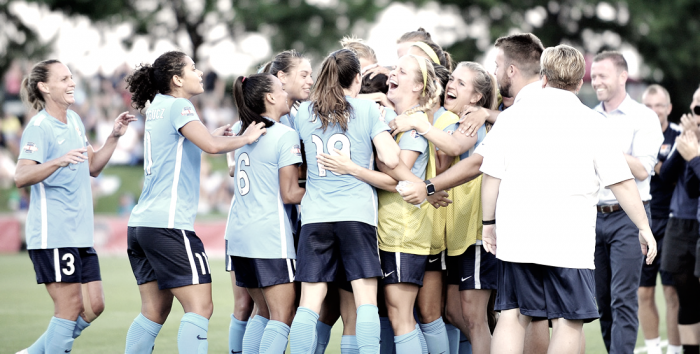 As the season rapidly approaches a breakdown of Sky Blue FC's roster is a good way to make predictions on how the team will do this year. The Sky Blue FC's defense breakdown can be found here. Here is a breakdown of the Sky Blue midfield.
There were nine midfielders invited into the preseason camp, the full preseason roster can be found here. Six of the nine midfielders invited are from the 2016 Sky Blue NWSL roster. Those six players returning to Sky Blue are Kelly Conheeney, Sarah Killion, Taylor Lytle, Domi Richardson, Raquel Rodriguez, and Nikki Stanton.
Sarah Killion received her second call-up with the U.S. Women's National Team in January 2017. She was called in the day after Jill Ellis named 29 players for the first camp of the new year. Killion was a part of the 2012 U-20 World Cup winning squad with senior National Team teammates like; Morgan Brian, Crystal Dunn, Julie Johnston, and Sam Mewis. Killion was also named to the roster for the camp pre-SheBelieves Cup. Killion was not named to the 23 player SheBelives Cup roster.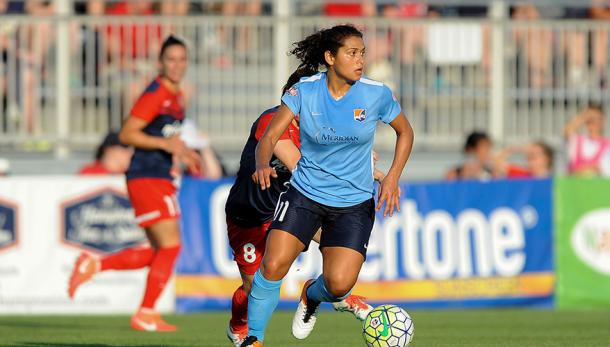 Raquel Rodriguez is an international player for Costa Rica. Rodriguez was drafted no. 2 by Sky Blue in the 2016 NWSL College Draft. She attended Penn State University where she was awarded the MAC Hermann Trophy. Rodriguez scored the only goal in the 2016 NCAA College Cup Final for Penn State against Duke University. In 2016 Rodriguez was awarded 2016 NWSL Rookie of the Year for her performance at Sky Blue. Rodriguez also scored the first ever World Cup goal for her home country of Costa Rica in 2015. The goal came in a group stage game against Spain as an equalizer, the game ended in a draw.
One midfielder was drafted by Sky Blue during the 2017 NWSL College Draft. Catrina Atanda was drafted no. 30 overall from Clemson University. Atanda is a New Jersey native and will join fellow Clemson University teammate, Kailen Sheridan, at Sky Blue.
Head coach, Christy Holly, also invited two other midfield players into preseason with Sky Blue FC. Joining the team for preseason are Daphne Corboz and Jackie Bruno. Corboz, native to New Jersey, is back from two seasons in the FA Women's Super League with Manchester City.
Preseason roster by Position
Here is the full preseason roster by position.
Goalkeepers (4): Caroline Casey (William and Mary), Tori Corsaro (Le Moyne), Kristyn Shea (Providence), and Kailen Sheridan (Clemson, FP*-CAN)
Defenders (7): Cassidy Benintente (Rutgers), Mandy Freeman (Southern California), Kayla Mills (Southern California), Kelley O'Hara (Stanford, FP*-USA), Christie Rampone (Monmouth), Erin Simon (Syracuse), Erica Skroski (Rutgers)
Midfielders (9): Catrina Atanda (Clemson), Jackie Bruno (Massachusetts), Kelly Conheeney (Virginia Tech), Daphne Corboz (Georgetown), Sarah Killion (UCLA), Taylor Lytle (Texas Tech), Domi Richardson (Missouri), Raquel Rodriguez (Penn State, INT'L*-CRC), Nikki Stanton (Fairfield)
Forwards (12): Rachel Breton (Rutgers), Kim DeCesare (Duke), Leah Galton (Hofstra, INT'L*-ENG), Maya Hayes (Penn State), Tasha Kai (Hawaii), Sam Kerr (INT'L*- AUS), Alexis McTamney (Monmouth), McKenzie Meehan (Boston College), Erica Murphy (Rutgers), Danielle Schulmann (Connecticut), Madison Tiernan (Rutgers), Catherine Zimmerman (Providence)
FP*- Federation Player
INT'L*- International