When the two teams at the bottom of the National Women's Soccer League met on Saturday night, not many were sure of what to expect. What we did get was a goal blitz early in the second half that gave the Boston Breakers a 3-0 win over the Washington Spirit, the Breakers' first win since the two sides met on July 1st, 2017.
Kallman has a night to forget for the Spirit
After keeping the scoresheet devoid of goals in the first half, the Breakers breached the Spirit backline and unfortunately for Kasey Kallman, she was at the heart of two of the goals. The first goal of the game came in the 47th minute when Natasha Dowie out-jumped her marker to meet Adriana Leon's cross and head in from close range.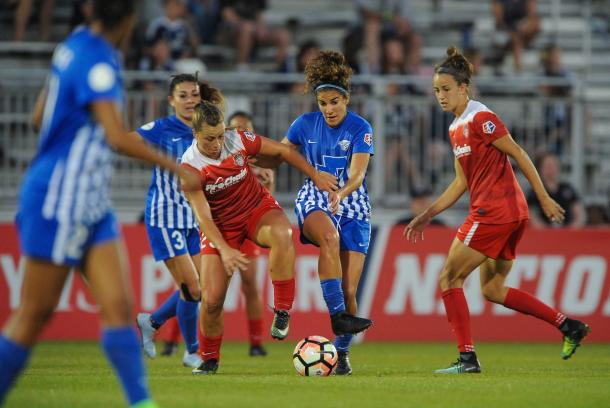 Less then ten minutes later, Kallman's night went from bad to worse. The Spirit defender was caught on the wrong side for Boston's second goal in the 54th minute, and tried to make amends for it. Leon had bustled through a few challenges and looked to be heading towards goal but Kallman stepped in to strip the ball away from the forward. In the process of doing so, Kallman's touch took the ball away from the advancing DiDi Haracic and into her own net.
One minute later, Kallman scored another own goal. Some good build up play saw Brooke Elby get to the byline and square the ball across goal. Kallman looked to prevent the pass from reaching Dowie and unfortunately ended up knocking her clearance straight into the goal. It was the last goal that the home fans saw and it was a game that Kallman will never want to watch again.
The Breakers show that they are a strong team hampered by injuries
Boston's injury list has been long for most of the season and ended up derailing what started off as a promising season for them. Tonight, Matt Beard's team showed that they still play some good soccer and had every one of their key players been available for the majority of the season, they would not be languishing at the bottom of the standings. Abby Smith put in another fantastic performance, cementing her place as one of the best goalkeepers in the league, and the Boston midfield kept Washington quiet for the most part.
Mallory Pugh did try and influence the game after her team went down by three goals but in both cases, goals were disallowed due to the offside flag. When the Spirit did manage to stay onside and threaten the Boston goal, Smith was up to the task and ended up with her fourth clean sheet of the season.