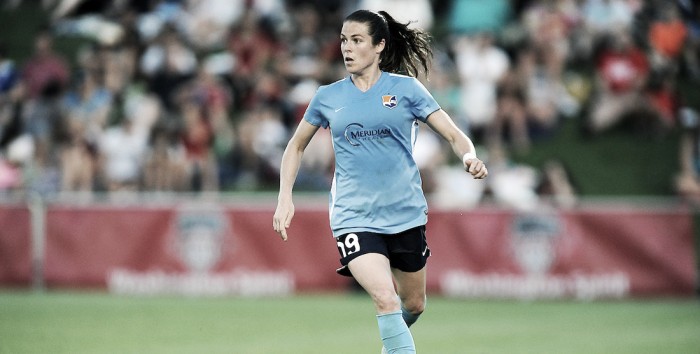 The calendar year is almost over but the National Women's Soccer League offseason period remains as surprising as ever. Sky Blue FC made a massive trade with Utah Royals FC that included US international Kelley O'Hara.
O'Hara most notable piece of the trade
Kelley O'Hara's name will certainly draw the most interest in this trade but she was not the only playing listed as leaving Sky Blue for Utah. The Royals acquired Taylor Lytle and the 25th overall pick in the 2018 NWSL Draft from the trade while Sky Blue will now add Shea Groom, Christina Gibbons and the 4th overall pick in the same draft.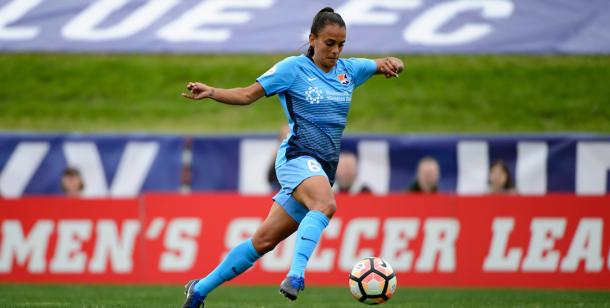 The Royal's head coach, Laura Harvey, is known for being very involved in offseason trades since her time with Seattle Reign FC and it looks like that trend will continue on in Utah. Harvey spoke to the team's website about O'Hara in particular, noting that her "talent, work ethic and winning mentality" was something she hoped would be instilled throughout the team. With the experience O'Hara has, Harvey also noted that she felt the move had come at the right time for a player in her prime. Harvey also spoke about Lytle, stating that the Royals now had a player Harvey herself had "admired for a long time".
O'Hara's talent at this point speaks for itself. At 29 years old, she has become a mainstay on the United States Women's National Team and the NWSL. O'Hara's versatility make her a valuable asset for any team and with the style of play that Harvey tends to use, a player with the engine, speed and technical ability that O'Hara possesses will be a great fit for the newcomers to the league. O'Hara gave a brief statement about her move to Utah, commenting on the experience of playing in Salt Lake always being a "top-notch experience" with the USWNT and that she was "excited to start a new adventure" with an organization invested in "building a championship club within the NWSL".
Sky Blue strengthen some key areas with the trade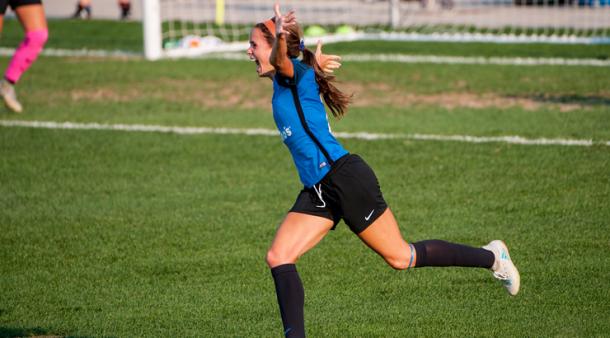 Having Groom and Gibbons join their roster helps fill some holes that Sky Blue needed to plug as they head into the NWSL Draft next year. After losing Leah Galton to FC Bayern Munich earlier this month and now with O'Hara heading to Utah, Groom and Gibbons are the right players to slot into those available slots. Groom may not have scored as many goals as she would have liked last year with the now defunct FC Kansas City but not many would argue against her work rate and her ability to form a solid partnership with almost any striker partner, while still chipping in with goals of her own. Samantha Kerr is expected to be back for Sky Blue when the season starts and having Groom lining up next to her may ease the pressure off of Kerr.
Gibbons plays mainly as a defender but she can do a job in defensive midfield as well. With Lytle gone and with no news as of yet about Christie Pearce's status with regards to continuing on her career, adding another defender into the mix will certainly help Sky Blue build a team that could challenge for a playoff spot once again after missing out over the last few years.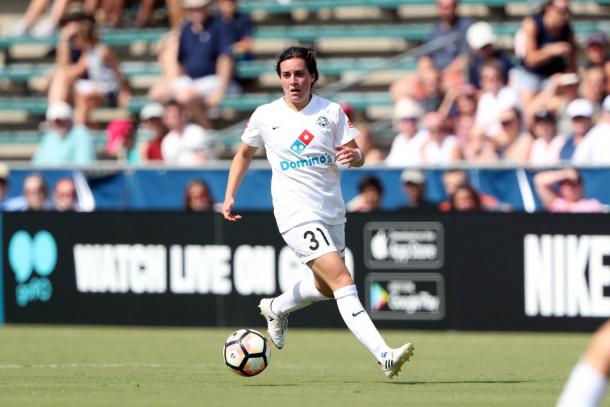 Where the difficulty of this trade may lie for Sky Blue is when it comes to salary cap space. Not having an allocated player in O'Hara means that they will be forced to pay all of their players now using the cap, whereas in previous seasons, they had cap relief through both O'Hara and Pearce. They still have goalkeeper Kailen Sheridan who is currently allocated through Canada but with O'Hara out of the picture now, Sky Blue may be forced to rely heavily on rookies so they can continue to pay their veteran players a fair salary. As always in the NWSL, this will certainly not be the last of the trades we see before the 2018 season starts again so Sky Blue may address this issue in the coming months.
Quotes via nwslsoccer.com