The Washington Spirit, are not good. At all. Not even remotely. The Spirit have two points in their last ten games, and have scored a combined total of one(!!!) goal during that stretch. The Houston Dash on the other hand, have alternated wins and losses over their last eight games. So, with the Dash coming off of a win, and the Spirit continuing to show no signs of life, which team bucks their most recent trend?
What does Washington do now?
As stated above, the Spirit have not been good. Their last win was May 23 against Sky Blue FC, their last point was June 16 against the Seattle Reign, and they scored their last goal July 7 against the Orlando Pride. The Spirit, as well as Sky Blue, are the only two teams officially eliminated from playoff contention, meaning both of these teams are playing for pride at this point. Especially the Spirit who do not have their first round pick (which is coincidentally currently owned by Sky Blue). This won't be an easy game to win though, the Dash are motivated as they currently feel that a playoff spot is not out of reach. While a win would be nice, this team needs to take baby steps in trying to rebound and be competitive next season. A draw, even just a goal, would be positives to take away from this game, let alone a win. So while a win would be nice, it will be difficult, but not the end of the world if it doesn't happen if they are able to string together a few other, minor positives.
INJURY REPORT:
OUT: Estefania Banini (right MCL sprain), Tori Huster (left heel bruise), Cheyna Matthews (pregnancy), Tiffany Weimer (left knee Baker's cyst– D45), Kelsey Wys (right knee meniscus scope)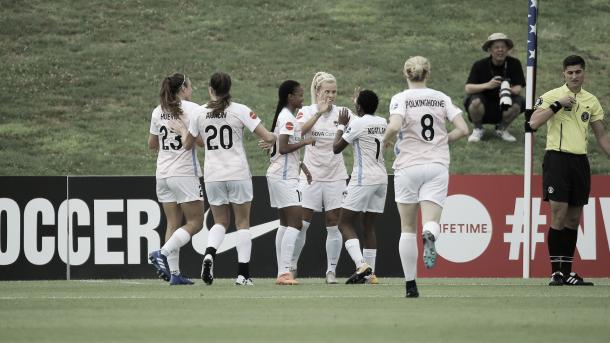 Dash on the edge of first ever playoffs
A win for the Dash on Friday moves them within one point of the fourth and final playoff spot. If they want to make the playoffs however, they will have to find some sort of consistency. The Dash haven't won consecutive games since the end of May. For the rest of the season, Houston will probably need to go undefeated over their last four games. They do have to play the Seattle Reign and the North Carolina Courage on the road over their last four games. However, they play North Carolina on the last day of the season, when the Courage will probably be resting a lot of their starters in preparation for the playoffs. Obviously this run will not be easy, it won't be impossible for them to pull it off and make the playoffs.
INJURY REPORT:

OUT: Bianca Henninger (left hand fracture), Kristie Mewis (left ACL sprain -SEI), Meleana Shim (left ankle sprain)
QUESTIONABLE: Rachel Daly (left knee strain), Kyah Simon (left ankle sprain)

The Houston Dash host the Washington Spirit Friday, August 17, at 8:30 PM EST. The match can be streamed on nwslsoccer.com and the NWSL app.