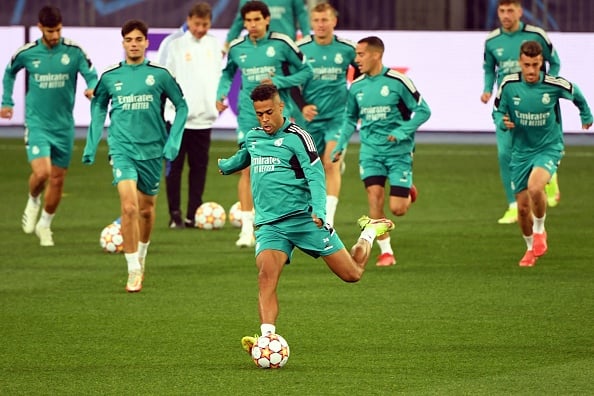 Real Madrid traveled to Ukraine on Monday to prepare for their third group stage match against a Ukrainian team still looking for their first win of the tournament in Shakhtar Donestk.
Real Madrid is coming off a shocking 2-1 loss to first-time UEFA Champions League qualifiers FC Sheriff Tiraspol last game. If that wasn't bad enough, they lost the game at home in the friendly confines of the Santiago Bernabeu in one of the most shocking upsets in recent years.
Both teams are coming off the International break, and at his pre-match press conference Head Coach Carlo Ancelotti said the break came at the right time and was good for his team.
Ancelotti - "The players came back in good shape"
" I think this international break was good and the players who went to go represent their country came back in good shape and the only player with physical issues is Eden Hazard".
Ancelotti was pleased to have some of his star players back and mentioned some key players that will be vital for the game on Tuesday night.
" We have recovered very important players like Ferland Mendy and Marcelo while Toni Kroos has improved as well and I think the team is doing well heading into this important game".
The head coach spoke about how confident his team is in the build-up to the game and before the team was able to hit the pitch for a late-night training session.
" We are very motivated and we want to play well and do our best. We didn't play well in our last game, and there were things that we needed to work on… but I think we worked on our mistakes and we are now ready to face this challenge. Shakhtar are a very good team and they will do whatever they can to win this game".
Luka Modric - speaking to the media before his coach - seemed to be on the same page when discussing the matchup.
Modric - "There is no margin for error"
" We know it's a very important game for us especially because we lost our last game at home and there is no margin for error. We need to start the game as Real Madrid playing confident and with high intensity just as we did at the beginning of the season".
Real Madrid currently sit in second place in Group D with the surprise first-time qualifiers Sheriff Tiraspol in first place with six points but a win on Tuesday night would put them in a tie for first place.
Kickoff is scheduled for 9:0pm Madrid time at the NSC Olympic Sports Complex in Kyiv.