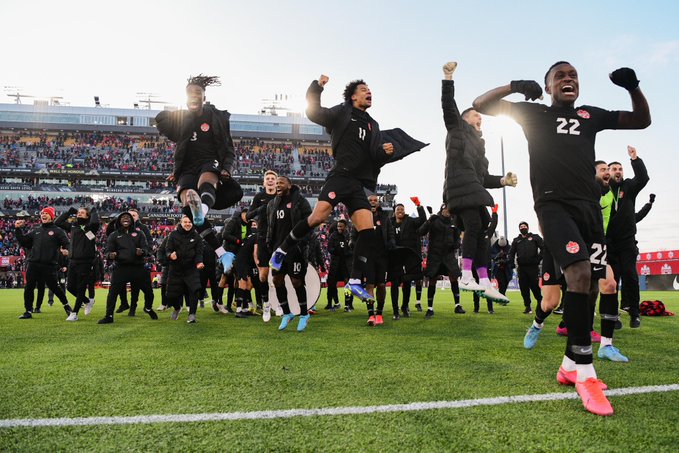 On Sunday, the Canadian men's national soccer team continued their dominance in the region remaining undefeated after 10 fixtures and beating their rivals the US 2-0 for the first time in 41 years in World Cup Qualifying only extending their lead in the Ocho standings.
John Herdman made 4 changes in his eleven from the team that beat Honduras in San Pedro Sula for the first time in 37 years.
Starting XI: Borjan, Johnston, Adekugbe, Miller, Vitoria, Laryea, Kaye, Osorio, Buchanan, David, Larin.
IN: Miller, Laryea, Osorio, Kaye,
OUT: Kennedy, Hutchinson, Piette, Hoilett.
Substitutions: Fraser in for Kaye (58'), Hoilett in for Larin (73'), Ugbo in for David (84').
Cyle Larin makes history
In the 7th minute, Larin scored his 23rd goal in his International career for Canada, breaking Dwayne De Rosario's record of 22 to be first in all-time scoring for the program. A passing error by Matt Turner and a midfield who lost a key battle being caught by the wind tunnel. The striking partnership with David continues to be effective even without Alphonso Davies in for this window.
Sam Adekugbe reaching new heights
After winning the left-back spot back in November starting both matches, Adekugbe is making the position his own after a calm finish on a 1 on 1 chance after great service a long ball from Kamal Miller running 40 yards to give Canada the defining moment in the 95th minute.
Borjan continues to keep clean sheets
A proper homecoming make to fruition for the 34-year old no.1 Goalkeeper in his hometown making two huge saves; one on Juventus midfielder Weston Mckennie in the 42nd minute and another in the 58th which hit the crossbar. The Red star Belgrade standout had yet another strong performance after man of the match honours.
The crowd helped
12,000 fans were expected to show up at Tim Hortons Field. 50% capacity of the 24,000 seats due to Ontario provincial regulations. With no official attendance announced, it's hard to put a number on it but the images we witnessed saw a full house 45 minutes west of Toronto.
Closer to Qatar
With this result, Canada can mathematically qualify to the World Cup this window, although securing a top 4 finish is more likely and at the very least a playoff continental spot. All depends if the US, Mexico and Panama drop crucial points.