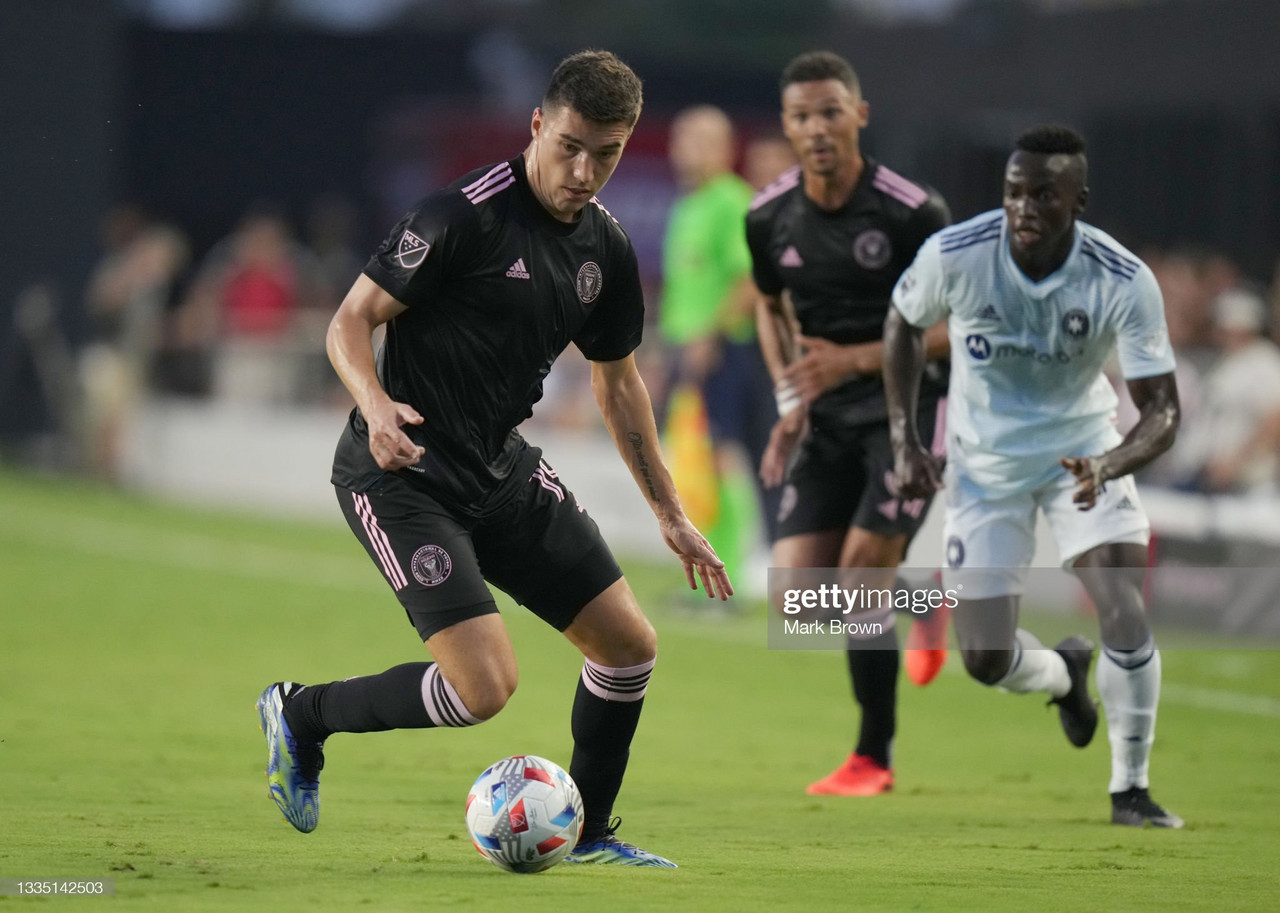 The 2022 MLS season kicks off this weekend, and Saturday afternoon serves up a potentially tasty Eastern Conference matchup as Inter Miami hosts the Chicago Fire at DRV PNK Stadium.
There's a lot of similarities between these two teams. Both were disappointing last year, which is exactly why each went through a roster overhaul this past offseason. The future isn't clear for either, so both sides will certainly be looking to start this campaign on the front foot. For the winner, it will be an ideal opening result that will fill their supporters with even more hope and optimism for the rest of the season. The loser, meanwhile, might already begin to feel some sort of panic, whether from inside the club or outside of it.
All that in mind, this game will probably end in a draw because this is Major League Soccer after all.
Team news
The Fire are set to be without Carlos Terán (right thigh), while Federico Navarro (right knee) and Misseal Rodríguez (left hip) are listed as questionable.
Miami has listed Ian Fray, Joevin Jones, Nick Marsman, and Victor Ulloa as out, while Mo Adams, Edison Azcona, Bryce Dyke, Kieran Gibbs, and Robbie Robinson are doubts for the contest.
Predicted lineups
Inter Miami: Diop, Yedlin, Quinteros, Lowe, Gibbs, Matuidi, Gregore, Mota, Rodríguez, Higuaín, Robinson
Chicago Fire: Slonina, Sekulić, Pineda, Czichos, M. Navarro, F. Navarro, Giménez, Ivanov, Shaqiri, Durán, Przybyłko
Ones to watch
Gonzalo Higuaín
It's time for Gonzalo Higuaín to take over.
For all intents and purposes, he really should be one of the best strikers in all of MLS. He's had a storied club career, scoring goals for the likes of Real Madrid, Napoli, Juventus, AC Milan, and Chelsea throughout his time in Europe. His international career has been somewhat ruined due to his misses in the biggest games, but he still scored plenty during his time with Argentina.
However, it's just not come together for Higuaín since he came to the United States. He was signed near the end of the 2020 season, and he was absolutely woeful early on. Only scoring once in his nine appearances, the lowlights were a red card he picked up in stoppage time versus CF Montréal and the time he missed a penalty before nearly starting a fight against the Philadelphia Union.
2021 was a bit better, but it wasn't really great. The Argentine grabbed 12 goals in 30 appearances, and he even chipped in with 6 assists. However, he never really hit a purple patch, with his goals coming at random times over the course of the campaign. Miami suffered as a result, and even though they never really helped their talisman, he still should have done better.
Higuaín may not be blessed with exceptional height or raw speed, but he's usually a quality finisher. He's just able to strike the ball so well time and time again, whether he's smashing it with power or placing it with precision. He also knows how to be at the right place at the right time, which means that he's always a threat.
If Inter want to have a better season this time around, then they'll need their star man to play at an elite level.
Xherdan Shaqiri
Speaking of players who will likely have to lead their team, there's a similar pressure on the shoulders of Xherdan Shaqiri.
Chicago's biggest offseason signing by far, the acquisition of Shaqiri was seen as a big deal by many, and for good reason. He had previously featured for some of the biggest clubs on the planet, like Bayern Munich, Inter Milan, and Liverpool. His biggest impact often comes on the world's stage, as he's scored in each of the last four major tournaments for Switzerland, a country he captains.
Now, he'll have to show why there's so much hype surrounding his arrival, especially from Fire fans. It might be tough early on since the attacker is likely in rough form. His move to Lyon this past summer was a horrific one, as he failed to find a place in the starting lineup while the team flopped to start the campaign. That's why he was allowed to leave, and he'll have to put his career back on the right track in the Windy City.
If he can, then Chicago might have one of the most dangerous players in MLS. A dynamo on and off the ball, Shaqiri uses his unique frame to devastating effect. He just has so much power in his legs that he's able to both drive up the field with speed and unleash a cannon of a shot towards goal. Is he the hardest worker, or the most consistent performer? No, but he's a matchwinner, and that's something the Fire haven't had for a while.
Whether or not he lives up to the billing remains to be seen, but for now, fans will hope that his debut is a dream one.
Last time out
It was quite the contest the last time these two sides faced off.
After an even start, Miami opened the scoring past the half hour mark. A well-worked counter attack played Robbie Robinson into space, and he went for a curling effort. His shot was saved by Bobby Shuttleworth, but the rebound fell right to Indiana Vassilev, who finished off the move with relative ease.
They weren't in front for long, though, as Chicago equalized six minutes later. Luka Stojanović's corner picked out Francisco Calvo, and he headed home from just a few yards out despite the goalkeeper getting a hand on the ball.
Stojanović went from provider to scorer moments into the start of the second half. A defensive mistake led to Stanislav Ivanov getting the ball out wide, and he turned before hitting a low cross towards the Serbian. He then made no mistake with the finish, slamming a first-time shot into the back of the net.
Inter would go on to find an equalizer of their own in the 62nd minute. A long ball found the run of Gonzalo Higuaín in behind, and he brilliantly laid the ball off to an onrushing Robinson, who hit the ball into the roof of the net with the outside of his boot.
It seemed like the two sides were set to share the points going into stoppage time, but Miami had other ideas. Víctor Ulloa received a pass on the edge of the area before turning and finding Rodolfo Pizarro in a dangerous position, and he calmly picked out the bottom corner with an excellent finish to win the game for his team.
All in all, viewers will hope that this weekend's contest is just as exciting.
How to watch
The match kicks off at 6:00 p.m. EST, and it will air live on My33 for fans in Miami and on WGN TV and chicagofirefc.com for fans in Chicago. Anyone else in the United States will be able to watch the action unfold on ESPN+.