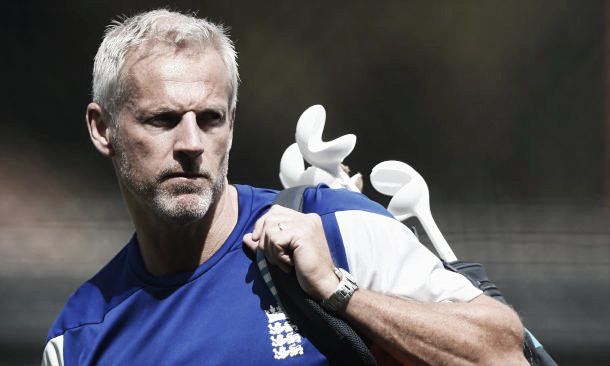 Peter Moores was in his second spell as the England head coach, with his first spell coming to an end after he fell out with then captain, Kevin Pietersen.
They were believed to have disagreed on several issues, including the team's training regime and the possible call-up of former captain Michael Vaughan for the upcoming tour of the West Indies. On 9th January 2009, Moores was removed as England head coach and days later Pietersen resigned as captain.
After success with Lancashire, where he won the County Championship in 2011, Lancashire's first Championship since 1934. Moores, after much speculation, was appointed as England's head coach for the second time on 19th April 2014.
After a humiliating World Cup for England, there was a lot of speculation where England would go.
Would Moores keep his job?
Moores though remained in charge for the tour of the Caribbean, despite the resignation of the man who appointed him, Paul Downton. England drew the three match test series 1-1 with the West Indies. After the series Moores played down talk that their should be an enquiry into England's recent performances - Moores' job was in serious danger.
Former England captain Andrew Strauss was appointed to the new position of England's Director of Cricket and his first job was remove Moores from his position of Englans's head coach.
Moores has refused to criticise the England and Wales Cricket Board for the nature of his sacking, with many media outlets breaking the news before Moores himself had been told of the decision.
It's not all data and stats
The 52-year old has been perceived by many as a coach that is driven by data and stats. After their defeat to Bangladesh in the World Cup, Moores was interview by Sky Television and used the word "data" in response to a technical question. Moores though insisted that his England regime had in fact moved away from the statistical approach and were encouraging the players to think on their feet.
Moores said they moved away from the stats and data, stating coaching doesn't work like that - claiming as a coach you have to watch a lot to say a little. Moores says his job was to simplify the game for the players and free them up to go and play.
Moores would return to ECB
Despite twice being removed from the position of England's head coach, Moores bears no grudge towards the ECB and would consider working for the ECB again. He would be excited about working at the National Academy in Loughborough. For now though, Moores is concentrating on getting his coaching career back on track.